Exit West (Hardcover)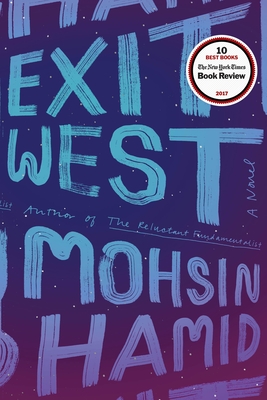 $26.00
Usually Ships in 1-5 Days
Staff Reviews
---
This short but powerful novel traces the lives of Nadia and Saeed who, facing an uncertain future in a country where conservative militants have taken over, decide to emigrate to the West, first to Greece, then to London and later to Northern California. Posing as husband and wife, Nadia and Saeed handle their changing circumstances in different ways, trying to hold onto their mother culture as they attempt to fit into their new environments. In telling their story, Hamid bores deeply into the heart of the immigrant's experience, cleverly constructing a modern fable about the costs of cultural assimilation. His narrative is so moving that I found myself reading his beautiful sentences over and over again, slapping my forehead as I realized the universal truth in his conclusion that for every human being there is a constant newness and possibility of alienation as we proceed through life, that "we are all migrants through time." He uses the metaphor of mysterious doorways to substitute for the details of the immigration process, and this gives the story a somewhat surreal tone (cf. The Underground Railroad). Of his four novels, it's one that I will be recommending to anyone who asks for the best book I've read recently.
— Alice
Nadia and Saeed are two young people in an unnamed Middle East city. She is very independent but likes to wear the black robe to ward off potential harassers. He is quiet, thoughtful, and very attached to his parents. When things get dangerous in the city, Nadia is talked into moving to the apartment Saeed shares with his parents, and after a tragic event the couple decides to leave.
In an otherwise realistic novel, acclaimed author Mohsin Hamid provides magical doors for escape. Paying an intermediary, the pair first takes a portal to Mykonos and later moves to a palatial estate in London. The house is filled with immigrants from many countries, and the city is faced with a growing crisis of too many people and too little resources. Why does the author send them to such high-end places? And why does he have magical doors be the means of escape? Perhaps to cut out the unnecessary details and get to the heart of the matter: that every person just wants to have a place to live in peace and make a meaningful life for himself or herself. Hamid shows Nadia and Saeed dealing with critical matters such as finding decent food and shelter but also striving to find a spiritual and emotional core to define themselves--each in a different way--in an unsettled world. Highly recommended.
— Cynthia
Summer 2018 Reading Group Indie Next List
---
"This slender and compulsively readable novel will be one of the most powerful and heartbreaking reads you will encounter. It's a story of migration and love of all kinds while also being a lesson on empathy for people robbed of their basic rights and needs. Hamid's prose is quiet yet commanding, delivering passages and scenes unlikely to leave your subconscious. Exit West is gorgeous, timely, and desperately needed."
— Tarah Jennings, Mitzi's Books, Rapid City, SD
Description
---
WINNER OF THE 2018 LOS ANGELES TIMES BOOK PRIZE FOR FICTION and THE ASPEN WORDS LITERARY PRIZE TEN BEST BOOKS OF 2017, NEW YORK TIMES BOOK REVIEW

"A breathtaking novel... that] arrives at an urgent time." -NPR

"It was as if Hamid knew what was going to happen to America and the world, and gave us a road map to our future... At once terrifying and ... oddly hopeful." -Ayelet Waldman, The New York Times Book Review

"Moving, audacious, and indelibly human." -Entertainment Weekly, "A" rating

A New York Times bestseller, the astonishingly visionary love story that imagines the forces that drive ordinary people from their homes into the uncertain embrace of new lands. In a country teetering on the brink of civil war, two young people meet--sensual, fiercely independent Nadia and gentle, restrained Saeed. They embark on a furtive love affair, and are soon cloistered in a premature intimacy by the unrest roiling their city. When it explodes, turning familiar streets into a patchwork of checkpoints and bomb blasts, they begin to hear whispers about doors--doors that can whisk people far away, if perilously and for a price. As the violence escalates, Nadia and Saeed decide that they no longer have a choice. Leaving their homeland and their old lives behind, they find a door and step through. . . . Exit West follows these remarkable characters as they emerge into an alien and uncertain future, struggling to hold on to each other, to their past, to the very sense of who they are. Profoundly intimate and powerfully inventive, it tells an unforgettable story of love, loyalty, and courage that is both completely of our time and for all time.
About the Author
---
Mohsin Hamid is the author of the international bestsellers Exit West and The Reluctant Fundamentalist, both finalists for the Man Booker Prize. His first novel, Moth Smoke, won the Betty Trask Award and was a finalist for the PEN/Hemingway Foundation Award. His essays, a number of them collected as Discontent and Its Civilizations, have appeared in The New York Times, the Washington Post, The New York Review of Books, and elsewhere. He lives in Lahore, Pakistan.