So Long, See You Tomorrow (Vintage International) (Paperback)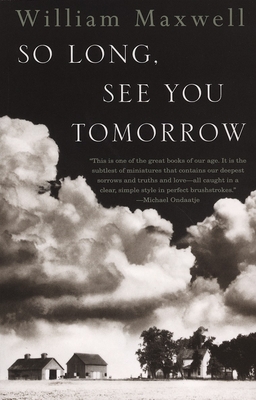 Staff Reviews
---
Considered a modern classic, Maxwell mines the intricacies of daily small town life in the first half of the 20th century. Our narrator, scarred by losing his beloved mother at ten, remembers (or imagines) the scandalous story that swept his town when he was a young teenager. Early one morning, Lloyd Wilson is shot while milking his cows. His former neighbor, Clarence Smith, is wanted for the crime. The story of the ill fated love affair between Mr. Wilson and Mrs. Smith is laid out in concise prose giving the reader the opportunity to read between the lines. This is a brief, thoughtful book best read slowly in order to have time to imagine what those lives looked like and how the human condition never changes.
— Valerie
Description
---
In this magically evocative novel, William Maxwell explores the enigmatic gravity of the past, which compels us to keep explaining it even as it makes liars out of us every time we try. On a winter morning in the 1920s, a shot rings out on a farm in rural Illinois. A man named Lloyd Wilson has been killed. And the tenuous friendship between two lonely teenagers—one privileged yet neglected, the other a troubled farm boy—has been shattered.Fifty years later, one of those boys—now a grown man—tries to reconstruct the events that led up to the murder. In doing so, he is inevitably drawn back to his lost friend Cletus, who has the misfortune of being the son of Wilson's killer and who in the months before witnessed things that Maxwell's narrator can only guess at. Out of memory and imagination, the surmises of children and the destructive passions of their parents, Maxwell creates a luminous American classic of youth and loss.
About the Author
---
William Maxwell was born in 1908 in Lincoln, Illinois. He studied at the University of Illinois at Urbana–Champaign, and after earning a master's at Harvard, returned there to teach freshman composition before turning to writing. He published six novels, three collections of short fiction, an autobiographical memoir, a collection of literary essays and reviews, and a book for children. For 40 years, he was a fiction editor at The New Yorker. From 1969 to 1972 he was president of the National Institute of Arts and Letters. He received the Brandeis Creative Arts Award Medal and, for So Long, See You Tomorrow, the American Book Award and the Howells Medal of the American Academy of Arts and Letters. He died in 2000.