A Gentleman in Moscow (Hardcover)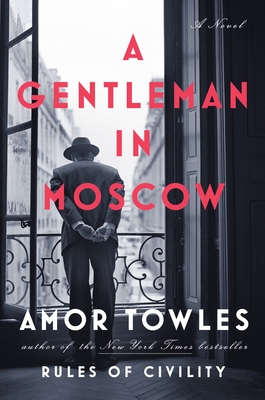 Staff Reviews
---
Defying the odds, Amor Towles has followed up his popular Rules of Civility with a sophomore effort that is delightful and slyly informative. Count Alexander Rostov, at the age of 32, is a young man with the world at his fingertips. He is handsome, well-educated, and rich. He has traveled, enjoyed the company of beautiful women, and has not had the bother of employment. But in June of 1922, he is sentenced by the new Communist regime to house arrest--for writing a subversive poem--in the famed and elegant Metropol Hotel in Moscow where he currently resides. The Count is moved to tiny quarters on the sixth floor and must find ways to occupy himself each day without ever leaving the building.
While a less optimistic man would wilt under such constraints, Rostov fashions a life for himself and develops relationships with employees who become his makeshift family. Early on, Rostov befriends Nina, a precocious girl of nine who is left in the care of an indifferent governess while her father works for the government. Nina shows the Count parts of the hotel he didn't know existed, shares her growing education with him and over the years becomes a beloved friend.
Through the course of the story, not only are Alexander's events portrayed, the developments within Russian politics and society are quietly shown, through people Alexander encounters and befriends at the hotel. And how does one describe him? Smooth, erudite, engaging, arrogant, stubborn, kind. The reader will be swept up in the breadth of the history displayed and the utter charm of the small but meaningful life of the Count. This novel is not to be missed!
— Cynthia
A Gentleman in Moscow is so enchantingly delightful that instead of closing the book, I wanted to start all over again. You can't help but fall in love with each and every character and the prose is so delicious that you'll find yourself rereading paragraphs for their sheer delight.
— Jennifer
Description
---
"The book is like a salve. I think the world feels disordered right now. The count's refinement and genteel nature are exactly what we're longing for." --Ann Patchett

"How delightful that in an era as crude as ours this finely composed novel stretches out with old-World elegance." --The Washington Post He can't leave his hotel. You won't want to. From the New York Times bestselling author of Rules of Civility--a transporting novel about a man who is ordered to spend the rest of his life inside a luxury hotel.

In 1922, Count Alexander Rostov is deemed an unrepentant aristocrat by a Bolshevik tribunal, and is sentenced to house arrest in the Metropol, a grand hotel across the street from the Kremlin. Rostov, an indomitable man of erudition and wit, has never worked a day in his life, and must now live in an attic room while some of the most tumultuous decades in Russian history are unfolding outside the hotel's doors. Unexpectedly, his reduced circumstances provide him entry into a much larger world of emotional discovery. Brimming with humor, a glittering cast of characters, and one beautifully rendered scene after another, this singular novel casts a spell as it relates the count's endeavor to gain a deeper understanding of what it means to be a man of purpose. Soon to be a major television series starring five-time Academy Award(R) nominee Kenneth Branagh. "And the intrigue . . . A Gentleman in Moscow] is laced with sparkling threads (they will tie up) and tokens (they will matter): special keys, secret compartments, gold coins, vials of coveted liquid, old-fashioned pistols, duels and scars, hidden assignations (discreet and smoky), stolen passports, a ruby necklace, mysterious letters on elegant hotel stationery . . . a luscious stage set, backdrop for a downright Casablanca-like drama." --The San Francisco Chronicle
About the Author
---
Born and raised in the Boston area, Amor Towles graduated from Yale College and received an MA in English from Stanford University. His first novel, Rules of Civility, published in 2011, was a New York Times bestseller and was named by The Wall Street Journal as one of the best books of 2011. His second novel, A Gentleman in Moscow, published in 2016, was also a New York Times bestseller and was named as one of the best books of 2016 by the Chicago Tribune, The Washington Post, The Philadelphia Inquirer, the San Francisco Chronicle, and NPR. Both novels have been translated into over fifteen languages. Having worked as an investment professional for over twenty years, Mr. Towles now devotes himself full time to writing in Manhattan, where he lives with his wife and two children.
Coverage from NPR