Americanah (Prebound)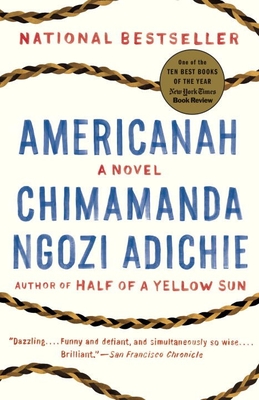 Staff Reviews
---
Ifemelu and Obinze have been inseparable since they were teenagers and assume that they will always be together. But Ifemelu gets a visa to attend college in the U.S., and Obinze doesn't. After she has a traumatic experience, Ifemelu distances herself from Obinze, first dating a wealthy, white man and then an American black college professor. These distinctions are important because Ifem starts a blog from the perspective of a non-American black person. She observes Americans' unspoken caste system of discrimination as well as American blacks' prejudice against others with darker skin.
Eventually feeling a deep homesickness, Ifemelu returns to Nigeria and meets again with Obinze, who is now a wealthy, married man. She also begins to blog about Nigerians, noting the ways they have advanced and the ways they have stayed the same. Adiche has a brilliant eye for truth, whether it is about people's biases and conceits or about the hair treatment alternatives for women with "kinky" hair.
— Cynthia
Description
---
One of "The""New York Times"'s Ten Best Books of the Year
Winner of the National Book Critics Circle Award for Fiction
An NPR "Great Reads" Book, a "Chicago Tribune" Best Book, a "Washington Post "Notable Book, a "Seattle Times "Best Book, an "Entertainment Weekly" Top Fiction Book, a "Newsday "Top 10 Book, and a "Goodreads "Best of the Year pick.
A powerful, tender story of race and identity by Chimamanda Ngozi Adichie, the award-winning author of "Half of a Yellow Sun."
Ifemelu and Obinze are young and in love when they depart military-ruled Nigeria for the West. Beautiful, self-assured Ifemelu heads for America, where despite her academic success, she is forced to grapple with what it means to be black for the first time. Quiet, thoughtful Obinze had hoped to join her, but with post-9/11 America closed to him, he instead plunges into a dangerous, undocumented life in London. Fifteen years later, they reunite in a newly democratic Nigeria, and reignite their passion--for each other and for their homeland.
About the Author
---
Chimamanda Ngozi Adichie grew up in Nigeria. Her work has been translated into thirty languages and has appeared in various publications, including "The New Yorker," "Granta," "The O. Henry Prize Stories," the "Financial Times," and "Zoetrope: All-Story." She is the author of the novels "Purple Hibiscus," which won the Commonwealth Writers' Prize and the Hurston/Wright Legacy Award, and "Half of a Yellow Sun," which won the Orange Prize and was a National Book Critics Circle Award Finalist, a "New York Times" Notable Book, and a "People" and "Black Issues" Book Review Best Book of the Year; and, most recently, the story collection "The Thing Around Your Neck." A recipient of a MacArthur Fellowship, she divides her time between the United States and Nigeria.