Love, Theoretically (Hardcover)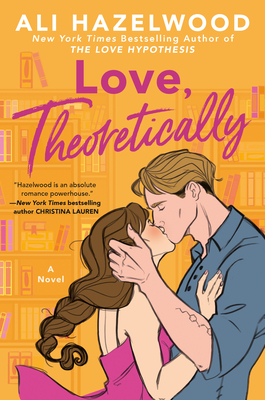 $28.00

Usually Ships in 4-7 Days
Staff Reviews
---
When Elsie Hannaway finds herself earning almost nothing as a physics professor, she resorts to working for Faux, a fake dating service. While everyone seems to love her, she has trouble reading the older brother of her favorite client, Greg. Greg's older brother, Jack, is skeptical of Elsie, and things only get worse when he discovers that she is not actually a librarian as she claims when she is competing for a physicist position at MIT, where Jack currently works. The only way to clear her name with Jack is to tell him the truth, but she finds herself protective of Greg and decides to keep the lies coming. For fans of enemies-to-lovers stories!
— Ayah
Description
---
Rival physicists collide in a vortex of academic feuds and fake dating shenanigans in this delightfully STEMinist romcom from the New York Times bestselling author of The Love Hypothesis and Love on the Brain.
 
The many lives of theoretical physicist Elsie Hannaway have finally caught up with her. By day, she's an adjunct professor, toiling away at grading labs and teaching thermodynamics in the hopes of landing tenure. By other day, Elsie makes up for her non-existent paycheck by offering her services as a fake girlfriend, tapping into her expertly honed people-pleasing skills to embody whichever version of herself the client needs.
 
Honestly, it's a pretty sweet gig—until her carefully constructed Elsie-verse comes crashing down. Because Jack Smith, the annoyingly attractive and arrogant older brother of her favorite client, turns out to be the cold-hearted experimental physicist who ruined her mentor's career and undermined the reputation of theorists everywhere. And he's the same Jack Smith who rules over the physics department at MIT, standing right between Elsie and her dream job.
 
Elsie is prepared for an all-out war of scholarly sabotage but…those long, penetrating looks? Not having to be anything other than her true self when she's with him? Will falling into an experimentalist's orbit finally tempt her to put her most guarded theories on love into practice?
About the Author
---
Ali Hazelwood is the New York Times bestselling author of The Love Hypothesis, as well as a writer of peer-reviewed articles about brain science, in which no one makes out and the ever after is not always happy. Originally from Italy, she lived in Germany and Japan before moving to the US to pursue a PhD in neuroscience. She recently became a professor, which absolutely terrifies her. When Ali is not at work, she can be found running, eating cake pops, or watching sci-fi movies with her two feline overlords (and her slightly-less-feline husband).
Praise For…
---
Praise for Love, Theoretically

"It would be so easy to hate Ali—who is brilliant and funny and the most delightful writer…but it's far more productive to create a shrine I can worship at, praying for her to finish another book quickly. LOVED. IT."—#1 New York Times bestselling author Jodi Picoult

"Whenever I want a sexy, witty, delicious romance, told in a fresh and intelligent voice, I read Ali Hazelwood. Prepare to get addicted. Each book is pure joy."—Simone St. James, New York Times bestselling author

"The reigning queen of STEMinist rom-coms returns with a tale set in the cutthroat world of eliteacademia full of delightful humor, realistic emotions, and the messy search for self-acceptance."—Booklist, starred review

"A decidedly quirky and thoroughly charming tale...Geeky science jokes, humorous student emails, and expertly delivered snarky banter enhance the narrative. Readers will cheer for Jack and Elsie and their bumpy road to happily ever after."—Publishers Weekly, starred review

"Hazelwood's latest STEM-set novel may be her best yet, addressing not only discrimination among different realms of physics, but the unconscious bias Elsie has to continually fight as a woman in her field...A dynamic rivals-to-lovers romance."—Kirkus, starred review

Praise for Ali Hazelwood

"Hazelwood is an absolute romance powerhouse."—New York Times bestselling author Christina Lauren

"Hazelwood proves that she is the perfect writer to show that science is sexy as hell."—#1 New York Times bestselling author Jodi Picoult

"Gloriously nerdy and sexy, with on-point commentary about women in STEM."—New York Times bestselling author Helen Hoang on Love on the Brain
 
"Funny, sexy and smart, Ali Hazelwood did a terrific job with The Love Hypothesis."—New York Times bestselling author Mariana Zapata

"STEMinists, assemble. Your world is about to be rocked."—New York Times bestselling author Elena Armas on Love on the Brain