The Breakup Tour (Paperback)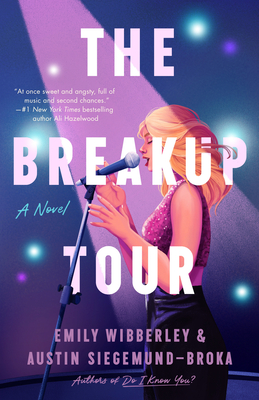 $17.00

Coming Soon - Available for Pre-Order Now
Description
---
A rising-star musician has a second chance at love with an old flame she remembers all too well in this swoony romance from the acclaimed authors of The Roughest Draft.

Riley Wynn went from a promising singer-songwriter to a superstar overnight, thanks to her breakup song concept album and its unforgettable lead single. When Riley's ex-husband claims the hit song is about him, she does something she hasn't in ten years and calls Max Harcourt, her college boyfriend and the real inspiration for the song of the summer.

Max hasn't spoken to Riley since their relationship ended. He's content with managing the retirement home his family owns, but it's not the life filled with music he dreamed of. When Riley asks him to go public as her songwriting muse, he agrees on one condition: he'll join her band on tour.

As they perform across the country, Max and Riley start to realize that while they hit some wrong notes in the past, their future could hold incredible things. And their rekindled relationship will either last forever or go down in flames.
About the Author
---
Emily Wibberley and Austin Siegemund-Broka met and fell in love in high school. Austin went on to graduate from Harvard, while Emily graduated from Princeton. Together, they are the authors of several novels about romance for teens and adults. Now married, they live in Los Angeles, where they continue to take daily inspiration from their own love story.
Praise For…
---
"If The Breakup Tour was a song, it would be 'Long Live' by Taylor Swift. It's deliciously zeitgeisty and so! much! fun! The Breakup Tour is at once sweet and angsty, full of music and second chances and talented people who make magic when they allow themselves to create art together. The perfect read for everyone who wants to relive the spectacular summer of The Eras Tour!"—Ali Hazelwood, #1 New York Times bestselling author of Love, Theoretically

"How fitting that a pair of writers in perfect harmony would create a story about music that comes from the heart! The Breakup Tour is like a song you can't stop humming - honest, sweet, and unforgettable."—Jodi Picoult, New York Times bestselling author

"You know that moment in a song when the drums first kick in? When the music builds into an anthemic chorus? When the bridge HITS with the emotional pulse of the whole song? That was the journey Wibberley and Siegemund-Broka took me on with The Breakup Tour. I ached for all the reasons Max was saying no to the life he wasn't sure he deserved -- in the public eye, performing night after night. And all the reasons Riley had been saying yes for years, her talent and fame taking flight even as she couldn't forget the one person she'd left behind. I felt this one deep in my gut like the pounding bass of my favorite song."—Alicia Thompson, USA Today bestselling author of With Love, from Cold World

"With prose that sings, The Breakup Tour is an utterly romantic second chance story that will have you running for your closest Taylor Swift playlist as soon as Riley and Max reach their swoon-worthy HEA. Emily Wibberley and Austin Siegemund-Broka write with deep, nuanced emotion, and the poignant original lyrics they weave throughout the story only amplifies the characters' journey.  This is an absolute hit!"—Jessica Joyce, USA Today bestselling author of You, With a View

"The Breakup Tour is the single most romantic book I've ever read. Epic in its scope and wise in its emotional depth, it made me feel every breath and hear every perfect note. I devoured it."—Annabel Monaghan, bestselling author of Nora Goes Off Script

"This one is for the Swifties. Vulnerable and breathtakingly honest, The Breakup Tour had me swooning, smiling, and singing along."—B.K. Borison, author of Lovelight Farms

"An ode to those brave enough to love deeply despite the risk of heartbreak, The Breakup Tour is as full of feeling as your favorite Taylor Swift song. My only regret after reading this swoony, sensitive novel is that I can't actually listen to the fictional album at its center."—Laura Hankin, author of The Daydreams

"If Taylor Swift wrote a second chance romance, it would be The Breakup Tour! This sparkling romance will make you swoon, laugh, and want to sing at the top of your lungs. It is definitely a must read!"—Alexa Martin, author of Better Than Fiction

"Wibberley and Siegemund-Broka prove they are masters of the second-chance romance, getting the essentials just right—lingering chemistry, intense longing, and two people who have regrets about the past and one more chance to make it right. Max and Riley are believable as both romantic leads and fully formed characters with conflicting desires, and readers will laugh and swoon as they find their way back to each other through music."—Booklist