The Bookbinder: A Novel (Hardcover)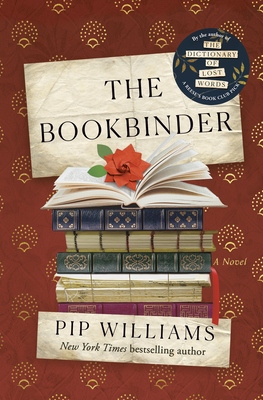 $28.00

Usually Ships in 4-7 Days
Staff Reviews
---
Twin sisters Peggy and Maude Jones live together on a narrow boat in Oxford and work in the bindery at the Oxford University Press in England. Daughters of an unwed mother who died at a young age, they are alone in the world except for a few close friends and neighbors. Maude has some intellectual challenges and speaks only in echoes of what has been said to her. Peggy longs for more, to be able to read the books she can only bind, and to continue her education at the prestigious college across the street from where she works. Her responsibility for Maude and her station in life (a "Town" vs a "Gown") keep her from these goals. When World War I breaks out and men leave for war, new possibilities emerge. Peggy's role as a volunteer at the hospital leads to a romance with a wounded Belgian soldier named Bastiaan, a Belgium refugee named Lotte provides relief as a companion for Maude, and a friendship with fellow volunteer Gwen, a young woman with a privileged background, opens doors for Peggy at Oxford's Somerville College.
— Jean
Description
---
A young British woman working in a book bindery gets a chance to pursue knowledge and love when World War I upends her life in this new novel from the New York Times bestselling author of the Reese's Book Club pick The Dictionary of Lost Words.

"Williams spins an immersive and compelling tale, sweeping us back to the Oxford she painted so expertly in The Dictionary of Lost Words."—Paula McLain, author of The Paris Wife

It is 1914, and as the war draws the young men of Britain away to fight, women must keep the nation running. Two of those women are Peggy and Maude, twin sisters who live on a narrow boat in Oxford and work in the bindery at the university press.

Ambitious, intelligent Peggy has been told for most of her life that her job is to bind the books, not read them—but as she folds and gathers pages, her mind wanders to the opposite side of Walton Street, where the female students of Oxford's Somerville College have a whole library at their fingertips. Maude, meanwhile, wants nothing more than what she has: to spend her days folding the pages of books in the company of the other bindery girls. She is extraordinary but vulnerable, and Peggy feels compelled to watch over her.

Then refugees arrive from the war-torn cities of Belgium, sending ripples through the Oxford community and the sisters' lives. Peggy begins to see the possibility of another future where she can educate herself and use her intellect, not just her hands. But as war and illness reshape her world, her love for a Belgian soldier—and the responsibility that comes with it—threaten to hold her back.

The Bookbinder is a story about knowledge—who creates it, who can access it, and what truths get lost in the process. Much as she did in the international bestseller The Dictionary of Lost Words, Pip Williams thoughtfully explores another rarely seen slice of history through women's eyes.
About the Author
---
Pip Williams was born in London, grew up in Sydney, and now lives in South Australia's Adelaide Hills. Her debut novel, The Dictionary of Lost Words, was a New York Times bestseller and a Reese's Book Club pick. The Bookbinder is her second novel.
Praise For…
---
"The Bookbinder is a confident and considered sequel that complicates Williams's literary universe while riffing on class, family, trauma and remembrance. Williams fully inhabits the world of the bindery and it shows—there's hardly a page out of place."—The Guardian

"[A] spellbinding sequel."—The Australian Women's Weekly
 
"A brilliant exploration of who has access to knowledge and the experience of women during wartime."—Good Weekend

"Pip Williams spins an immersive and compelling tale, sweeping us back to the Oxford she painted so expertly in The Dictionary of Lost Words. This time, as England is plunged into the Great War, women like Peggy Jones, long held back and underestimated, have an unexpected chance to show their strength, follow their deepest longings, and bravely step into lives larger than the ones the world has pinned them too. Williams is a fresh, exciting new voice in historical fiction."—Paula McLain, author of The Paris Wife

"A compelling, beautifully written homage to the transformational power of books. By day, Peggy works in the bindery of Oxford University Press; at night, she devours the books she isn't allowed to read. Desperate for education and independence, somehow she must weigh the demands of duty, convention and even love against her thirst for knowledge."—Daisy Wood, author of The Forgotten Bookshop in Paris

"A poignant exploration of the power of books. With this mesmerizing tale of twins who live and work together during World War I, once again Pip Williams puts the spotlight on women's contributions to literature. Masterful."—Janet Skeslien Charles, author of The Paris Library

"This compelling story, beautifully told and full of vibrant characters, is a vivid and moving account of how the war brought not only horror and deprivation, but for some—especially women—new freedoms and opportunities which they were reluctant to give up once the fighting had ended. I absolutely loved it!"—Ruth Hogan, author of The Keeper of Lost Things

"What a charming, original and beautifully researched historical novel. It nails the problems facing female ambition in a man's world a century ago in such a vivid way that it speaks to us still."—Rachel Hore, author of A Beautiful Spy

"Touching . . . The Bookbinder . . . is a rich account of class relations during a tumultuous era in history that also displays deep love and appreciation for literature and its wardens. . . ."—BookPage

"Authentic period details and intriguing glimpses into the bookbinding process add to Williams's portrayal of resilient women. This would make a riveting costume drama for the large or small screen."—Publishers Weekly