Business or Pleasure (Paperback)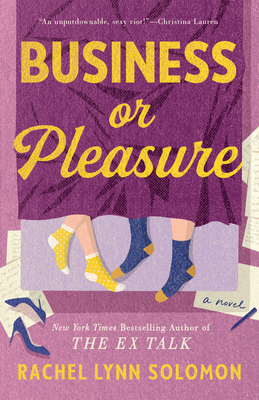 Staff Reviews
---
Chandler Cohen is a ghostwriter who has just attended a signing for her latest book. Unfortunately, the author does not recognize Chandler's name making her feel bummed out after all the work and communication she put into the book. Deciding to get a drink at the shop's bar, she meets a guy, who she discovers is here on business. Suddenly, Chandler finds herself offering him a tour of the city before they head to his place for a one night stand. What she didn't expect was to have a horrible experience that she had to quietly walk out once he was asleep. As she tries to put the previous day behind her, Chandler receives a last minute meeting opportunity to ghostwrite for actor, Finn Walsh. What she does not expect is to find last night's hookup waiting for her when she arrives. Tempted to pass up the opportunity, she realizes this is a good deal that she cannot afford to miss out on. It begins as a professional deal but quickly picks up as they discuss the big elephant in the room. A steamy romance that is worth a read!
— Ayah
July 2023 Indie Next List
---
"I loved every minute of Business or Pleasure. From the con life, to obsessing over a supernatural tv show, to sex positivity, it's sure to please any reader on multiple levels from the brain right down to your toes."
— Terri LeBlanc, Swamp Fox Bookstore, Marion, IA
Description
---
A USA TODAY BESTSELLER!

An Indie Next Pick
A LibraryReads Hall of Fame Pick
One of Amazon's Best Romances of July

Named a Most Anticipated Summer Read by Buzzfeed, Glamour, Town & Country, BookRiot, and more!

A ghostwriter and a struggling actor help each other on the page and in the bedroom in this steamy romantic comedy from the New York Times bestselling author of The Ex Talk.
 
Chandler Cohen has never felt more like the ghost in "ghostwriter" until she attends a signing for a book she wrote—and the author doesn't even recognize her. The evening turns more promising when she meets a charming man at the bar and immediately connects with him. But when all their sexual tension culminates in a spectacularly awkward hookup, she decides this is one night better off forgotten.
 
Unfortunately, that's easier said than done. Her next project is ghostwriting a memoir for Finn Walsh, a C-list actor best known for playing a lovable nerd on a cult classic werewolf show who now makes a living appearing at fan conventions across the country. Chandler knows him better from their one-night stand of hilarious mishaps.
 
Chandler's determined to keep their partnership as professional as possible, but when she admits to Finn their night together wasn't as mind-blowing as he thought it was, he's distraught. He intrigues her enough that they strike a deal: when they're not working on his book, Chandler will school Finn in the art of satisfaction. As they grow closer both in and out of the bedroom, they must figure out which is more important, business or pleasure—or if there's a way for them to have both.
About the Author
---
Rachel Lynn Solomon is the New York Times bestselling author of The Ex Talk, Weather Girl, and other romantic comedies for teens and adults. Originally from Seattle, she's currently navigating expat life in Amsterdam, where she can often be found exploring the city, collecting stationery, and working up the courage to knit her first sweater.
Praise For…
---
"Both wisecracking and wise, edgy and vulnerable, Business or Pleasure skillfully balances everything that makes romance great. Simply put, it is an unputdownable, sexy riot! Rachel Lynn Solomon is a romance virtuoso and her readers have the best seats in the house."—Christina Lauren, New York Times bestselling author of The Soulmate Equation

"Rachel Lynn Solomon's Business or Pleasure is a total delight. It's sexy, smart, and so freaking fun—I couldn't stop smiling! As always, Rachel's characters are rendered with tremendous love and care. You will fall hard for Chandler and Finn."—Carley Fortune, New York Times bestselling author of Every Summer After
 
"Rachel Lynn Solomon is an auto-buy author for me, and Business or Pleasure might be her best yet! Chandler and Finn's story is so vulnerable and hot, and the way Solomon weaves serious, important topics throughout a warm and engaging romance is truly masterful. I already can't wait to read this book again and again."—Alicia Thompson, national bestselling author of Love in the Time of Serial Killers

"Business or Pleasure is an absolute pleasure, full stop. This funny, delightful book will pull you in from the first page - a big-hearted celebration of sex, consent, and love. Rachel Lynn Solomon knows exactly how to crank up the heat, and the chemistry between Chandler and Finn is hot hot hot. Solomon's voice shines in this sex-positive rom-com."—Elissa Sussman, national bestselling author of Funny You Should Ask

"Only Rachel Lynn Solomon could make a story about giving sex lessons to a celebrity feel this grounded and realistic. Chandler and Finn are equal parts smart and funny, charming and generous, thoughtful and endearing. Rachel takes the kind of risks that make romance as a genre so special and rewarding to read."—Rosie Danan, author of The Roommate

"I can always count on Rachel Lynn Solomon to deliver rapid-fire dialogue, intense chemistry, and lived-in yet fresh characters that feel like your oldest friends. Business or Pleasure is delightfully addictive and downright red-hot spicy!"—Amy Lea, international bestselling author of Exes and O's

"Rachel Lynn Solomon has a gift for looking directly into my soul and somehow giving me exactly the book I needed. Business or Pleasure is a perfect encapsulation of everything I love about Solomon's writing: depth, vulnerability, and thoughtfulness, topped off with laugh-out-loud banter and smoking hot (and in this case, hard-won) chemistry."—Ava Wilder, author of How to Fake it in Hollywood

"Rachel Lynn Solomon is back with her sexiest novel yet, and the pleasure is all ours. A love letter to self-empowerment, discovery, and intimacy of all forms, Business or Pleasure will fill your soul with everything readers hope to find in a phenomenal romance novel. Swoony, steamy, heart-wrenching, and healing, this story will hug your heart long after the last page. Solomon is a shining star."—Courtney Kae, author of In the Event of Love
 
"Business or Pleasure transcends sexy into something almost radical in this honest, raw, fresh, and hugely fun romp under the sheets and across the country with Chandler and Finn. Romantic, hilarious, sizzling, and heartfelt, Rachel Lynn Solomon's latest has taken its place as my new favorite romcom."—Carlyn Greenwald, author of Sizzle Reel

"Solomon's book is bawdy and hilarious, but it's also extremely emotionally resonant and smart as it tackles everything from abortion to mental health."—Entertainment Weekly

"Rachel Lynn Solomon's romance books make you feel things that you wish you could feel every day. They really feel like beacons of light in a dark world and Business or Pleasure is no different in this regard."—BookRiot

"This passionate slow-burn is full of heart and wit. Sexy and smart, Business or Pleasure reflects on the ways in which we fall in love, fig­ure out who we are, and handle chal­lenges and opportunities along the way...a must-read romance." —Jewish Book Council

"Whether you've read this author before, have a love for fandom, or just want something fun for summer, you need to pick up Business or Pleasure. I haven't stopped thinking about this book since I read it so it needs to be in your hands ASAP."—Cultress

"A perfect summer beach read."—Red Carpet Crash

"Solomon consistently balances spicy and sweet, making her romance novels a sure bet for a good read. A must-read modern romance that emphasizes silliness and sexiness in equal parts. Solomon's best yet."—Kirkus Reviews (starred review)

"Solomon delights with this hot and heartfelt rom-com...This is a joy."—Publishers Weekly (starred review)

"Solomon dives wholeheartedly into the messiness of life and emerges with a beautiful, moving, truly romantic story about characters readers will appreciate and understand on a deep level."—Bookpage (starred review)

"Sweet, steamy, and satisfying, this is sure to please readers."—Library Journal

"Fans of comic conventions and Hollywood crushes will adore Solomon's sexy celebrity romance...Finn is exactly the book-boyfriend readers will adore."—Booklist

"As usual, Solomon's characters are well-developed and relatable...Business or Pleasure is a steamy love letter to fandom and creative passion, set in the form of a forced-proximity workplace romance."—Shelf Awareness