You, with a View (Paperback)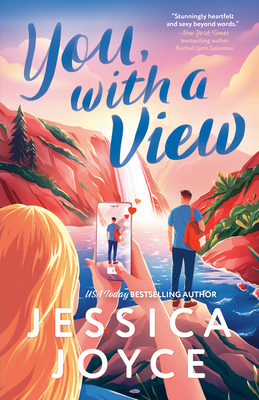 $17.00

Usually Ships in 4-7 Days
Staff Reviews
---
A charming love story that focuses on Noelle as she tries to learn as much as possible about her grandmother's past lover. She never expected this journey to reunite her with Theo, her high school nemesis, or taking a road trip with him and his grandfather. Full of banter, mixed emotions, and spice. Recommended!
— Ayah
Description
---
"Jessica Joyce is a new and forever fave!"—Ali Hazelwood, New York Times bestselling author of Love, Theoretically

A USA TODAY BESTSELLER!
One of Amazon's Best Romances of July

Two high school enemies must reunite for a road trip inspired by their grandparents' broken engagement in this electric debut romance.

Noelle Shepard is unemployed, living with her parents, and grieving the loss of her beloved grandmother when she discovers decades-old photos of Gram and a smitten man, tucked alongside a love letter. She creates a TikTok to search for the mystery man, which goes viral, and she's shocked when his grandson responds—a man who happens to be her high school nemesis, Theo Spencer.

Noelle refuses to let Theo's annoying accomplishments in adulthood—or his sexy smirk—stand in the way of meeting his grandfather and unlocking the secrets he knew about her gram as a young woman. When she learns that their plans to elope were thwarted, Noelle decides to take the honeymoon road trip they planned but never got to carry out. There's a catch, though: Paul, Theo's grandfather, asks to come with her, and he insists that Theo join them.

It'll be a miracle if they make it through the trip without Noelle throwing Theo out of the moving car—or the bed they end up sharing. As the miles tick by, the tension simmers hotter between them...until she discovers that Theo's hiding a secret that could cause their tenuous relationship to end before it can restart.
About the Author
---
Jessica Joyce lives happily-ever-ongoing with her husband and son in the Bay Area. When she's not writing character-driven, realistic and relatable tales of millennials who are just Doing Their Best while falling in love, you can find her listening to one of her dozens of chaotically curated Spotify playlists, trying out a new skincare face mask, crying over cute animal TikToks, or watching the 2005 version of Pride & Prejudice.
Praise For…
---
"Jessica Joyce has gifted all of us with an electrifying debut, and the perfect summer read! If you love your flirting paired with a healthy dose of roasting, rivals turned lovers, road trips that become journeys of self discovery, hilarious but sexy banter, and steamy love stories, this is the beach read you want to pick up! A million out of five stars!"—Ali Hazelwood, New York Times bestselling author of Love, Theoretically

"Sometimes all it takes to get back on track is a road trip with your oldest rival . . . Jessica Joyce's debut, You, with a View, stole my heart and had me absolutely sweating at the chemistry between Theo and Noelle. I will never see a vintage red Bronco, a TikTok travel video, or a man's thighs the same way again."—Alicia Thompson, national bestselling author of Love in the Time of Serial Killers

"Stunningly heartfelt and sexy beyond words. Jessica Joyce writes with a deeply empathetic pen, drawing each character with profound tenderness and crafting the perfect amount of rivals-to-reluctant-road-trip-companions-to-lovers tension — incidentally, my new favorite trope. I want to live inside this book."—Rachel Lynn Solomon, New York Times bestselling author of Weather Girl

"You, with a View is angsty, atmospheric perfection. While navigating grief's pain as well as its transformative power, this road trip romance is an unforgettable journey of tenderhearted healing, scorching chemistry, and divinely witty banter."—Chloe Liese, author of Two Wrongs Make a Right

"Jessica Joyce's debut is a treasure! You, With a View is a romantic adventure that will make you want to pack your bags and take a chance on love. This heartwarming love story is a gift for romance readers who want to laugh, cry, and swoon."—Denise Williams, author of Do You Take This Man

"You, with a View is a sexy-as-hell romance that I couldn't put down, a heartfelt tribute to the love of grandparents, and an achingly relatable exploration of the search for "success" in your twenties. Noelle and Theo's road trip is as epic as their emotional journey, leaving my heart a happy, mushy mess by the end. I love this book."—Anita Kelly, author of Love & Other Disasters and Something Wild & Wonderful
 
"Jessica Joyce wields razor-sharp prose with emotional poignancy and the perfect dose of unbelievable romantic tension with spice to create an instant classic in the romance genre. I'll read anything she writes."—Mazey Eddings, author of The Plus One

"You, with a View is the total package: swoony, sexy, funny, and profoundly moving. Noelle and Theo's irresistible chemistry had me tearing through the pages, and the depth and beauty of Jessica Joyce's writing lingered with me long after I finished. This is a book that nestles deep into your heart and stays there."—Ava Wilder, author of How to Fake it in Hollywood
 
"Simultaneously escapist and deeply intimate, You, with a View is a love story about soulmates–both romantic and familial–and the importance of seizing the present while honoring the past. Debut author Jessica Joyce's prose and voice shine on every page, threading her leads' simmering tension and tangible chemistry through a vividly drawn travel adventure. The result is a soul-satisfying romance about the genesis of beautiful things out of grief, and of two people discovering that what they truly seek has been there on the journey with them all along."—Jen Devon, author of Bend Toward the Sun

"If you're looking for excellent banter in your romances, look no further. This book balances big emotions with lots of tension and joy."—USA Today

"A stunningly emotional debut that wrapped itself around my heart from page one. Brimming with BIG GRANDPARENT ENERGY and crackling chemistry, this road trip romance is guaranteed to sweep you off your feet!"—Amy Lea, author of Set on You

"Joyce's delightful debut skillfully blends love stories from two different times with a photo-ready travel tale."—Booklist

"With crisp prose and twisty plotting, this romp should win Joyce many fans."—Publishers Weekly