The Sweetest Revenge (Paperback)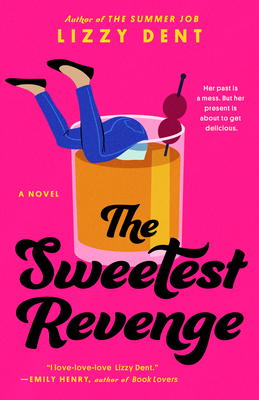 Staff Reviews
---
It has been two years since Amy was publicly humiliated after her drunk attempt at revenge on her ex-boyfriend. Despite her two years away from home, Amy vows to never return from London where she now produces trailers instead of proper films. As Amy feels that she will never reach the career point she was once at, she jumps at the unexpected competition at work. While she is just beginning to build her motivation, it slowly begins to tank again when her ex-boyfriend is brought in and decides her fate. Will she be able to convince Jake, her hot new neighbor who happens to want to write professionally, to help her in her revenge?
— Ayah
Description
---
"I love, love, love Lizzy Dent."—Emily Henry, author of People We Meet on Vacation and Happy Place

Bridesmaids meets Emily in Paris—in London—in this hilarious and heartfelt story of one handsome neighbor, one no-good ex, and the summer Amy Duffy makes the comeback of her life.

Her past is a mess. But her present is about to get delicious.

Amy is more than one disastrous night of drunken revenge on her boss/ex-boyfriend's Audi—the night that tanked her rising TV producer career and led to a hasty move to London for a fresh start. She is thirty years of awesomeness. At least, that's what Amy tells herself every morning before trekking to her mediocre job making trailers at a failing British TV channel.

Two years later, she's finally starting to believe it. Sparks are flying between her and Jake, her handsome new downstairs neighbor, and there's a competition at work that just might get her career back on track while bringing her and Jake even closer. But then, in a twisted turn of fate, the ex-boyfriend who wrecked her life is hired as her new boss and past and present are about to epically, hilariously collide.
About the Author
---
Lizzy Dent is the author of The Summer Job and The Setup. She (mis)spent her early twenties working in Scotland in hospitality and after years travelling the world making Music TV for MTV and Channel 4, and creating digital content for Cartoon Network, the BBC and ITV, she turned to writing. She now lives in Austria with her family.
Praise For…
---
One of USA Today's Summer Must-Read Romances
One of Entertainment Weekly's 27 Best New Books to Take on Your Summer Vacation
One of Library Journal's Best Fiction Books of the Year (So Far)
One of PureWow's 11 Books We Can't Wait to Read
 
"The Sweetest Revenge is my favorite kind of story—one with an irresistible premise that delivers in a way I never imagined possible. It is at once funny, poignant, and deliciously satisfying. I had to force myself to slow down and savor the end. I absolutely loved it." —Annabel Monaghan, author of Nora Goes Off Script and Same Time Next Summer

"Super fun and deliciously cathartic." –Smart Bitches, Trashy Books

"The perfect storm of a romcom - the chaotic, hilarious entanglement of a kickass heroine, her hot AF neighbour, and a very unwelcome ex. As intoxicating as a cocktail on a summer's day - I encourage everyone to dive in." –Beth Morrey, author of The Love Story of Missy Carmichael

"[A] gleefully over-the-top plot, but anyone who's ever been screwed over at work will empathize with Amy's plight. In the end, justice is served most deliciously. This is pure popcorn." —Publishers Weekly

"Equal parts hilarious, heartbreaking, and swoon-worthy, Dent's addictive novel isn't here to make sweeping philosophical statements about the morality of vengeance. In fact, it actually delights in how delicious getting petty retribution can feel in the moment (so relatable)."—Entertainment Weekly

"Dent writes quirky yet relatable characters, and her protagonist in this latest novel is outstanding… Readers will love the fast-paced wit of both Amy and the supporting characters while she discovers who she is, where she wants to be, and what is truly in her heart." –Library Journal (starred)

"Chockful of fun banter and delicious tension, The Sweetest Revenge is a humorous and satisfying story of a woman triumphing over her messy past and getting the romance she deserves along the way, set in the cutthroat world of television production. Readers will root for Amy and Jake." —Lauren Ho, author of Last Tang Standing and Lucie Yi Is Not a Romantic

"[A] slow-burn romance that readers will delight in...Fun." —Kirkus Reviews

"Readers who enjoy Rachel Lynn Solomon will be charmed." –Booklist