The Quiet Tenant: A novel (Hardcover)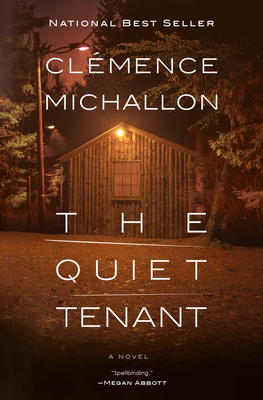 Staff Reviews
---
Aidan is a seemingly wonderful guy, an ex-Marine, a perfect community member adored for his willingness to help others. Little does everyone know that he has a big secret: He's a serial killer and currently has a potential victim, Rachel, as a hostage in a shed. After his wife's death, he is forced to give up his home and move to a new house, and he decides to take his captive with him, explaining to his daughter, Cecilia, that Rachel is a friend of a friend who needs a place to stay. Rachel and Cecilia gradually become friends of a sort, and after five years in isolation, Rachel starts thinking about finding an opportunity to escape. This is a well-written edge-of-your-seat novel that will keep you turning the pages. 
— Ayah and Alice
July 2023 Indie Next List
---
"A woman has been held hostage in a shed for five years, and could be killed by her captor at any moment. Michallon's outstanding debut will make you hold your breath as claustrophobia and unbearable tension set in."
— Melanie Fleishman, Center for Fiction Bookstore, Brooklyn, NY
Description
---
NATIONAL BEST SELLER • A NEW YORK TIMES BEST CRIME NOVEL OF THE YEAR • ONE OF THE MOST ANTICIPATED NOVELS OF 2023 • GMA BUZZ PICK • "A bravura feat of storytelling...daring and completely satisfying." —James Patterson, #1 best-selling author

A PULSE-POUNDING PSYCHOLOGICAL THRILLER ABOUT A SERIAL KILLER NARRATED BY THOSE CLOSEST TO HIM: HIS 13-YEAR-OLD DAUGHTER, HIS GIRLFRIEND—AND THE ONE VICTIM HE HAS SPARED

"Intelligent and suspenseful." —Paul Tremblay, author of The Cabin at the End of the World

"All…of the expected suspense and psychological tension, but offering a story about women—the ones who didn't know the evil that lurked within, the ones who tried to placate or fight but still perished, the ones who might actually survive. Haunting but never prurient…truly unforgettable." — Alafair Burke, author of The Wife

Aidan Thomas is a hard-working family man and a somewhat beloved figure in the small upstate New York town where he lives. He's the kind of man who always lends a hand and has a good word for everyone. But Aidan has a dark secret he's been keeping from everyone in town and those closest to him. He's a kidnapper and serial killer. Aidan has murdered eight women and there's a ninth he has earmarked for death: Rachel, imprisoned in a backyard shed, fearing for her life.

When Aidan's wife dies, he and his thirteen-year-old daughter Cecilia are forced to move. Aidan has no choice but to bring Rachel along, introducing her to Cecilia as a "family friend" who needs a place to stay. Aidan is betting on Rachel, after five years of captivity, being too brainwashed and fearful to attempt to escape. But Rachel is a fighter and survivor, and recognizes Cecilia might just be the lifeline she has waited for all these years. As Rachel tests the boundaries of her new living situation, she begins to form a tenuous connection with Cecilia. And when Emily, a local restaurant owner, develops a crush on the handsome widower, she finds herself drawn into Rachel and Cecilia's orbit, coming dangerously close to discovering Aidan's secret.

Told through the perspectives of Rachel, Cecilia, and Emily, The Quiet Tenant explores the psychological impact of Aidan's crimes on the women in his life—and the bonds between those women that give them the strength to fight back. Both a searing thriller and an astute study of trauma, survival, and the dynamics of power, The Quiet Tenant is an electrifying debut thriller by a major talent.
About the Author
---
CLÉMENCE MICHALLON was born and raised near Paris. She studied journalism at City University of London, received a master's in Journalism from Columbia University, and has written for The Independent since 2018. Her essays and features have covered true-crime, celebrity culture, and literature. She moved to New York City in 2014 and recently became a US citizen. She now divides her time between New York City and Rhinebeck, NY.
Praise For…
---
NATIONAL BESTSELLER • GMA BUZZ PICK • A LibraryReads #1 Pick 

One of The Washington Post's Notable Summer Books 2023
One of Vogue's Best Books of 2023
One of Goodreads's Most Anticipated Books of 2023
One of New York Post's Best Summer Books
One of CrimeReads' Most Anticipated Books of 2023
One of Apple's Best Books of the Month – June 2023

"An expertly paced psychological thriller . . . with a white-knuckle climax." —The New York Times Book Review

"A gripping psychological suspense novel . . . Michallon's riveting tale shows a killer through the eyes of the women in his life." —The Washington Post

"Clémence Michallon has written a classic on her first try. The Quiet Tenant is a daring and completely satisfying . . . bravura feat of storytelling . . . Who in her right mind would attempt a novel utilizing the first, second, and third-person? And then have the skill to actually pull it off." —James Patterson, #1 best-selling author

"Dark and juicy . . . like Emma Donohue's Room, the novel takes this creepy and claustrophobic premise and spins a paradoxically expansive plot from it, told from the perspective of his victim, his daughter, and a local restaurant owner." —Vogue

"A nail-biting terror of a read, slowly revealing how Rachel, already a little bit broken, ended up where she did . . . And then following as her courage incrementally ratchets up, as brainwashed and terrified, she starts to eye, and then discard, her opportunities to escape. I finished it at very high speed, heart pounding, absolutely loving it." —Observer (UK Praise)

"In a small American town, single dad Aidan is regarded as a good guy, but he is hiding a secret—he is a serial killer and kidnapper, and is holding a woman captive in his shed. A chilling depiction of evil." —Best Magazine (UK Praise)

"Cleverly constructed, well written and harrowing in the extreme from the very first page, this is an unforgettable debut. If this is a first novel, what's the next going to be like? I dread to think literally. Congratulations to Clémence Michallon, queen of the psychological thriller. We'll be waiting." —Shots Magazine (UK Praise)

"I can recommend The Quiet Tenant by Clémence Michallon. The story of a male serial killer called Aidan Thomas is told from multiple perspectives, in a way that centers the female voices of his victims. It's a pacy thriller and a sharp study of survival." —The Independent (UK Praise)

"The Quiet Tenant is a fascinating inversion of the serial killer thriller, a story that challenges some of the genre's most prevalent and pervasive tropes through the eyes of the powerful women involved. In the process—with razor-sharp plotting and hypnotic prose—Michallon has created an unforgettable novel." —Alex Segura, author of Secret Identity

"The Quiet Tenant is a humane thriller, one that doesn't shy from asking the most difficult questions of its characters and its readers, and dares, ultimately, hopeful answers. Intelligent and suspenseful, I couldn't stop turning the pages." —Paul Tremblay, author of The Cabin at the End of the World

"The Quiet Tenant is an absolutely brilliant, incredibly delicious, edge-of-your-seat thriller.  Imagine Jodi Picoult meets Jeffery Deaver and then watch as Clémence Michallon exceeds every one of your expectations.  She's that good.  The book is that good.  And the ending is a killer!" —Brad Thor, author of Dead Fall

"Clémence Michallon's The Quiet Tenant is a spell-binding Trojan horse of a  novel, bracing and beguiling. A dangerous man and his unforgivable crimes are its seeming center but, in Michallon's nimble hands, the novel soon reveals itself to be a story of female strength, cunning, depth, and power." —Megan Abbott, author of You Will Know Me

"Clémence Michallon has managed to reimagine the serial killer novel, delivering all (and frankly, more) of the expected suspense and psychological tension, but offering a story about women—the ones who didn't know the evil that lurked within, the ones who tried to placate or fight but still perished, the ones who might actually survive. Haunting but never prurient, The Quiet Tenant is truly unforgettable. Read it." — Alafair Burke, author of The Wife

"Expertly structured and luminously rendered, The Quiet Tenant is told from the perspectives of several different women bound, both wittingly and unwittingly, to a single, terrifyingly familiar predator. A mystery that is at once riveting and heartrending, The Quiet Tenant is a sharply insightful look at what it means to live and love as a woman in this harrowing world. It is truly extraordinary." — Kimberly McCreight, author of Reconstructing Amelia

"A dazzling debut thriller . . . This is a smart, female-focused inversion of the serial killer thriller perfect for readers who otherwise wouldn't give the genre a second look." —Publishers Weekly (starred review)

"While a widowed man falls for a bartender, the woman he's held hostage for years plots her escape in this fast-paced thriller . . . A twisted premise that raises unexpected moral questions." —Kirkus Reviews

"A brutal, sad, heartbreaking story focused on resilience and survival. Recommended for fans of true crime stories, Gillian Flynn, or Jessica Knoll." —Library Journal

"Nightmarish, nerve-jangling, and horrifying, this one is not for the fainthearted, but it's an explosive, utterly gripping read." —Booklist