In Memoriam: A novel (Hardcover)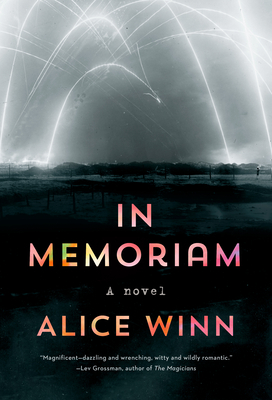 Staff Reviews
---
Henry Gaunt and Sidney Ellwood are dear friends and roommates at their boarding school. It's 1914 and the Great War has begun. Gaunt's family asks him to enlist so that he can fight back against the anti-German sentiments they face, and he does so immediately to help his family and to escape his feelings for Ellwood. Ellwood rushes to join him at the front, followed by so many of their classmates. The story of Gaunt and Ellwood's friendship and love, told through prose as well as letters, dispatches from the front, and school papers, brings home the devastating cost of war — its humanity as well as its inhumanity. Simply gorgeous.
— Cathy
Description
---
GMA BUZZ PICK • INTERNATIONAL BEST SELLER AND AWARD WINNER • A haunting, virtuosic debut novel about two young men who fall in love during World War I • "Will live in your mind long after you've closed the final pages." —Maggie O'Farrell, best-selling author of Hamnet and The Marriage Portrait

"In Memoriam is the story of a great tragedy, but it is also a moving portrait of young love, and there is often a lightness to the book."—The New York Times

It's 1914, and World War I is ceaselessly churning through thousands of young men on both sides of the fight. The violence of the front feels far away to Henry Gaunt, Sidney Ellwood and the rest of their classmates, safely ensconced in their idyllic boarding school in the English countryside. News of the heroic deaths of their friends only makes the war more exciting.

Gaunt, half German, is busy fighting his own private battle--an all-consuming infatuation with his best friend, the glamorous, charming Ellwood--without a clue that Ellwood is pining for him in return. When Gaunt's family asks him to enlist to forestall the anti-German sentiment they face, Gaunt does so immediately, relieved to escape his overwhelming feelings for Ellwood. To Gaunt's horror, Ellwood rushes to join him at the front, and the rest of their classmates soon follow. Now death surrounds them in all its grim reality, often inches away, and no one knows who will be next.

An epic tale of both the devastating tragedies of war and the forbidden romance that blooms in its grip, In Memoriam is a breathtaking debut.
About the Author
---
ALICE WINN grew up in Paris and was educated in the UK. She has a degree in English literature from Oxford University. She lives in Brooklyn.
Praise For…
---
A Best Book of the Year: The New Yorker, The Washington Post, NPR, BookPage, Shelf Awareness, and Spectator

"Magnificent—dazzling and wrenching, witty and wildly romantic, with echoes of Brideshead Revisited and Atonement. I loved it." —Lev Grossman, author of The Magicians

"An epic love story amid the brutalities of war." —People

"Glorious, addictive, exquisite . . . I couldn't put it down." —Hugh Ryan, New York Times Book Review

"Indelible." —Washington Post

"Consuming and unstintingly romantic." —The New Yorker

"Astounding . . . She's a magnificent writer." —NBC "Weekend Today in New York"

"A genuine page-turner." —Sunday Times (U.K.)
 
"Propulsive, visceral and heartrending . . . I can't remember the last time I was this invested in a love story." —Sunday Telegraph

"If you haven't read it, you're missing out." —Bonnie Garmus, author of Lessons in Chemistry (via Instagram)

"With her debut novel, Alice Winn joins the ranks of the finest war writers this side of Homer and Heller  . . . It holds its own in a crowded field of gay-men-in-World-War-I sagas, and towers above most of the others . . . Winn emerges a writer we've been waiting for." —Bay Area Reporter

"It's hard to believe that In Memoriam is a debut novel as it's so assured, affecting and moving. Alice Winn has written a devastating love story between two young men that moves from the sheltered idyll of their public school to the unspeakable horrors of the Western Front during the First World War. Gaunt and Ellwood will live in your mind long after you've closed the final pages." —Maggie O'Farrell, author of The Marriage Portrait

"I read through the night to finish this blistering debut, too feverishly engrossed to sleep. When was the last time characters in a novel seemed so real to me, so cherishable, so alive? Alice Winn has made familiar history fresh; no account of the First World War has made me feel so vividly its horror, or how irrevocably it mutilated the world. That In Memoriam is also an extraordinary love story is a sign of Winn's wild ambition and her prodigious gifts: this is a novel that claims both beauty and brutality, the whole range of human life." —Garth Greenwell, author of Cleanness

"In Memoriam is utterly compelling. These young men live and love with a bright urgency, even as their world burns. Alice Winn has written one of the finest debut novels I have read in years. Her inventiveness, deftness of touch and command of period detail suggests this book marks the start of a truly first-rate career."  —Dan Jones, author of Essex Dogs and The Plantagenets

"I loved this book. I loved Gaunt and Ellwood and how their hearts and stories became entwined in this masterful debut. My heart also became entwined with theirs, and there is no greater joy for me as a reader than that. Alice Winn and In Memoriam have my gratitude." —Ann Napolitano, author of Hello Beautiful

"Fast-paced and gripping . . . A moving elegy for lost youth." —Mail on Sunday

"Beautifully written and engrossing . . . Winn succeeds brilliantly . . . Excellent . . . This is a remarkable debut, with a keen and wise understanding of human nature." —The Spectator

"In Memoriam is at once epic and intimate, humorous and profound . . . Winn's dialogue thrums with mirth and furious intelligence. Throughout, she artfully switches perspectives and settings, leaving the reader in desperate suspense." —The Observer (U.K.)

"Guaranteed to move readers to the core . . . One of the most moving books I have read in a long time." —Fredericksburg Free Lance-Star

"Birdsong for a new generation . . . In Memoriam is a gripping and unsentimental love story that brings the First World War to life in a vividly new way. Alice Winn is a truly skilful writer, depicting her main characters, Gaunt and Ellwood, and the many layers of their relationship, beautifully, with real care and insight. She is unsparing in her depiction of the conflict in which they find themselves—powerfully evoking both the horrors of trench warfare and the devastating impact it had on those involved. She also brilliantly explores how the English public school system, with its casual brutalities and glorification of battle, was irrevocably intertwined with the war. An unforgettable novel, one I stayed up all night to finish, with characters I loved almost as much as they loved each other." —Joanna Quinn, author of The Whalebone Theatre

"I can't tell you how much I loved this novel . . . Various elements reminded me of A Little Life, Birdsong and All Quiet on the Western Front, but even though the content is heart-wrenching in so many ways, it remains an easy, engrossing read—I've already recommended it to all my friends." —Stylist

"Winn's depiction of the war is gripping . . . Her research is matched by her ability to craft a compelling narrative . . . Truly impressive." —Washington Independent Review of Books

"First love, class, male camaraderie and the horrors of war are all explored in this quietly heartbreaking epic with the unforgettable appeal of Birdsong." —Good Housekeeping
 
"Winn's finely accomplished debut novel is a rare thing, an intoxicating romance and an impossible-to-put-down war story in one . . . Winn captures the war as it looked, sounded, and smelled, but the ultimate death-defying acts here are in literature, breathtaking bravery, and love." —Booklist (starred)

"Gripping, tender, immersive and, most of all, completely unforgettable." —i newspaper

"One of the best debuts I've read in recent years: immersive, rousing, tender and devastating. In Memoriam is both a deeply moving love story and a visceral evocation of the Great War, impressively free of cliché. Winn makes such important points about class, destruction and the loss of innocence. I loved it with a startling ferocity." —Elizabeth Day, author of The Party

"From the first page, I knew this would be a book I would read time and again . . . Tender, loving, heartbreaking, endlessly compelling, richly detailed and poetic. I stayed up until 3 a.m. so I could read it in one sitting, because I simply couldn't stop myself." —Brianna Labuskes, author of The Librarian of Burned Books

"A searing and harrowing novel about the love story between two young men played out against a backdrop of the horrors of World War I. The writing was so visceral and intense, I honestly felt as if I was in the trenches with them, and I'm still thinking about the book weeks after reading it. An incredible debut."  —Nikki Smith, author of All In Her Head
 
"An astonishingly confident and impressive debut, this love story set in the First World War is shocking, brutal, and memorable. It left me shaken—and very impressed." —Lucy Atkins, author of Magpie Lane

"Easily the most affecting novel I read this year . . . Extremely assured and engaging . . . Winn has a remarkable feel for the complicated emotions of her two protagonists." —Peter Parker, Spectator (U.K.)

"A central relationship so utterly convincing that it will leave you bereft. Visceral, heartbreaking but full of heart, this is a masterpiece of war literature." —Hanna Jameson, author of The Last
 
"Alice Winn has pulled off a remarkable feat in making these men and the horrors of the First World War come so viscerally alive. It was like looking at a black and white photograph which has been colourised, and suddenly you understand that these shadowy people from the past also dreamed and cried and breathed just as we do now. I was completely absorbed, moved, and transported." —Claire Fuller, author of Unsettled Ground
 
"Alice Winn offers a fresh look at a subject many of us believe we know well. A tender story as much about love as it is about war." —Rowan Hisayo Buchanan, author of Harmless Like You

"Extraordinary. A truly epic tale of love unspoken, love shared and love lost. An instant and unforgettable classic."  —A.J. West, author of The Spirit Engineer

"Alice Winn's devastating debut will smash your heart to smithereens." —Daily Mail

"A shattering novel written with an assurance even more impressive because it is the author's debut." —Historical Novels Review

"This story is all consuming . . . In Memoriam manages to be one of the most tender stories that I've ever read . . . My heart was broken many times over . . . Winn's characters will go down in literary history."  —NB Magazine

"An instant classic." —Sara Collins, author of The Confessions of Frannie Langton

"A superb debut . . . A remarkable achievement." —Publishers Weekly (starred)

"Powerful, deeply imagined . . . Hard to forget . . . Just when you think you've settled into a tender literary novel, its revelations and surprises begin to unfurl at an impressive pace that reads more like a thriller." —Kirkus Reviews (starred)