The Hundred Loves of Juliet: A Novel (Hardcover)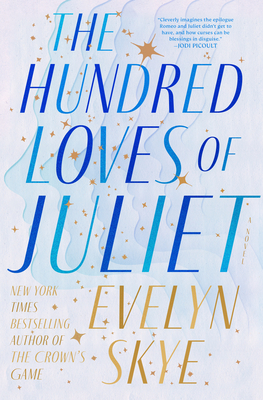 Staff Reviews
---
Helene has come to Alaska to escape a terrible marriage and to finally finish her novel. When she walks into the bar, she comes face to face with Sebastian, the character she has written about so many times. How is this possible? He is her Romeo, she is his Juliet. Told many times over, this classic love story must have a better ending than the first. Skye cleverly evokes the Shakespearean tale while charming us with a contemporary love story.
— Valerie
Description
---
A woman discovers that she is part of a legendary love story that spans lives, years, and continents in this modern-day reimagining of Romeo and Juliet.

"Cleverly imagines the epilogue Romeo and Juliet didn't get to have, and how curses can be blessings in disguise."—JODI PICOULT

I may go by Sebastien now, but my name was originally Romeo. And hers was Juliet.

It's a frosty fairytale of an evening in small-town Alaska when Helene and Sebastien meet for the first time. Except it isn't the first time. You already know that story, though it didn't happen quite as Shakespeare told it.

To Helene, Sebastien is the flesh-and-blood hero of the love stories she's spent her life writing. But Sebastien knows better—Helene is his Juliet, and their story has always been the same. He is doomed to find brief happiness with her over and over, before she dies, and he is left to mourn.

Albrecht and Brigitta. Matteo and Amélie. Jack and Rachel. Marius and Cosmina. By any name, no matter where and when in time, the two of them are drawn together, and it always ends in tragedy.

This time, Helene is determined that things will be different. But can these star-cross'd lovers forge a new ending to the greatest love story of all time?
About the Author
---
Evelyn Skye is the New York Times bestselling author of eight novels, including The Hundred Loves of Juliet and Damsel (which will soon be a Netflix film starring Millie Bobby Brown, Robin Wright, and Angela Bassett). Skye is a graduate of Stanford University and Harvard Law School. She lives in the San Francisco Bay Area with her husband and daughter.
Praise For…
---
"The Hundred Loves of Juliet is romantic, realistic, and fanciful—a love-for-all-times story. I couldn't put this book down. I really wanted Helene and Sebastien to have a happy ending, and I'll just say I was very surprised!"—Nancy Thayer, New York Times bestselling author of All the Days of Summer

"Fresh, magical, and hopelessly romantic, Evelyn Skye's The Hundred Loves of Juliet is a book for lovers. I was swept away. It's an atmospheric, tug-at-your-heartstrings winner, showing us that true love never dies."—Sarah Addison Allen, New York Times bestselling author of Other Birds

"A rare and charming retelling that asks the question: What if Romeo and Juliet had another chance? What if they had a hundred? The Hundred Loves of Juliet is a celebration of life as it comes and love as we find it."—Ashley Poston, New York Times bestselling author of The Dead Romantics

"Beautifully spun and achingly romantic, this gorgeous reimagining is every bit as hopeful as it is haunting. I have never loved Romeo and Juliet more."—M. A. Kuzniar, Sunday Times bestselling author of Midnight in Everwood

"Evelyn Skye expertly crafts the story of Romeo and Juliet into a moving romance that explores what it means to love boldly in the face of tragedy and loss. Hopeful and triumphant, The Hundred Loves of Juliet is like a bright, warm sunbeam in the form of a book you'll want to revisit again and again."—Alyssa Wees, author of Nocturne