Mortal Follies: A Novel (The Mortal Follies series #1) (Paperback)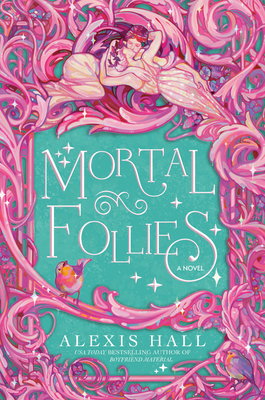 Other Books in Series
This is book number 1 in the The Mortal Follies series series.
Staff Reviews
---
In Regency society, life for well bred young ladies is full of challenges. When you're hampered by a curse, it's even worse. When Maelys Mitchelmore finds herself in this situation, she must join forces with Lady Georgiana Landrake, rumored to be a witch who killed her family, to find the source of the curse and undo the vindictive magical attack. What follows is a clever, spellbinding romance full of wit and magic.
— Cathy
Description
---
A young noblewoman must pair up with an alleged witch to ward off a curse in this irresistible sapphic romance from the bestselling author of Boyfriend Material.

"Fresh and delightful . . . All the interpersonal drama of Jane Austen meets all the complex treachery of Greek mythology."—Publishers Weekly (starred review)

A KIRKUS REVIEWS BEST BOOK OF THE YEAR

It is the year 1814, and life for a young lady of good breeding has many difficulties. There are balls to attend, fashions to follow, marriages to consider, and, of course, the tiny complication of existing in a world swarming with fairy spirits, interfering deities, and actual straight-up sorcerers.

Miss Maelys Mitchelmore finds her entry into high society hindered by an irritating curse. It begins innocuously enough with her dress slowly unmaking itself over the course of an evening at a high-profile ball, a scandal she narrowly manages to escape.

However, as the curse progresses to more fatal proportions, Miss Mitchelmore must seek out aid, even if that means mixing with undesirable company. And there are few less desirable than Lady Georgiana Landrake—a brooding, alluring young woman sardonically nicknamed "the Duke of Annadale"—who may or may not have murdered her own father and brothers to inherit their fortune. If one is to believe the gossip, she might be some kind of malign enchantress. Then again, a malign enchantress might be exactly what Miss Mitchelmore needs.

With the Duke's help, Miss Mitchelmore delves into a world of angry gods and vindictive magic, keen to unmask the perpetrator of these otherworldly attacks. But Miss Mitchelmore's reputation is not the only thing at risk in spending time with her new ally. For the reputed witch has her own secrets that may prove dangerous to Miss Mitchelmore's heart—not to mention her life.
About the Author
---
Alexis Hall is the mortal pen name of a wandering fairy spirit cruelly exiled to the physical world for reasons that were not at all his fault. He is slowly coming to terms with his predicament and feels fortunate that he has found a way to monetise his contempt for humanity.
Praise For…
---
"Alexis Hall can always be counted on to deliver a sweet and compelling historical romance that explores the paths that queer people forged to find love. Mortal Follies more than satisfies."—NPR

"[Mortal Follies] is a lovely, pitch-perfect romance, with an alternate Regency setting that is well developed and has tremendous charm. . . . Part historical, part fantasy, all top-notch queer romance."—Kirkus Reviews (starred review)
 
"[Mortal Follies] proves a fresh and delightful addition to the queer romance canon. . . . All the interpersonal drama of Jane Austen meets all the complex treachery of Greek mythology. Full of adventure, chaos, magic, and lust, this will enthrall Hall's fans and new readers alike."—Publishers Weekly (starred review)

"From the book's puckish narrator—whose sly observations on humanity add another layer of humor to the story—to the whimsically wonderful, witty writing that evokes Jane Austen and Oscar Wilde, Hall . . . [creates] an effervescent, genre-blurring romantic confection that will be utterly irresistible to fans of Patricia C. Wrede, Caroline Stevermer, Mary Robinette Kowal, and Zen Cho."—Booklist