The Retreat: A Novel (Hardcover)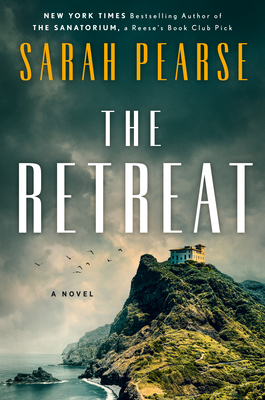 $27.00

Usually Ships in 4-7 Days
Staff Reviews
---
Detective Elin Warner returns after The Sanatorium mystery in full force. When a body turns up at the Lumen retreat off the coast of England, Elin and her partner are dispatched to access the situation. A group of sisters and their boyfriends are visiting the retreat as a getaway. Each has their own secret, each has their own agenda for the vacation. The one thing they didn't count on was finding Bea, who canceled on the trip last minute, dead on the first morning. This tragic event opens a can of worms that catapults into more "accidents" pulling unsolved events from the past front and center. Elin finds herself emerged into the past unsolved crimes of the island in order to solve the present day ones. Can she figure things out before time runs out? No one is who they say they are which adds another twist to an already riveting read. Very fast paced until the last sentence of the epilogue!
— Christina
Description
---
AN INSTANT NEW YORK TIMES BESTSELLER!

From the New York Times bestselling author of The Sanatorium, a Reese's Book Club pick, here, Detective Elin Warner uncovers the truth behind the suspicious deaths on a stunning island getaway

"The suspense inexorably builds to a stunning climax."
—David Baldacci, #1 New York Times bestselling author of Long Shadows

They couldn't wait to stay here.

An idyllic wellness retreat has opened on an island off the English coast, promising rest and relaxation—but the island itself, known locally as Reaper's Rock, has a dark past. Once the playground of a serial killer, it's rumored to be cursed.

But now they can't leave.

A young woman is found dead below the yoga pavilion in what seems to be a tragic fall. But Detective Elin Warner soon learns the victim wasn't a guest—she wasn't meant to be on the island at all.

And they would do anything to escape.

The longer Elin stays, the more secrets she uncovers. And when someone else drowns in a diving incident, Elin begins to suspect that there's nothing accidental about these deaths. But why would someone target the guests at this luxury resort? Elin must find the killer—before the island's history starts to repeat itself.

Most came to recharge and refresh. But someone's here for revenge.
About the Author
---
Sarah Pearse grew up in Devon, England, and studied English literature and creative writing at the University of Warwick before completing a postgraduate diploma in broadcast journalism. The Sanatorium, her debut, was an instant New York Times bestseller and a #1 Sunday Times bestseller, and was selected as a Reese's Book Club Pick. The Retreat, her second novel, was also a New York Times and Sunday Times bestseller.
Praise For…
---
Praise for The Retreat:

"Well-written fusion of psychological thriller and whodunnit. . . Pearse smartly reworks Christie's setting, making her island at once a gothic throwback, with caves and talk of a curse, and a very 21st-century escape, with green values and holistic therapy. And she's very good on the relationships within the group as tension builds."
—Sunday Times (London)

"This thriller novel is so dark and tense, it's the perfect read for anyone lounging in the sun this summer, grateful that your holiday isn't so chaotic."
—Cosmopolitan (London)

"[A] thrilling murder mystery."
—PopSugar

"A riveting, twisty page-turner . . . Readers of Pearse's earlier book or Ruth Ware's suspense novels will be hard-pressed to put down this atmospheric, sometimes creepy novel."
—Library Journal (starred review)

"Full of foreboding and high-stakes tension, Sarah Pearse's latest is a page-turner. The past doesn't stay buried for long, at sea or on land, and what comes to the surface is both shocking and chilling."
—Nita Prose, #1 New York Times bestselling author of The Maid

"Pearse goes from strength to strength in The Retreat. The suspense inexorably builds to a stunning climax. An added treat is the return of Elin Warner, who is a fascinating character one can only root for."
—David Baldacci, #1 New York Times bestselling author of Long Shadows

"If Sarah Pearse's sensational debut The Sanatorium summoned the dangerous spirits of Gothic storytellers past, her new novel The Retreat recalls the one-by-one-by-one nerve-shredding of Agatha Christie at her darkest. Pearse is one of those rare contemporary writers—alongside Ruth Ware, Lucy Foley, and Alice Feeney—both reviving and refreshing the traditions of mystery fiction. A fresh, daring, irresistible thriller."
—A. J. Finn, #1 New York Times bestselling author of The Woman in the Window

"Gut-wrenching, taut, and brilliantly claustrophobic, The Retreat delivers twist after devastating twist. I could not put it down—an absolute must-read."
—Rosie Walsh, New York Times bestselling author of The Love of My Life

"Sarah Pearse has done it again! The Retreat is a heart-pounding, adrenaline-soaked thrill ride, packed with well-drawn characters, settings so real you could touch them, and cliffhangers and twists as belly-flipping as a dive off the fictional island's Reaper's Rock. Block off your schedule, because once you start reading, you won't be able to stop."
—Andrea Bartz, New York Times bestselling author of We Were Never Here

"Sarah Pearse has expertly crafted another eerie, atmospheric thriller that will have you looking over your shoulder as you read. A wonderfully chilling story of grief, revenge, and family secrets. An absorbing escape!"
—Ashley Audrain, New York Times bestselling author of The Push

"Deliciously paced with rich worldbuilding, The Retreat teems with questionable motives, unspoken frustrations, and hair-raising cliffhangers. Pearse's latest thriller is a reminder that beneath the glimmering exterior of the places and people we love, vengeance often lurks. I absolutely could not put this book down!"
—Sarah Penner, New York Times bestselling author of The Lost Apothecary

"Detective Elin Warner is back in another atmospheric thriller. Pearse cleverly develops intrigue and ramps up the tension relentlessly as the stakes become deadly. Fans of The Sanatorium will love it."
—Gilly Macmillan, New York Times bestselling author of The Long Weekend

"Dazzling and inventive, like an Agatha Christie mystery split open by a heatwave. Sarah Pearse won readers' hearts with The Sanatorium, and The Retreat is every bit as transporting, with another unforgettable setting and a complex web of secrets. I didn't want it to end."
—Flynn Berry, New York Times bestselling author of Northern Spy

"Be careful who you root for, as no character is safe in Sarah Pearse's new novel The Retreat. In the spirit of a true thriller, the tension is taut and the suspense is real as the pace builds to a heart-stopping finale. A triumphant second novel, which is no mean feat."
—Sandie Jones, New York Times bestselling author of The Other Woman

"A story as unsettling as the island that serves as its setting. Don't trust anyone at The Retreat."
—Stacy Willingham, New York Times bestselling author of A Flicker in the Dark

"Unsettling, unnerving and unforgettable. The Retreat is the kind of creepy, atmospheric thriller that burrows deep beneath your skin until the chilling climax."
—Chris Whitaker, New York Times bestselling author of We Begin at the End

"With The Retreat, Sarah Pearse confirms her spot as a world-class thriller writer. Superb."
—Steve Cavanagh, author of Thirteen

"Just like The Sanatorium, The Retreat tells a twisty, chilling and tense tale in a location so vividly imagined, you feel like you're there too, among the guests. Long may Sarah Pearse continue to ruin the idea of luxury-resort travel for us all…"
—Catherine Ryan Howard, international bestselling author of The Nothing Man

"Atmospheric and richly described, with surprises around every corner. From the terrifying prologue to the chilling final twist, Pearse has created another highly creepy thriller!"
—Allie Reynolds, author of Shiver

"I absolutely loved it. So many threads, more red herrings than a North Sea fishing trawler, cliffhangers galore and my absolute favorite—short, snappy chapters. It's a riveting, twisty turny read, a classic whodunnit with a killer final twist."
—John Marrs, bestselling author of The One


Praise for The Sanatorium:

"CHILLING! The Sanatorium by Sarah Pearse is an eerie, atmospheric novel that had me completely on the edge of my seat. Let's set the mood. . . You're in a remote location—at a hotel—and there's a snowstorm. The winds are howling, the snow is pelting in every direction, there's a missing person, and a dead body shows up!" 
—Reese Witherspoon

"Creepy, deeply claustrophobic, mind-numbing, teasing, twists and turns galore, this book is a towering example of a masterful hand at work. If only Hitchcock were still around to film it."
—David Baldacci

"When guests at a five-star resort in the Alps disappear mid-blizzard, vacation's over for detective Elin Warner. It's The Shining but with a full house."
—People

"I devoured this in one sitting." 
—Parade

"I absolutely loved The Sanatorium—it gave me all the wintry thrills and chills. It was just wonderful."
—Lucy Foley, New York Times bestselling author of The Guest List

"The Sanatorium is an absolutely splendid gothic thriller—gracious in its nods to the classic locked-room mystery, yet bold enough to burst out of that room through the window. Pearse writes prose as fresh and crisp as Swiss Alp powder, and her characters fascinate even as their numbers dwindle."
—A. J. Finn, #1 New York Times bestselling author of The Woman in the Window

"Pearse's The Sanatorium will keep you checking over your shoulder. This spine-tingling, atmospheric thriller has it all: an eerie alpine setting, sharp prose, and twists you'll never see coming. A must-read."
—Richard Osman, international bestselling author of The Thursday Murder Club

"Sarah Pearse's The Sanatorium is a knockout. Mesmerizing, lyrical prose contrasts starkly with the dark story events in this debut thriller set at a remote luxury hotel in the Swiss Alps. Tense, claustrophobic, with a horrific connection between past and present that is utterly unpredictable—I loved this book!" 
—Karen Dionne, #1 international bestselling author of The Wicked Sister

"It's hard to believe this is a debut novel, given how masterfully Sarah Pearse writes. The setting is starkly chilling, the characters are smart and vulnerable, and as you turn the pages, the slow creep of claustrophobia sets in. Highly recommended."  
—Sarah Pekkanen, #1 New York Times bestselling coauthor of The Wife Between Us

"A mix of whodunnit and psychological thriller with hints of horror, this fine debut. . . is smartly structured and often powerful."
—The Sunday Times (London)

"Sarah Pearse's chilling debut is making waves . . . The Sanatorium certainly has an eerie, cinematic appeal... Sinister scene well and truly set, unexplained disappearances commence and dark family dynamics emerge, with quick chapters that keep pages turning. With whispers of The Shining in setting and The Girl on the Train in pace, it . . . will please fans of suspense. Either way, it's crying out for a screen adaptation and provides a welcome, if unsettling, distraction from current events."
—Vanity Fair (UK)

"This impressive debut is a twist on the classic locked-room mystery in a wonderfully eerie gothic setting. Its sharp prose builds suspense through a series of twists that will send an alpine chill up your spine, building to an unpredictable finale. This clever, compelling thriller deserves to be a bestseller and marks out Sarah Pearse as one to watch."
—The Sunday Express (London)

"A colorful and tense murder mystery with a chilling (in more ways than one) atmosphere. . . There is a pleasing pressure-cooker feel to proceedings, reminiscent of Agatha Christie's classic And Then There Were None. Pearse uses clever red herrings—secrets, pills, affairs, mental illness—and the stand-off scenes between Elin and the murderer are genuinely scary."
—The Irish Times

"Slowly the dark secrets hidden in the sinister building emerge from the shadows. There are echoes of Hitchcock and du Maurier, but Pearse has her own distinctive, emotional voice—one to be admired."
—Daily Mail (London)

"Pearse's engrossing debut boasts a highly atmospheric setting . . . This dark tale of family dynamics is sure to please suspense fans."
—Publishers Weekly

"Pearse not only creates believably fallible characters, she also vividly portrays the frigid landscape of Le Sommet buffeted by blizzards, and a chilling epilogue cries out for a sequel. Crime-fiction readers will want to keep an eye on Pearse."
—Booklist (starred review)

"The perfect claustrophobic setting packed with mystery and edge-of-your-seat tension." 
—Natasha Preston, New York Times bestselling author of The Cellar

"Dark, suspenseful and downright chilling, Pearse's debut, The Sanatorium, is a triumph. Vividly set against the backdrop of the Swiss Alps, it had me on the edge of my seat from the first page. Pearse's writing is sublime. Pearse has a big future ahead of her."
—Sally Hepworth, bestselling author of The Mother-in-Law

"The Sanatorium is definitely a debut novel to watch out for. What a chilling read! One of the creepiest thrillers I've ever read. So atmospheric, clever and compulsive. LOVED it!"
—Claire Douglas, bestselling author of Last Seen Alive

"A superb debut offering an astonishingly creepy and isolated backdrop, great characters, tension and twists. Hugely atmospheric with enough menace to keep you looking over your shoulder!"
—Sam Carrington, bestselling author of I Dare You

"A spine-tingling setting, an unnerving cast of characters and so many incredibly creepy moments . . . this is not one to read before bed!"
—Elizabeth Kay, author of Seven Lies

"An incredible debut . . . Clever, creepy and utterly compelling."
—Samantha King, author of The Perfect Family

"A superbly atmospheric crime debut. Deliciously creepy and clever, it's everything you could want in a thriller. Very highly recommended!"
—Simon Lelic, author of The Search Party

"An atmospheric thriller with the perfect claustrophobic setting. This is equal parts creepy, suspenseful and gruesome—everything you could want in a novel for this genre. This is a sure-fire hit guaranteed to keep you seeing shadows in the snow on those freezing winter nights. I loved it." 
—C.J. Skuse, author of Sweetpea

"I loved it—such a wonderful sense of location, and the tension is knife edge-sharp." 
—Michelle Adams, author of If You Knew My Sister