Mexikid (Paperback)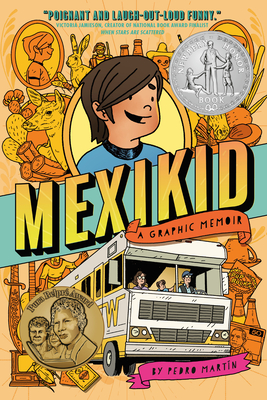 Staff Reviews
---
A clever recounting of Pedro being raised in a large family — in which two-thirds of the kids were born in Mexico, while he and his remaining siblings were born in USA. As a child of a migrant farm worker from California, Peter (Pedro) shares about his feelings of growing up with a split sense of belonging. The crux of the story is an entertaining family roadtrip to Mexico with the goal of gathering their Revolutionary war-aged grandfather and bringing him back to live with them in the states. Family history is shared and made. A funny and touching graphic memoir that captures family ties.
— Liz
September/October 2023 Kids Indie Next List
---
"Pedro's voice echoes validation for those of us that grew up (or are growing up) in that space between not feeling Mexican enough or American enough, and finding our own identity. Every child in my life will be getting this book."
— Lupe Penn, Bookmarks, Winston-Salem, NC
Description
---
An unforgettable graphic memoir about a Mexican American boy's family and their adventure-filled road trip to bring their abuelito back from Mexico to live with them that National Book Award Finalist Victoria Jamieson calls "one of those books that kids will pass to their friends as soon as they have finished it."

Pedro Martín has grown up hearing stories about his abuelito—his legendary crime-fighting, grandfather who was once a part of the Mexican Revolution! But that doesn't mean Pedro is excited at the news that Abuelito is coming to live with their family. After all, Pedro has 8 brothers and sisters and the house is crowded enough! Still, Pedro piles into the Winnebago with his family for a road trip to Mexico to bring Abuelito home, and what follows is the trip of a lifetime, one filled with laughs and heartache. Along the way, Pedro finally connects with his abuelito and learns what it means to grow up and find his grito.
About the Author
---
Pedro Martín is a former Hallmark artist and the creator of Asteroid Andy. He chronicles his life growing up Mexican American online in a comic series, and in his debut graphic memoir, both called Mexikid.
Praise For…
---
NPR Best Book of the Year 
Booklist Best Book of the Year
Kirkus Best Book of the Year
Publishers Weekly Best Book of 2023 
School Library Journal Best Graphic Novel 2023 
Amazon Best Book of the Year
New York Public Library Best Book of the Year
Chicago Public Library Best Book of the Year

"Mexikid is a delightful story packed with family history, culture, closeness . . . and a Winnebago full of laughs." —Terri Libenson, New York Times bestselling author of Emmie & Friends series 
 
"Mexikid is poignant, laugh-out-loud funny, and masterfully weaves road trip misadventures with history and family legacies. This is one of those books that kids will pass to their friends as soon as they have finished it." —Victoria Jamieson, creator of National Book Award Finalist When Stars Are Scattered

★ "Full of humor, heart, and a decent amount of gross-out moments, Martín's coming-of-age memoir hits all the right notes . . . the struggles with establishing identity, especially as a child of immigrants whose identity straddles two cultures, feel as current as ever. The vibrant, action-packed panels offer plentiful details for readers to pore over, from scenes of crowded family chaos to the sights of Mexico. A retro yet timeless story of family and identity." —Kirkus, starred review

★ "There's much to savor here, from the thoughtful exploration of bicultural identity to the good-natured snarky teasing of siblings to pivotal moments of growth amid guileless kidhood. It's a tightrope balancing act of antic humor and genuine pathos, and Martín pulls it off with tremendous flair." —Booklist, starred review

★ "[P]otent . . . Equal parts hilarious and tear-jerking moments abound, rendered in a cartoon style with vibrant color palettes that shift depending on the sequence's tone. This artistically inventive read, which teems with lively characters and emotion, is a joy to behold." —Publishers Weekly, starred review

★ "Deep familial bonds, a lovingly chaotic household, and a heartfelt exploration of culture and identity underpin this very memorable debut." —Horn Book, starred review

"Martín's memoir is an unpredictable fusion of humorous and reflective moments in his early life that gives fascinating insights into his family's many stories while hinting at larger cultural questions and histories . . . The story's art is vibrant . . . An always entertaining story about the trials and joys of family." —School Library Journal

"Not only is this a story of family love and discovery, but also a great look back at the 70's and its music, technology, movies, and TV shows . . . Highlights include the author's recounting of the past stories he heard about his grandfather fighting in the revolution, the real-life photos of Martín's family, and several pages of questions and answers about his life. Naturally many of the phrases are in Spanish, some with translations. The art is wonderfully drawn, realistic, flows smoothly, and the use of color to show emotion gives the reader a full understanding of the events." —School Library Connection

"This was such a fun memoir. The illustrations were spot-on and the family hilarious and loving. This is really a life-is-stranger-than-fiction book filled with adventure, discovery, unforgettable people, hijinks, crazy haircuts, and real-life superheroes. A wonderful summer read for kids (and adults!) of all ages." —Nicole Miller, Barbara's Books bookseller

"This coming-of-age, middle grade memoir was laugh-out-loud funny and touching. Pedro Martin does a fantastic job of showing the struggle of trying to bridge his Mexican and American worlds together—particularly that of his own generation and his legendary grandfathers. Excellent illustrations and very engaging." —Lucy Corona, Hicklebee's bookseller

"Soaked in a reality that few can master on the page as well, Mexikid may be one of the best comics I've ever read for this age range. Consider it an amazing example of how to retell the story of your youth in the most epic (yet shockingly accurate) way possible . . . One of the most enjoyable books you'll encounter out there. A true modern day classic." —Betsy Bird's Fuse #8, Review of the Day