I Swear: Politics Is Messier Than My Minivan (Hardcover)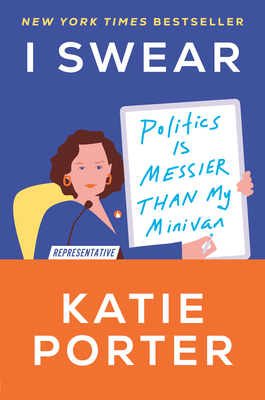 Staff Reviews
---
Written by Democratic Congresswoman Katie Porter, this book is equal parts memoir, behind the curtain reality exposé of how Congress works, and self-deprecating humor. Katie details her life of growing up on Iowa farmlands before heading to Yale, then Harvard Law, then becoming a professor specializing in bankruptcy law, and now Congresswoman, with chapters intertwined that discuss in more detail her work as an expert in the field of bankruptcy law and work during the subprime mortgage crisis. The story of her life as a single mother of three while trying to juggle the demands of serving in Congress is an eye-opening look into how everything in government really does (or doesn't) happen, and sprinkled throughout are suggestions on how to get more involved with your local elected officials if you so desire. Regardless of your political leanings, something can always be learned from listening to other people in the room, and this book is a wonderful addition to those voices.  
— Aerie
Description
---
NEW YORK TIMES BESTSELLER • A "high-octane, no-bullshit" (The New Republic) memoir about re-energizing our politics and standing up to corporate America—while carting three kids around in a minivan.
 
"Just like her whiteboard schoolings of CEOs, this book showcases Katie's ability to entertain while making the inner workings of Congress more accessible than ever before."—Julia Louis-Dreyfus

Never having run for office before, Katie Porter charted a new path in 2018 when she was elected to Congress as a Democrat in historically conservative Orange County, California. Underestimated as a single mom and chided for her progressive values, Katie defied expectations. Then, using her signature whiteboard, she began to take CEOs and corrupt government officials to task in Congressional hearings. The videos went viral, introducing Americans to her no-bullshit style, and making her a coveted guest on cable news and late-night television.  
 
I SWEAR: Politics Is Messier Than My Minivan is a witty, down-to-earth exploration of what it's really like to serve in Congress, particularly as a single mom. Katie offers Americans a clear picture of what their elected leaders are doing—and how they're doing it—exposing the gaps between politicians' press conferences and real people's lives. 
 
Katie reveals how her challenges as an Iowa farmgirl diverted her to the Ivy League and how she came to see herself as a Californian, teaching law and raising three kids in Orange County. She shares why she made the jump from academia to politics and how she quickly mastered the art of making CEOs and cabinet members squirm when they bluff and bloviate instead of doing the job for America.
 
With the same clarity she demonstrates in Congressional hearings, Katie makes the case for consumer protection, corporate accountability, and anti-corruption reforms. She pulls back the curtain on the political messaging machine, campaign fundraising, and Congress' traditions, showing that the way things have always worked, in fact, does not work for a Congressperson without someone at home to do the shopping and take care of the kids. Along the way, she provides whiteboard lessons on where your campaign donations go, how to fight the corporations that cheat you, and how to conduct her trademark robust oversight. 
 
Full of candid and inspiring stories—from how Katie lent Alexandria Ocasio-Cortez a pair of sneakers during the Capitol attack on January 6, 2021, to her kids' lightly illegal campaign hijinks—this is a book by an exhausted, committed parent who just doesn't have the time for nonsense in her house or in the House of Representatives.
About the Author
---
Katie Porter represents Orange County, California, in Congress. Prior to being elected in 2018, she was a law professor and consumer finance expert. Katie lives with her three school-aged kids in Irvine, California.
Praise For…
---
"This book is Katie—funny, sharp, fearless. I laughed out loud, I teared up, and I got furious. If you've ever thought of having lunch with Katie, but you figure that probably won't work out, read this book—it's a close second."—Senator Elizabeth Warren

"[A] tangy tell-all . . . rollicking . . . [Porter] alternates between the witheringly satirical and the breezily self-deprecating (think Erma Bombeck goes to Capitol Hill). . . . Porter's superpower is her credential as a populist everywoman."—The Washington Post

"Genuinely readable, insightful, revealing, and surprisingly fun . . .[Porter] strips back the artifice and privilege of the job with everyday examples. . . . If she were not a politician, she would have made a good columnist."—Chicago Tribune

"Bracingly honest . . . [I Swear] strays from the norm, exploring normally taboo issues such as the strain her job has put on her finances, her family and her self-image."—Los Angeles Times

"High-octane, no-bullshit . . . The whiteboard represents some of Porter's greatest political assets—sharp intelligence, ability to break down complex ideas into digestible bites, canny political instincts."—The New Republic

"Just like her whiteboard schoolings of CEOs, this book showcases Katie's ability to entertain while making the inner workings of Congress more accessible than ever before. You will really chuckle as Katie recounts her unlikely path to rock stardom in the House of Representatives."—Julia Louis-Dreyfus

"When Representative Katie Porter speaks, I know she knows what she's talking about and gives it to you straight up. That's the reason I love her. The fact that this book is helping to explain the mess in politics thrills me no end. If anybody can tell us, it's Katie. This is a great read."—Whoopi Goldberg

"In Congress, Katie has proven herself to be a profound storyteller. In this book, she remains a brilliant narrator of the glories and heartaches of trying to do the people's business in tumultuous times. I love this book. I love Katie's clarity, her passion, and her humor. I love Katie Porter."—Jason Alexander