The Maid: A Novel (Molly the Maid #1) (Hardcover)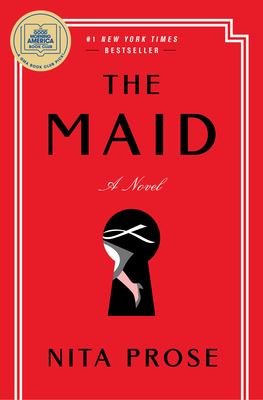 $28.00

Usually Ships in 4-7 Days
Staff Reviews
---
Molly Gray, also referred to as "Maid Molly," follows in the footsteps of her grandmother by working at The Grand Regency Hotel. Molly enjoys her job and comes in everyday with great pride and a goal to return the hotel rooms back to their original state. However, one day as Molly is doing her job, she finds herself in a spot she had never imagined. Molly discovers the body of a well known guest and must help the detective in the investigation. Unlike her peers, Molly struggles with social skills and for this reason she is too trusting. As a result, Molly quickly becomes a person of interest and the only way to clear herself of the murder is to determine who is telling her the truth and who is trying to cover for themselves. Will Molly be able to do it? If so, how?
— Ayah
January 2022 Indie Next List
---
"Very entertaining! Miss Marple meets The Rosie Project in this charming book about a hotel maid who sees the world a bit differently than many of us. Molly the maid and her cast of friends will bring a smile to your face!"
— Jenny Stroyeck, The Homer Bookstore, Homer, AK
Description
---
#1 NEW YORK TIMES BESTSELLER • GOOD MORNING AMERICA BOOK CLUB PICK • "A heartwarming mystery with a lovable oddball at its center" (Real Simple), this cozy whodunit introduces a one-of-a-kind heroine who will steal your heart.
 
FINALIST FOR THE EDGAR® AWARD • "The reader comes to understand Molly's worldview, and to sympathize with her longing to be accepted—a quest that gives The Maid real emotional heft."—The New York Times Book Review (Editors' Choice)
 
"Think Clue. Think page-turner."—Glamour

ONE OF THE TEN BEST BOOKS OF THE YEAR: Reader's Digest
WINNER: The Anthony Award, The Fingerprint Award, The Barry Award

In development as a major motion picture produced by and starring Florence Pugh

Molly Gray is not like everyone else. She struggles with social skills and misreads the intentions of others. Her gran used to interpret the world for her, codifying it into simple rules that Molly could live by.

Since Gran died a few months ago, twenty-five-year-old Molly has been navigating life's complexities all by herself. No matter—she throws herself with gusto into her work as a hotel maid. Her unique character, along with her obsessive love of cleaning and proper etiquette, make her an ideal fit for the job. She delights in donning her crisp uniform each morning, stocking her cart with miniature soaps and bottles, and returning guest rooms at the Regency Grand Hotel to a state of perfection.

But Molly's orderly life is upended the day she enters the suite of the infamous and wealthy Charles Black, only to find it in a state of disarray and Mr. Black himself dead in his bed. Before she knows what's happening, Molly's unusual demeanor has the police targeting her as their lead suspect. She quickly finds herself caught in a web of deception, one she has no idea how to untangle. Fortunately for Molly, friends she never knew she had unite with her in a search for clues to what really happened to Mr. Black—but will they be able to find the real killer before it's too late?

A Clue-like, locked-room mystery and a heartwarming journey of the spirit, The Maid explores what it means to be the same as everyone else and yet entirely different—and reveals that all mysteries can be solved through connection to the human heart.

ONE OF THE BEST BOOKS OF THE YEAR: The Washington Post, The Guardian, Glamour, Elle, PopSugar, Newsweek, Mental Floss, She Reads, Kirkus Reviews
About the Author
---
Nita Prose is a longtime editor, serving many bestselling authors and their books. She lives in Toronto, Canada, in a house that is only moderately clean.
Praise For…
---
"A cozy mystery to take along on vacation . . . a lighthearted mystery that shines as Molly evolves and learns to connect."—The Washington Post

"Excellent and totally entertaining . . . The most interesting (and endearing) main character in a long time."—Stephen King

"What begins as a sprightly murder mystery turns into a meaningful, and at times even delicate, portrait of growth."—NPR

"Charming, eccentric."—The New York Times

"Daring."—W Magazine
 
"Entrancing . . . something of a modern-day Clue."—PopSugar

"A murder mystery with tremendous heart."—Lisa Jewell

"An eccentric and unforgettable sleuth who captivated me and kept me furiously turning the pages."—Sarah Pearse, New York Times bestselling author of The Sanatorium

"The Maid is a masterful, charming mystery that will touch your heart in ways you could never expect. The endearing, unforgettable Molly reminds us to challenge our assumptions about one another, and shows us how meaningful it is to feel truly seen in the world."—Ashley Audrain, New York Times bestselling author of The Push

"A charming, clever, and wholly original whodunit. I cheered and felt deeply for Molly the Maid—a complex and masterfully drawn protagonist I won't soon forget."—Andrea Bartz, New York Times bestselling author of We Were Never Here

"A heroine as loveable and quirky as Eleanor Oliphant, caught up in a crime worthy of Agatha Christie. Loved it!"—Clare Pooley, New York Times bestselling author of The Authenticity Project

"It's impossible not to love Molly, an endearing, eccentric hotel maid. . . . As in any cozy whodunit, clean appearances may in fact hide a few smudges. The twists and surprises keep coming until the very last page of this delightfully fresh debut."—Sarah Penner, New York Times bestselling author of The Lost Apothecary

"Fresh, fiendish, and darkly beguiling . . . The Maid is so thrillingly original, clever, and joyous. I just adored every page."—Chris Whitaker, New York Times bestselling author of We Begin at the End

"The Maid is sure to leave mystery lovers delighted, charmed, and eager for more of Prose's work."—Karma Brown, New York Times bestselling author of Recipe for a Perfect Wife

"It took only a few lines for me to fall hopelessly in love with hotel maid Molly Gray. Being in Molly's mind is like eating ice cream on a hot summer day: delicious and refreshing."—Samantha M. Bailey, USA Today bestselling author of Woman on the Edge

"For anyone who has ever felt out of step with the world, no matter how hard they try to fit it, Nita Prose has blessed us with Molly Gray."—Heather O'Neill, internationally bestselling author of The Lonely Hearts Hotel

"Molly is a likeable, neurodivergent narrator in this outstanding debut. The character-rich mystery ends with several twists that will appeal to fans of Eleanor Oliphant and other sympathetic heroines."—Library Journal (starred review)

"Captivating, charming, and heart-warming, with deft writing and a clever, original plot, this unusual crime novel will leave readers with a warm glow."—Booklist (starred review)