The Bookshop of Second Chances: A Novel (Paperback)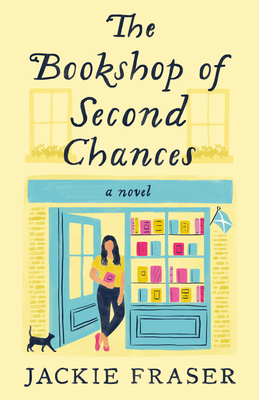 Staff Reviews
---
Thea is having a bad month. She's been let go from her job and her husband of 15 years is having an affair with a mutual friend. She feels completely lost, and when her great-uncle dies and leaves her his cottage in Scotland, she decides to spend some time at the cottage, sorting out his affairs and selling his rare book collection. Of course, she falls in love with the village and its occupants, but finds herself arguing with Edward, the grumpy bookshop owner. If you've read a rom-com before, you know what's going to happen - the joy is in how the story resolves itself and Fraser does a wonderful job. Happy reading!
— Cathy
Description
---
A woman desperate to turn a new page heads to the Scottish coast and finds herself locked in a battle of wills with an infuriatingly aloof bookseller in this utterly heartwarming debut, perfect for readers of Evvie Drake Starts Over.

Thea Mottram is having a bad month. She's been let go from her office job with no notice—and to make matters even worse, her husband of nearly twenty years has decided to leave her for one of her friends. Bewildered and completely lost, Thea doesn't know what to do. But when she learns that a distant great uncle in Scotland has passed away, leaving her his home and a hefty antique book collection, she decides to leave Sussex for a few weeks. Escaping to a small coastal town where no one knows her seems to be exactly what she needs.

Almost instantly, Thea becomes enamored with the quaint cottage, comforted by its cozy rooms and lovely but neglected garden. The locals in nearby Baldochrie are just as warm, quirky, and inviting. The only person she can't seem to win over is bookshop owner Edward Maltravers, to whom she hopes to sell her uncle's book collection. His gruff attitude—fueled by an infamous, long-standing feud with his brother, a local lord—tests Thea's patience. But bickering with Edward proves oddly refreshing and exciting, leading Thea to develop feelings she hasn't experienced in a long time. As she follows a thrilling yet terrifying impulse to stay in Scotland indefinitely, Thea realizes that her new life may quickly become just as complicated as the one she was running from.
About the Author
---
Jackie Fraser is a freelance editor and writer. She's worked for AA Publishing, Watkins, the Good Food Guide, and various self-published writers of fiction, travel and food guides, and self-help books. She reads a lot (no, really), in multiple genres, and is fascinated by the Bronze Age. She likes vintage clothes, antique fairs, and photography. She likes cats.