The Marriage Portrait: A novel (Hardcover)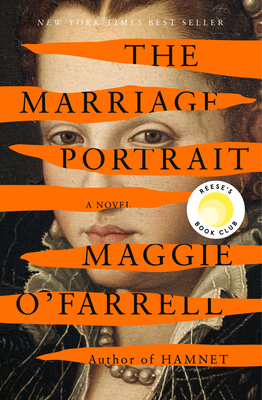 $28.00

Usually Ships in 4-7 Days
Staff Reviews
---
Based on what is known (very little) of the real life of Lucrezia di Cosimo de'Medici, O'Farrell's novel is a dark view of aristocratic marriage arrangements in 16th century Italy. Lucrezia is only 13 years old when she is promised to Alfonso II, Duke of Ferrara, filling in for her older sister who died unexpectedly. Two years later, the wedding takes place, and Lucrezia leaves Florence to live with Alfonso, who is caught up in an unclear (to Lucrezia and to readers) web of political intrigues. It becomes clear to Lucrezia (and to readers) that the only reason she is pampered, albeit with an iron glove, is so that she will provide an heir for Alfonso. After a year of marriage with no heir in sight, Lucrezia becomes convinced that Alfonso wants to kill her for her inability to conceive. Gorgeous and intensely dramatic writing makes for something of a page-turner.
— Alice
September 2022 Indie Next List
---
"Lucrezia de' Medici's brief spark of a life is granted lush, compassionate detail in The Marriage Portrait. The frills and deceits of medieval court society come alive as our dear protagonist fights to survive them. An outstanding read!"
— Celina Munoz, Brick & Mortar Books, Redmond, WA
Description
---
REESE'S BOOK CLUB DECEMBER PICK • NEW YORK TIMES BEST SELLER • The author of award-winning Hamnet brings the world of Renaissance Italy to jewel-bright life in this unforgettable fictional portrait of the captivating young duchess Lucrezia de' Medici as she makes her way in a troubled court.

"I could not stop reading this incredible true story." —Reese Witherspoon (Reese's Book Club December '22 Pick)

"O'Farrell pulls out little threads of historical detail to weave this story of a precocious girl sensitive to the contradictions of her station ... You may know the history, and you may think you know what's coming, but don't be so sure." —The Washington Post

Florence, the 1550s. Lucrezia, third daughter of the grand duke, is comfortable with her obscure place in the palazzo: free to wonder at its treasures, observe its clandestine workings, and devote herself to her own artistic pursuits. But when her older sister dies on the eve of her wedding to the ruler of Ferrara, Modena and Reggio, Lucrezia is thrust unwittingly into the limelight: the duke is quick to request her hand in marriage, and her father just as quick to accept on her behalf.
 
Having barely left girlhood behind, Lucrezia must now enter an unfamiliar court whose customs are opaque and where her arrival is not universally welcomed. Perhaps most mystifying of all is her new husband himself, Alfonso. Is he the playful sophisticate he appeared to be before their wedding, the aesthete happiest in the company of artists and musicians, or the ruthless politician before whom even his formidable sisters seem to tremble?
 
As Lucrezia sits in constricting finery for a painting intended to preserve her image for centuries to come, one thing becomes worryingly clear. In the court's eyes, she has one duty: to provide the heir who will shore up the future of the Ferranese dynasty. Until then, for all of her rank and nobility, the new duchess's future hangs entirely in the balance.
 
Full of the beauty and emotion with which she illuminated the Shakespearean canvas of Hamnet, Maggie O'Farrell turns her talents to Renaissance Italy in an extraordinary portrait of a resilient young woman's battle for her very survival.
About the Author
---
MAGGIE O'FARRELL was born in Northern Ireland in 1972. Her novels include Hamnet (winner of the National Book Critics Circle Award), After You'd Gone, The Vanishing Act of Esme Lennox, The Hand That First Held Mine (winner of the Costa Novel Award), and Instructions for a Heatwave. She has also written a memoir, I Am, I Am, I Am: Seventeen Brushes with Death. She lives in Edinburgh.
Praise For…
---
A BEST BOOK OF THE YEAR: TIME, THE WASHINGTON POST, GOODREADS • REESE'S BOOK CLUB PICK • CARNEGIE MEDAL FOR EXCELLENCE NOMINEE

"I could not stop reading this incredible true story."—Reese Witherspoon (Reese's Book Club December '22 Pick)

"[A] glittering, propulsive new novel . . . Few writers play as confidently with the nuts and bolts of language, and historical characters netted from the past. O'Farrell adroitly shrinks Lucrezia to her own vanishing point, even if the probable cause of the duchess's demise was a pulmonary embolism rather than poison. O'Farrell's creative license beautifully frames the chasms that open up between husband and wife, implicating an institution that has galvanized our canonical writers, including the Victorian poet Robert Browning, whose dramatic monologue 'My Last Duchess' was inspired by Branzino's portrait of Lucrezia." —Oprah Daily

"O'Farrell intelligently connects Lucrezia's trapped circumstances with the art that her husband, a notable patron and collector, commissions to immortalize her . . . There is a blinding power to the heightened, almost fetishistic beauty of Renaissance art, this novel suggests as it portrays a world of far greater brutality and fierceness." —Wall Street Journal

"[O'Farrell] has spun pure gold out of this tragic history . . . The Marriage Portrait builds a rich interior world while vividly re-creating an era, in this case the Italian Renaissance, a period overflowing with intrigue and pomp, rustling heavy fabrics and glowing frescoes, blood and lust and the desire for power." —Minneapolis Star-Tribune

"This duchess certainly looks and sounds and feels as if she were alive . . . O'Farrell has an uncanny ability to put us in Lucrezia's very unusual shoes. One experiences, viscerally, Lucrezia's exhaustion and terror when she is abandoned in a strange place a few hours after her marriage, her giddy excitement and expansive feeling of freedom in the early days of her marriage, her revulsion and fear as her husband's 'fury and contempt' emerge . . . The final twist is so unexpected and so gorgeously executed that it brought this reader to tears. With it, O'Farrell demonstrates fiction's ability to offer counter narratives to those of received history, to open before us imaginative abundance and a tremulous sense of possibility." —The Boston Globe

"O'Farrell pulls out little threads of historical detail to weave this story of a precocious girl sensitive to the contradictions of her station . . . You may know the history, and you may think you know what's coming, but don't be so sure. O'Farrell and Lucrezia, with her 'crystalline, righteous anger,' will always be one step ahead of you.. . . O'Farrell [is] one of the most exciting novelists alive." —The Washington Post


"A transporting narrative revives a teenager mostly forgotten by history." —People Magazine

"Captivating . . . The Marriage Portrait is an emotionally intense read, lushly draped in atmospheric details . . . O'Farrell's latest masterpiece presents a sumptuous portrait of a woman's purposeful determination to break the bars of her gilded cage." —Christian Science Monitor

"Thrilling . . . As the novel's two timelines draw together, O'Farrell builds intense suspense. As always, her prose is beautiful, her characters finely drawn, her story wonderfully surprising. Browning's Alfonso might have closed a curtain over the portrait of his duchess to declare her his possession, but O'Farrell rips that curtain away and gives her a life." —Tampa Bay Times

"I loved The Marriage Portrait so much that I did not want to finish it. O'Farrell's prose is beautiful and poetic. And though this novel is literary, it is also masterfully paced. The tension in the plot builds slowly at first, but soon The Marriage Portrait becomes impossible to put down . . . a feminist text that is guaranteed to inspire." —The Fredericksburg Free Lance-Star

"[A] poetically written, multilayered novel . . . O'Farrell creates another mesmerizing portrait of a Renaissance-era woman whose life is shrouded in mystery . . .  Historical-fiction readers will love the cultural details, while Lucrezia's plight speaks to modern themes of gaslighting and women's agency . . . O'Farrell shines at instilling elegantly described scenes with human feeling, such as Lucrezia's wedding preparations and her sense of inner strength while viewing the sunrise transform the sky at Alfonso's country villa. The author proves equally skilled at evoking suspense." —Booklist [starred review]

"A vivid depiction of the harsh manners and rigid expectations for women within ducal courts in 16th-century Italy . . . O'Farrell is a marvelous stylist, and The Marriage Portrait is full of the same kinds of intense details that made Hamnet come alive. Her characters are captivating and believable, and the landscape of Renaissance Italy is a veritable gift to the senses, so powerfully does O'Farrell evoke the sights, sounds and smells of forest, castle and barnyard." —BookPage, [starred review]

"A riveting tale about one woman's fight for autonomy." —Real Simple

"Finely detailed. . . . This beguiling tale of power, politics and one woman's fight for agency is yet another masterpiece by the author of Hamnet." —The Globe and Mail

"Lush, provocative . . . A captivating portrait of a woman attempting to free herself from a golden cage. Fans of the accomplished Hamnet won't be disappointed by this formidable outing." —Publishers Weekly [starred review]

"A compelling portrait of a young woman out of step with her times . . . a vivid portrait of a turbulent age and a vibrant heroine." —Kirkus Reviews