Start Here: Instructions for Becoming a Better Cook: A Cookbook (Hardcover)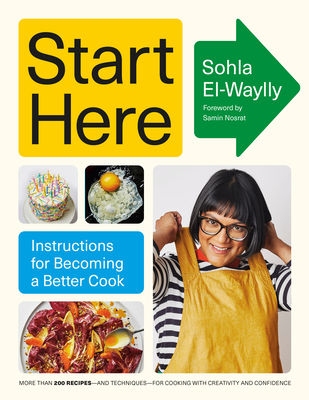 Staff Reviews
---
The title had me expecting a starter cookbook for newbie chefs, basic recipes with minimal ingredients and easy-to-follow directions; instead, the title is more of a command, a call to culinary seriousness: she is going to show you the whys and hows behind flavorful, nuanced recipes, the equipment and processes required and guided steps to mastery. It was more scientific manual than a picturesque cookbook, a bit Lessons in Chemistry with an Asian flair, and this is a very good thing. The recipes are detailed, the sections informative and the range of food options extraordinary. 
— Jennifer K
So, my Girlboss hooman tasked me with reviewing this cookbook. She thought it would be funny because of the title and the fact that I don't know how to cook. She forgot I don't need to cook. My Uber driver hooman cooks really well, and I am cute enough and smart enough to manipulate my way into nibbles as needed. That being said, if someone would please cook something from this, I would be happy to taste it for you. Specifically, I am most interested in the Brothy Same-Day Slow-Roast Whole Chicken. The author explains the science behind how all-day braising really makes the meat break down, which is easy to manage with my three teefs. I'll be in my office on the usual days, but I also accept home delivery. Thank you.
— Jacky Dawson, Shop Dog
Description
---
NEW YORK TIMES BESTSELLER • Change the way you think about cooking! In this epic guide to better eating, the chef, recipe developer, and video producer Sohla El-Waylly reimagines what a cookbook can be, teaching home cooks of all skill levels how cooking really works.

"The book I wish someone had handed me when I began my own journey as a cook."—from the Foreword by Samin Nosrat, New York Times bestselling author of Salt, Fat, Acid, Heat"A book to return to again and again and again." —Yotam Ottolenghi, New York Times bestselling author of Plenty and Ottolenghi Simple   

A practical, information-packed, and transformative guide to becoming a better cook and conquering the kitchen,
Start Here
is a must-have master class in leveling up your cooking.
Across a dozen technique-themed chapters—from "Temperature Management 101" and "Break it Down & Get Saucy" to "Go to Brown Town," "All About Butter," and "Getting to Know Dough"—Sohla El-Waylly explains the hows and whys of cooking, introducing the fundamental skills that you need to become a more intuitive, inventive cook.
A one-stop resource, regardless of what you're hungry for,
Start Here
gives equal weight to savory and sweet dishes, with more than two hundred mouthwatering recipes, including:
Crispy-Skinned Salmon with Radishes & Nuoc Cham
Charred Lemon Risotto
Chilled Green Tahini Soba
Lemon, Pecorino & Potato Pizza
Fruity-Doodle Cookies
Masa & Buttermilk Tres Leches
Packed with practical advice and scientific background, and an almost endless assortment of recipe variations, along with tips, guidance, and how-tos,
Start Here
is culinary school—without the student loans.
About the Author
---
SOHLA EL-WAYLLY is a culinary creator, writer, video producer, and community advocate who has been featured in The New York Times and Bon Appétit and on Food52 and Serious Eats. Her on-camera credits include starring in HBO Max's The Big Brunch and The History Channel's Ancient Recipes with Sohla. She studied at the Culinary Institute of America in Hyde Park before training at various New York City restaurants such as Del Posto, Atera, and Battersby. A TIME100 Next honoree, she lives in the East Village with her husband, two dogs, and cat.
Praise For…
---
"El-Waylly might be Julia Child for a new generation." —The Boston Globe

"The perfect companion to anyone starting out in the kitchen. In sharing so much experience and knowledge—not to mention so many recipes that I want to eat—Sohla has crafted a book to return to again and again and again." —Yotam Ottolenghi, New York Times bestselling author of Plenty and Ottolenghi Simple

"The book I wish someone had handed me when I began my own journey as a cook . . . Sohla has improved my cooking, and I guarantee she will improve yours, too." —Samin Nosrat, New York Times bestselling author of Salt, Fat, Acid, Heat (from the Foreword)

"Sohla breaks down cooking in a way that's elemental yet approachable. She is the patient friend, the seasoned guide, the doting mentor you want in the kitchen. This book will not only teach you the principles of good cooking, but also boost your confidence, allowing you to freestyle it in the kitchen like a master. There's something for everyone in this future classic. Buy this book now!" —Padma Lakshmi

"A foundational behemoth of a book (656 pages!) in the school of J. Kenji López-Alt's The Food Lab and Samin Nosrat's Salt, Fat, Acid, Heat . . . Every home cook will find something to learn in Start Here." —Eater

"We typically use the word 'cookbook' to describe a series of tasty recipes we re-create in our home kitchens that make us feel awesome. Only we're never really taught how to cook. Enter: the incredible Sohla El-Waylly, our officially unofficial guide to kitchen bootcamp, equipping us with the skills we need to feel confident in the kitchen—not capable, not able, confident . . . Start Here is nothing short of a game changer." —Christina Tosi, chef & founder, Milk Bar
 
"This book has done the impossible: It's inspired me to cook. Start Here is an instant classic destined to be a kitchen staple. Sohla has revolutionized what a cookbook can be in a way that speaks so uniquely to her razor-sharp wit, generosity of spirit, and undeniable skill." —Dan Levy, Emmy Award–winning writer, actor, director, and producer of Schitt's Creek
 
"El-Waylly distills takeaways from her time in cooking school, years-long tenure at restaurants, and her experience as a Bon Appétit staffer to bring home cooks the foundations they need to be more confident in the kitchen . . . This cookbook is the mirror I wish I had as a student in culinary school . . . With each recipe, technique overview, and the stories within, El-Waylly makes the unattainable achievable in more ways than one." —Anikah Shaokat, Epicurious

"A one-stop grand diplôme in the culinary arts taught by one of the most talented and knowledgable chefs, Sohla El-Waylly . . . Start Here is an instant, must-have classic." —Rick Andrew Martínez, best-selling author and video host
 
"Where was this book when I first started cooking? . . . Jam-packed with science-backed tips and techniques to help folks develop their cooking intuition, and I have no doubt a copy of the book would have saved me from many sad, under-seasoned meals . . . You'll leave feeling more comfortable in the kitchen." —Genevieve Yam, Bon Appétit

"I am an instant fan of any book that crams in this much knowledge and science right alongside things like Lisa Frank Cookies and not one but FOUR kinds of homemade fun dip! . . . I don't know who's more excited, my brain or my belly!" —Molly Yeh, New York Times best-selling author and Food Network host
 
"Cooking through Start Here has brought more joy to my kitchen than any cookbook in memory. Spoiler alert for my friends: This is what you're getting for Christmas." —Stella Parks, James Beard Award–winning author of BraveTart
 
"Clear, funny, smart, and necessary." —Vogue

"Sohla's book is brilliantly organized and superbly written, with photographs that teach as well as inspire. Reading Start Here is like getting a fully accredited culinary degree from a professional who sees food and cooking through a grounded but completely modern perspective. Every recipe delivers. Add to cart! You need this book." —Carla Lalli Music, author of That Sounds So Good and Where Cooking Begins

"A cookbook you read and then keep on hand, referencing whenever you have a question, want to master a basic, or take a particular skill to the next level . . . Straightforward, approachable, and generous." —The Strategist