Crazy Rich Asians (Paperback)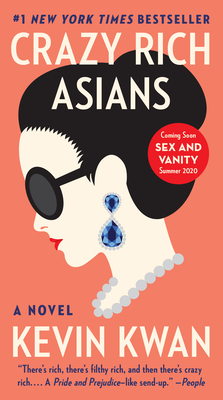 $9.99

Usually Ships in 4-7 Days
Staff Reviews
---
Rachel Chu and Nick Young are both professors at NYU and have been dating for a couple of years, living a quiet but happy life. When Nick asks Rachel to go to Singapore to attend his best friend's wedding, she is surprised, pleased, and a bit nervous. She knows that she'll be meeting his family, a group Nick says little about. Consequently, she is blindsided when she goes to his grandmother's palatial home in the middle of Singapore and eventually finds out that Nick's family is very rich, like CRAZY RICH. The scrutiny by Nick's snobbish mother has Rachel wondering how she can ever fit into Nick's Asian world, and hanging out with Nick's wealthy friends and relatives presents a sometimes fun, sometimes disgusting, view of lifestyles involving haute couture, private jets, yachts, and many cultural prejudices. Kevin Kwan's spin on the relationship among Singaporeans, Hong Kongese, Taiwanese, and Mainland Chinese is an eye-opener, especially when discussed from the jet-setters' perspectives. And the fact that Rachel is ABC (American-born Chinese) gives her a social black mark that can't be rubbed out. Crazy Rich Asians is a funny, wicked satire on race, love, and wealth.
— Cynthia
Description
---
#1 NEW YORK TIMES BESTSELLER • The international bestselling sensation that was the basis for the acclaimed major motion picture. • "There's rich, there's filthy rich, and then there's crazy rich ... A Pride and Prejudice-like send-up about an heir bringing his Chinese-American girlfriend home to meet his ancestor-obsessed family." —People

When New Yorker Rachel Chu agrees to spend the summer in Singapore with her boyfriend, Nicholas Young, she envisions a humble family home and quality time with the man she hopes to marry. But Nick has failed to give his girlfriend a few key details. One, that his childhood home looks like a palace; two, that he grew up riding in more private planes than cars; and three, that he just happens to be the country's most eligible bachelor.
 
On Nick's arm, Rachel may as well have a target on her back the second she steps off the plane, and soon, her relaxed vacation turns into an obstacle course of old money, new money, nosy relatives, and scheming social climbers.
About the Author
---
Kevin Kwan is the author of the international bestsellers Crazy Rich Asians, a major motion picture, China Rich Girlfriend, and Rich People Problems. Born in Singapore, he has called New York's West Village home since 1995. For the latest news and information, please visit www.kevinkwanbooks.com.
Praise For…
---
"A dizzily shopaholic comedy. . . . Wickedly delectable. . . . Offers refreshing nouveau voyeurism to readers who long ago burned out on American and English aspirational fantasies. . . . Hilarious." —Janet Maslin, The New York Times
 
"It's impossible not to get sucked into this satirical novel about the jet-setting lives of an enormous busybody family and its infinite Louboutin collection." —Glamour
 
"There's rich, there's filthy rich, and then there's crazy rich. . . . A Pride and Prejudice-like send-up." —People 
 
"If this isn't the funniest book so far this year, it's up there. . . . Kwan, who grew up in Singapore, skewers his subjects deftly, stylishly, and completely—but with heart." —The Denver Post
 
"Deliciously decadent. . . . This 48-karat beach read is crazy fun. . . . [Read] Crazy Rich Asians, on an exotic beach in super-expensive sunglasses." —Entertainment Weekly
 
"Rachel's squeaky-clean naiveté is a clever foil to the intricate workings of the high-glamour Asian set around her. Chinese on the outside but all-American on the inside, she allows us to see the myriad nuances of intra-Asian culture that the novel goes to great lengths to show." —NPR
 
"Rollicking. . . . A lively, generous story of shallow extravagance and human devotion." —The Boston Globe
 
"Delightfully soapy. . . . [Crazy Rich Asians] eats its chiffon cake and has it too, simultaneously tut-tutting many of its characters for their vapid materialism while reveling in the milieu's sybaritic excess." —The Wall Street Journal
 
"[An] instant favorite. . . . Opulence and zaniness reign." —O, The Oprah Magazine

"Like Dynasty on steroids with more private jets, bigger houses, and a lot more money." —Vanity Fair