The Ivies (Hardcover)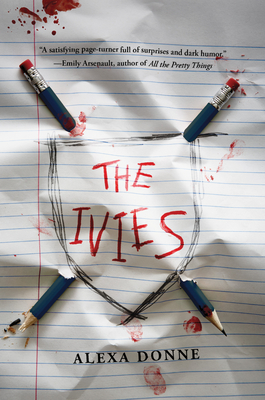 $17.99
Email or call for price
Description
---
Enroll in this boarding school thriller about a group of prep school elites who would kill to get into the college of their dreams...literally.

"The Plastics meet the Heathers in this murder mystery about ruthless Ivy League ambition." -Kirkus Reviews

"Twisty and thrilling...boarding school murder has never been so much fun!" –Kara Thomas, author of That Weekend

Everyone knows the Ivies: the most coveted universities in the United States. Far more important are the Ivies. The Ivies at Claflin Academy, that is. Five girls with the same mission: to get into the Ivy League by any means necessary. I would know. I'm one of them. We disrupt class ranks, club leaderships, and academic competitions...among other things. We improve our own odds by decreasing the fortunes of others. Because hyper-elite competitive college admissions is serious business. And in some cases, it's deadly.

Alexa Donne delivers a nail-biting and timely thriller about teens who will stop at nothing to get into the college of their dreams. Too bad no one told them murder isn't an extracurricular.

About the Author
---
Alexa Donne is the author of Brightly Burning and The Stars We Steal, sci-fi romance retellings of classics set in space. A graduate of Boston University, she works in TV marketing and has done pro bono college admissions mentoring since 2014. A true INFJ, in her "free" time she mentors with WriteGirl, organizes the Author Mentor Match program, and runs one of the most popular writing advice channels on YouTube. She lives in Los Angeles with two fluffy ginger cats named after characters from YA literature. Find Alexa online at alexadonne.com and @alexadonne.
Praise For…
---
"The Plastics meet the Heathers in this murder mystery about ruthless Ivy League ambition....A thrilling boarding school story with a satirical edge." -Kirkus Reviews

"Donne pens a thrilling novel set in the world of competitive, hyper-elite college admissions, combining romance, suspense, and mystery into one thrilling story that closes with a twist." -Booklist

"Quick pacing, dark humor, and deftly drawn characters distinguish this satirical thriller from Donne." -Publishers Weekly

"This compelling thriller will have teens asking whether sacrificing one's morals to get into college is worth it." -SLJ

"The Ivies is ruthless, clever, and infectiously thrilling—I couldn't put it down." -Dana Mele, author of People Like Us

"Donne unravels elite college admissions with a bitter blend of privilege, high pressure, competitiveness...and murder, in this twisty, page-turning thriller. A definite one-sitting read." –J.Elle, New York Times bestselling author of Wings of Ebony

"A timely and compelling examination of the maelstrom created when girls are pitted against their environment--and each other." -Laurie Elizabeth Flynn, author of All Eyes on Her and The Girls Are All So Nice Here

"Tense, twisty, and oh-so-addictive, The Ivies kept me guessing right up until the end." –Emily Lloyd Jones, author of The Bone Houses and The Hearts We Sold
 
"A satisfying page-turner, full of surprises and dark humor." -Emily Arsenault, author of All the Pretty Things