The Spectacular: A Novel (Hardcover)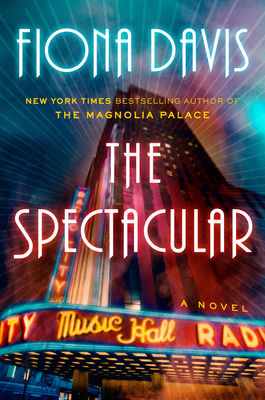 Staff Reviews
---
New York, 1956: 19-year-old Marion lives at home with her dad and sister, teaches dance at an established studio, will probably marry her high school sweetheart, and is "satisfied" with life. She lives to dance and teaching dance to children is her consolation for not dancing publicly. When she is fired from her beloved teaching job, Marion is lost until she hears about an audition for the Rockettes. On a whim, she tries out and actually makes it! Telling her dad isn't so easy, and Marion moves out of her childhood home into a New York boarding house for women working in the arts. Dancing and being single in the city is everything she dreamed of. Meanwhile, the Big Apple Bomber continues to leave pipe bombs at high-traffic tourist locations. When a bomb goes off during a Christmas Rockettes performance, she is determined to find this man and bring him to justice. This is Fiona Davis at her best and is not to be missed. Highly recommended!
— Christina
Description
---
From the New York Times Bestselling Author of The Magnolia Palace: A thrilling story about love, sacrifice, and the pursuit of dreams, set amidst the glamour and glitz of Radio City Music Hall in its mid-century heyday.

New York City, 1956: Nineteen-year-old Marion Brooks knows she should be happy. Her high school sweetheart is about to propose and sweep her off to the life everyone has always expected they'd have together: a quiet house in the suburbs, Marion staying home to raise their future children. But instead, Marion finds herself feeling trapped. So when she comes across an opportunity to audition for the famous Radio City Rockettes—the glamorous precision-dancing troupe—she jumps at the chance to exchange her predictable future for the dazzling life of a performer. 
 
Meanwhile, the city is reeling from a string of bombings orchestrated by a person the press has nicknamed the "Big Apple Bomber," who has been terrorizing the citizens of New York for sixteen years by planting bombs in popular, crowded spaces. With the public in an uproar over the lack of any real leads after a yearslong manhunt, the police turn in desperation to Peter Griggs, a young doctor at a local mental hospital who espouses a radical new technique: psychological profiling. 

As both Marion and Peter find themselves unexpectedly pulled in to the police search for the bomber, Marion realizes that as much as she's been training herself to blend in—performing in perfect unison with all the other identical Rockettes—if she hopes to catch the bomber, she'll need to stand out and take a terrifying risk. In doing so, she may be forced to sacrifice everything she's worked for, as well as the people she loves the most.
About the Author
---
Fiona Davis is the New York Times bestselling author of several novels, including The Dollhouse, The Address, The Masterpiece, The Chelsea Girls, The Lions of Fifth Avenue, and The Magnolia Palace. She lives in New York City and is a graduate of the Columbia Journalism School.
Praise For…
---
"As the plot builds to a dramatic climax that sees Marion putting her life at risk, Davis expertly incorporates behind-the-scenes details of the Rockettes, including the intricate choreography of their wooden soldiers number. This page-turner delivers the goods." —Publishers Weekly

"An engaging story…the novel is rich with historical details, and it comes most vividly to life in the passages about the Rockettes, with all the sweat, agony, and camaraderie that go into those miraculously perfect performances." —Kirkus

"Davis masterfully draws Marion into the story, setting the scene for a cinematic conclusion. Readers will be attracted to the intriguing history and moved by Davis' entrancing narrator."
—Booklist

"Davis shares memorable facts about the Rockettes and Marion's struggle to balance 1950s society's expectations of what it means to be a woman with her desire to break free. Fans of Davis's previous books will be enthralled." —Library Journal

"This propulsive novel is a fast-paced race throughout 1950s New York City to stop a deadly bomber from striking again. Set against the backdrop of the legendary Radio City Music Hall, Fiona Davis brings some of New York City's most memorable landmarks to life as a Rockette is entangled in the mystery of the "Big Apple Bomber" who is terrorizing the city." —CrimeReads

"Fiona Davis writes gripping historical dramas set in New York City's most glittering landmarks, from the Frick Collection to the Chelsea Hotel." —NY Post

"Weaving together love, revenge, ambition, and heartbreak, Davis brings her two story lines to satisfying--and surprising—conclusions." —Shelf Awareness

"In The Spectacular, Fiona Davis has created a beautiful, evocative story of old New York. Marion and her fellow characters are fully alive, feeling individuals, who totally inhabit their world right down to the bittersweet ending." —AuthorLink

"Everything I've ever wanted from a historical mystery…this tremendous novel has leapt on to my list of Best Books of 2023. I wouldn't be at all surprised if it made its way on to yours, too." 
—Criminal Element

"Inspired by the real-life 'Mad-Bomber' and steeped in the storied history of the Rockettes, Fiona Davis' intricately woven thriller is, at its core, a love letter to Radio City Music Hall and the families found and made backstage." —Dance Magazine

"Another likely hit in the historical fiction genre, The Spectacular by Fiona Davis... is centered around Radio City Music Hall and a Rockette in the 1950s, when (in real life) there was a mysterious bomber terrifying New York. Davis (The Lions of Fifth Avenue) reportedly spoke with many former Rockettes to get the details right." —AARP

"Of immense appeal to readers with an interest in historical fiction and murder mysteries, "The Spectacular" by author Fiona Davis showcases her undeniable storytelling talents. Original, deftly crafted, and with more unexpected plot twists and turns than a Kansas tornado, "The Spectacular" is the stuff of which blockbuster movies are made and is unreservedly recommended for community library fiction collections." —Midwest Book Review

"It doesn't get much more glamorous than New York's Radio City Music Hall in the 1950s. That's the setting of this bestselling author's new historical-fiction thriller, in which protagonist Marion Brooks is living out her dream of being a high-kicking Rockette. While the behind-the scenes drama of the world-famous chorus line will catch readers'attention, the book also offers up a suspenseful whodunit as Marion is drawn into a citywide manhunt." —Hello!

"I could go on and on about how incredible of a historical fiction author Fiona Davis is. She has this insanely cool talent for writing stories that center around historic buildings and landmarks in New York City. It's incredibly niche yet brilliantly written for the general reader to enjoy. Who doesn't want to read about hidden rooms in the New York Public Library (The Lions of Fifth Avenue, my personal favorite of hers) or the notorious "Big Apple Bomber" and its ties to Radio City Music Hall (The Spectacular, due this June)? The vibe of Davis' novels is very much that of The Seven Husbands of Evelyn Hugo and often explored over dual timelines." —Scary Mommy

"Fiona Davis has once again written a great novel... It's keeps you engaged throughout, and adds to her stellar resume of books." —Red Carpet Crash

"The iconic landmark's secret passageways and dark history made for the perfect setting for a historical fiction masterpiece." —Health Reporter

"entertaining and thought-provoking." —Historical Novel Society

"The Spectacular is well...spectacular. Fiona Davis has combined mystery, history, a love story combined with a coming-of-age saga into one incredible book." —Mystery & Suspense

"Kept me riveted the entire time…my favorite of everything I've read by Fiona Davis…Don't hesitate to pick this one up and be ready to devour it!" —Chick Lit Central

"Fiona Davis dazzles readers once again..." —Our Town

"This brilliantly researched, powerful page-turner is an explosive, gripping, not-to-be-missed read from this wonderful New York Times bestselling author." —Patriot Ledger

"The Spectacular takes the reader deep into Radio City Music Hall, and you feel like you are backstage with the performers. I loved the descriptions of the dance routines audiences have come to love. No one combines stories of old New York with romance and suspense like Fiona Davis, and this is one of her best." —Auburn Citizen

"Fiona Davis just gets better and better! Nineteen-year-old dance teacher Marion, feeling trapped by her straitlaced father and her upcoming engagement, impulsively auditions for the Rockettes and is soon flung into a sequined world of grueling rehearsals, stage glitter, and four shows per day. When an anonymous bomber targets Radio City Music Hall, Marion's glittering new life reveals a dangerous dark side and she is flung into the search for a killer—but how can a kick-line dancer help save the city she loves? The Spectacular dazzles from start to finish." —Kate Quinn, New York Times bestselling author of The Diamond Eye

"Fiona Davis once again shines while spotlighting the fascinating yet lesser-known history of a New York City landmark. A propulsive novel packed with mystery, thrills, and long-buried secrets, The Spectacular is a unique, spellbinding read not to be missed. I loved it." —Kristina McMorris, New York Times bestselling author of Sold on a Monday and The Ways We Hide

"Another brilliant book from a brilliant author! This is historical fiction at its finest, combining elements of love, betrayal, and pursuing one's dreams amid the glamour of Radio City Music Hall and the shadow of a madman terrorizing the city." —Jamie Ford, New York Times bestselling author of The Many Daughters of Afong Moy

"Filled with intrigue, suspense and captivating characters, The Spectacular has everything I love in a novel. Fiona Davis has shaped this true crime-inspired story like a master choreographer, mesmerizing her audience with every breathless twist and turn of the narrative, right up to the thrilling finale." —Ann Leary, New York Times bestselling author of The Foundling

"Fiona Davis returns with yet another dazzling novel set in one of New York City's most iconic venues: Radio City Music Hall. Set in the 1950s, Marion Brooks is the Rockette's newest dancer, but she soon learns that the stage is a cutthroat place for a young woman — and so is the big city. When an elusive bomber targets Radio City, Marion begins to hunt for the truth, but doing so puts herself and her family in peril. Especially after she realizes her family has hidden a few truths of their own...Secrets, sleuthing, young romance, and glittering kicklines: Fiona Davis' latest has it all. Theater lovers, or anyone who dreams of a life onstage, will relish this one." —Sarah Penner, New York Times bestselling author of The Lost Apothecary and The London Séance Society

"Fiona Davis has constructed another entrancing time machine, inviting us inside Radio City Music Hall circa 1956 not only to sit in the audience, but to dance on its fabled stage. Equal parts historical fiction and page-turning thriller, this book is propulsive, immersive, and terrifically suspenseful. Readers will dance and sleuth and fall in love with Marion Brooks, the brave Rockette who defies her father's wishes to insist on a bigger life. Never has a novel been so aptly titled — The Spectacular is spectacular, a paean to following your dreams."  —Nina de Gramont, New York Times bestselling author of The Christie Affair

"The Spectacular has it all—fascinating history, heart-pounding suspense, and unforgettable characters! An electric, page-turning read that illuminates the lesser-known history of one of New York City's most famous landmarks, this is my favorite Fiona Davis book yet!" —Chanel Cleeton, New York Times bestselling author of The Cuban Heiress