The Music of Bees: A Novel (Hardcover)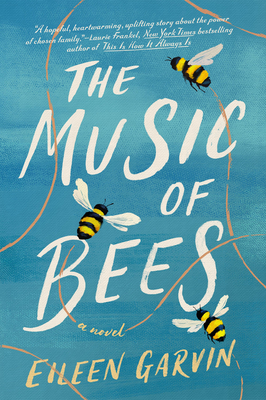 $26.00
Usually Ships in 1-5 Days
Staff Reviews
---
Heartwarming and life affirming, this gentle story of how three very different people bond over the raising of bees. Alice Holtzmann is a beekeeper in Oregon. She is a widow but likes her privacy and quietness. When she finds Jake, a wheelchair bound teenager by the side of the road, Jake proves to be a great listener and learner. Jake comes to live with her and help with the bees. Another hapless bumbler, Harry, an ex felon with anxiety. The town bonds over saving the bees from the big pesticide company. Think Eleanor Oliphant territory.
— Valerie
May 2021 Indie Next List
---
"Comparing this book to Eleanor Oliphant left me a bit skeptical, but the comparison is fair and I'd even say that The Music of Bees stands on its own beautifully. Add in some interesting facts on bees and heartwarming stories of lovable, offbeat characters and you have a winner."
— Pat Rudebusch, Orinda Books, Orinda, CA
Description
---
A GOOD MORNING AMERICA BUZZ PICK | A Good Housekeeping Book Club Pick | IndieNext Pick | LibraryReads Pick | Named a Most Anticipated Book of 2021 by Woman's World ∙ BookRiot ∙ Bookish ∙ Christian Science Monitor ∙ Nerd Daily ∙ The Tempest ∙ Midwestness ∙ The Coil ∙ Read It Forward ∙ NY Post ∙ and more!

"An exquisite debut that combines a moving tale of friendship with a fascinating primer on bees." – People

"This heartwarming, uplifting story will make you want to call your own friends, not to mention grab some honey." – Good Housekeeping

Three lonely strangers in a rural Oregon town, each working through grief and life's curveballs, are brought together by happenstance on a local honeybee farm where they find surprising friendship, healing--and maybe even a second chance--just when they least expect it.

Forty-four-year-old Alice Holtzman is stuck in a dead-end job, bereft of family, and now reeling from the unexpected death of her husband. Alice has begun having panic attacks whenever she thinks about how her life hasn't turned out the way she dreamed. Even the beloved honeybees she raises in her spare time aren't helping her feel better these days.

In the grip of a panic attack, she nearly collides with Jake--a troubled, paraplegic teenager with the tallest mohawk in Hood River County--while carrying 120,000 honeybees in the back of her pickup truck. Charmed by Jake's sincere interest in her bees and seeking to rescue him from his toxic home life, Alice surprises herself by inviting Jake to her farm.

And then there's Harry, a twenty-four-year-old with debilitating social anxiety who is desperate for work. When he applies to Alice's ad for part-time farm help, he's shocked to find himself hired. As an unexpected friendship blossoms among Alice, Jake, and Harry, a nefarious pesticide company moves to town, threatening the local honeybee population and illuminating deep-seated corruption in the community. The unlikely trio must unite for the sake of the bees--and in the process, they just might forge a new future for themselves.

Beautifully moving, warm, and uplifting, The Music of Bees is about the power of friendship, compassion in the face of loss, and finding the courage to start over (at any age) when things don't turn out the way you expect.

"A hopeful, uplifting story about the power of chosen family and newfound home and beginning again...but it's the bees, with all their wonder and intricacy and intrigue, that make this story sing."
–Laurie Frankel, New York Times bestselling author of This Is How It Always Is

"Eileen Garvin's debut novel is uplifting, funny, bold and inspirational. The Music of Bees sings!"
–Adriana Trigiani, New York Times bestselling author
About the Author
---
Eileen Garvin is a beekeeper and writer living in Hood River, Oregon. Her memoir, How to Be a Sister, was published in 2010. The Music of Bees is her debut novel.
Praise For…
---
"An exquisite debut that combines a moving tale of friendship with a fascinating primer on bees." —People, "Best New Books"

"This heartwarming, uplifting story will make you want to call your own friends, not to mention grab some honey."  —Good Housekeeping, *May Book Club Pick*

"[A] warm, moving story." —Woman's World

"Eileen Garvin's debut novel is uplifting, funny, bold and inspirational. The Music of Bees sings!"  —Adriana Trigiani, New York Times bestselling author
 
"Exactly the book I needed to read right now—I laughed, I cried, and in the end I was left with a renewed belief that there's always hope for all of us, no matter how broken or stuck we may feel.  This deft, compassionate story about the enduring power of friendship and the sparkling promise of a fresh start will stay with me for a long time.  It's simultaneously heartbreaking and uplifting, and I loved it." 
—Abi Daré, New York Times bestselling author of The Girl with the Louding Voice

"You'll love cheering for the likeable loners in this kind-hearted, hopeful, and beautifully detailed story. I adored The Music of Bees."
—J. Ryan Stradal, bestselling author of The Lager Queen of Minnesota

"A story for this unique time about three people trying to mend their broken [that] tells of the power inside each of us that builds the sweet life we want even if we don't get there the way we had dreamed.  It's exactly the book we need after a year of uncertainty."
—The Spokesman-Review

"The Music of Bees tells a hopeful, heartwarming, uplifting story about the power of chosen family and newfound home and beginning again. Its delightful cast of characters is the perfect balance between quirky and familiar, flawed and endearing. And oh the bees! Eileen Garvin's beautiful descriptions throughout this lovely novel immerse the reader in the seasons, the weather, the trees and the flowers, the river and the land and the rhythms of small-town life, but it's the bees, with all their wonder and intricacy and intrigue, that make this story sing." 
—Laurie Frankel, New York Times bestselling author of This Is How It Always Is
 
"I knew nothing about bees before reading this marvelous book, but now I'm craving honey. Who knew that the intricate miracle that is a beehive can contain such deep, surprising life lessons? This emotionally resonant story strikes to the heart of how grief can crack you open, but lead to unexpected new ways to connect."
—Judy Blundell, New York Times bestselling author of The High Season

"The Music of Bees is a transportive tale to lighten the heart. Eileen Garvin has woven a hypnotic human story of perseverance and second chances with a glittering love letter to our pollinators. It combines a cast of marvelous characters with an utterly exquisite excursion into the buzzy life of bees. Every page hums with hope, gleaming with a message of our inextricable interconnectedness, both within our own species and to our home of the natural world. The Music of Bees is an enchanting book of belonging, overcoming adversity and the journey to find a hive of one's own."
—Kira Jane Buxton, author of Hollow Kingdom

"In a small Oregon town, the lives of three strangers--Alice, a widowed beekeeper, Jake, a paraplegic teenager, and Harry, an anxious misfit—intersect in this moving tale. Garvin's characters, battling loss, crave a sense of belonging, and like the bees they tend to, they must learn to rely on each other as they create their own version of home. A special treat for nature lovers, The Music of Bees is full of warmth and hope and decency—a delightful debut that really resonates."
—Rebecca Hardiman, author of Good Eggs

"Both buoyant and bittersweet, Garvin's impressive first novel, a luscious paean to the bonds of friendship and limitations of family, is the kind of comforting yet thought-provoking tale that will appeal to fans of Anne Tyler and Sue Miller."
—Booklist (STARRED review)

"Genuinely touching." —Publishers Weekly
 
"A honeybee farm brings together three strangers in need of a fresh start. This novel about friendship and healing is said to be ideal for readers who enjoyed Eleanor Oliphant Is Completely Fine." 
—Bookish: 21 Debut Novels to Have on Your 2021 TBR

"Fans of Eleanor Oliphant Is Completely Fine will enjoy this touching and uplifting novel about the healing power of friendship."
—BookRiot: 9 Mesmerising Debut Novels You Won't Want to Miss in 2021

"Not only gives readers insight into raising bees but also takes away the fear many may experience with them while it explains the complexities of their lives and their jobs…Educational and fascinating."
—New York Journal of Books

"Inspiring and moving…A heartfelt story about loss, resiliency, friendship, and finding your way…Garvin creates realistic and memorable characters who bond during a time of reinvention."
—Fresh Fiction

"Let's be honest, after 2020 we could all use some uplifting stories and this could be just the Band-Aid our collective hearts need."
—Midwestness

"A wonderfully written, beautiful story."
—All the Good Books

"Garvin's writing is smooth, like a refreshing green glade with cool, soft grass…Start this book. You can't help but like it.'
—The Bookworm Sez

"Sensational…a heartwarming, poignant, emotional story of friendship and healing."
—The Reading Café

"Garvin's characters ring true, as does her depiction of the Hood River Valley, which gives this novel a unique sense of place. The Music of Bees is just the book to sink into when you need inspiration and restoration."
—The Oregonian

"The striking beauty of the Pacific Northwest, and the humble marvel of beekeeping, bring home nature's life lessons to a trio of misfits in Eileen Garvin's debut novel."
—Christian Science Monitor: 10 Best Books of April