Home Is Not a Country (Paperback)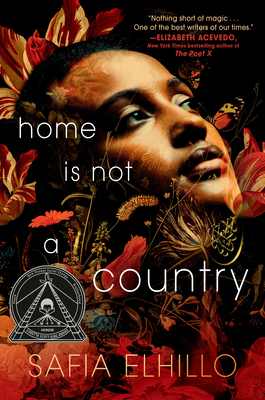 $11.99

Usually Ships in 4-7 Days
Description
---
LONGLISTED FOR THE NATIONAL BOOK AWARD

"Nothing short of magic." —Elizabeth Acevedo, New York Times bestselling author of The Poet X

From the acclaimed poet featured on Forbes Africa's "30 Under 30" list, this powerful novel-in-verse captures one girl, caught between cultures, on an unexpected journey to face the ephemeral girl she might have been. Woven through with moments of lyrical beauty, this is a tender meditation on family, belonging, and home.


my mother meant to name me for her favorite flower
its sweetness garlands made for pretty girls
i imagine her yasmeen bright & alive
& i ache to have been born her instead


Nima wishes she were someone else. She doesn't feel understood by her mother, who grew up in a different land. She doesn't feel accepted in her suburban town; yet somehow, she isn't different enough to belong elsewhere. Her best friend, Haitham, is the only person with whom she can truly be herself. Until she can't, and suddenly her only refuge is gone.

As the ground is pulled out from under her, Nima must grapple with the phantom of a life not chosen—the name her parents meant to give her at birth—Yasmeen. But that other name, that other girl, might be more real than Nima knows. And the life Nima wishes were someone else's. . . is one she will need to fight for with a fierceness she never knew she possessed.

About the Author
---
Safia Elhillo is the author of the poetry collection The January Children, which received the the 2016 Sillerman First Book Prize for African Poets and a 2018 Arab American Book Award.

Sudanese by way of Washington, DC, she holds an MFA from The New School, a Cave Canem Fellowship, and a 2018 Ruth Lilly and Dorothy Sargent Rosenberg Fellowship from the Poetry Foundation. Safia is a Pushcart Prize nominee, co-winner of the 2015 Brunel International African Poetry Prize, and listed in Forbes Africa's 2018 "30 Under 30." She is a 2019-2021 Stegner Fellow at Stanford University.
Praise For…
---
"Movingly unravels themes of belonging, Islamophobia, and the interlocking oppressions thrust upon immigrant women." —Kirkus Reviews, starred review

"[A] surreal crash-course in perspective, agency, and self-love." —Booklist, starred review

"Artfully profound and achingly beautiful, Elhillo's verse aptly explores diasporic yearning for one's home and a universal fascination with possibilities." —Publishers Weekly, starred review

"Elhillo's tender and descriptive writing may leave readers feeling the need to live life to the fullest…[a] passionate, piercing YA collection of poems." —Shelf Awareness, starred review 

"A love letter to anyone who has ever been an outsider, or searched to understand their history, no matter where they come from." —NPR

"Richly imagined [...] An immersive experience of the intersectionality of gender, class, race, religion, and identity." —The Horn Book