Carrie Soto Is Back: A Novel (Hardcover)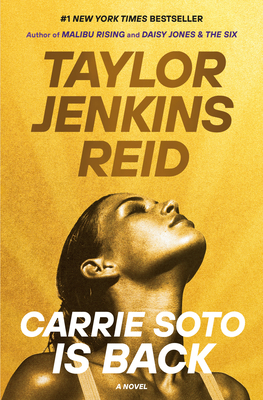 Staff Reviews
---
Athletes at the highest level are machines and have to be in order to win and most importantly have the mental game necessary on and off the court. Carrie Soto has wanted to be the greatest tennis player of all time since she was old enough to hold a racket. Being coached and pushed by her dad helped her to achieve just that. With a bum knee and holding the record for most wins, she retires. Can she leave it all behind when a new player is threatening to break her record? Nope. She comes out of retirement at age 37-to be coached once again by her dad. This time the coaching is not just for tennis on the court. He tries to life coach her about being happy without the win and opening her closed heart to love. She is nicknamed the battle-axe and most recently, the b*tch by the media, and although it sounds tough-it's deserved. This book had me hating her, cheering for her, but most of all proud of her and the raw honesty she exudes while not being ashamed of that. It's a tear jerker of an epic portion.
— Christina
September 2022 Indie Next List
---
"This might be Reid's best yet! Carrie Soto was so fierce. It was fun to see her cope with aging and realize there is more to life than winning. Reid delivers yet another strong, unconventional female lead. Just like Carrie, this is a winner!"
— Kathy Clemmons, Sundog Books, Santa Rosa Beach, FL
Description
---
#1 NEW YORK TIMES BESTSELLER • "An epic adventure about a female athlete perhaps past her prime, brought back to the tennis court for one last grand slam" (Elle), from the author of Malibu Rising, Daisy Jones & The Six, and The Seven Husbands of Evelyn Hugo

"A heart-filled novel about an iconic and persevering father and daughter."—Time

"Gorgeous. The kind of sharp, smart, potent book you have to set aside every few pages just to catch your breath. I'll take a piece of Carrie Soto forward with me in life and be a little better for it."—Emily Henry, author of Book Lovers and Beach Read

ONE OF THE BEST BOOKS OF THE YEAR: Time, NPR, PopSugar, Glamour, Reader's Digest

Carrie Soto is fierce, and her determination to win at any cost has not made her popular. But by the time she retires from tennis, she is the best player the world has ever seen. She has shattered every record and claimed twenty Grand Slam titles. And if you ask Carrie, she is entitled to every one. She sacrificed nearly everything to become the best, with her father, Javier, as her coach. A former champion himself, Javier has trained her since the age of two.

But six years after her retirement, Carrie finds herself sitting in the stands of the 1994 US Open, watching her record be taken from her by a brutal, stunning player named Nicki Chan.

At thirty-seven years old, Carrie makes the monumental decision to come out of retirement and be coached by her father for one last year in an attempt to reclaim her record. Even if the sports media says that they never liked "the Battle-Axe" anyway. Even if her body doesn't move as fast as it did. And even if it means swallowing her pride to train with a man she once almost opened her heart to: Bowe Huntley. Like her, he has something to prove before he gives up the game forever.

In spite of it all, Carrie Soto is back, for one epic final season. In this riveting and unforgettable novel, Taylor Jenkins Reid tells her most vulnerable, emotional story yet.
About the Author
---
Taylor Jenkins Reid is the #1 New York Times bestselling author of eight novels, including Carrie Soto Is Back, Malibu Rising, Daisy Jones & The Six, and The Seven Husbands of Evelyn Hugo. She lives in Los Angeles with her husband and their daughter.
Praise For…
---
"The books in Reid's famous women quartet stand alone. . . . But each of the books centers a vibrant protagonist managing the tensions between her glamorous life in the public eye and the pressures she feels in private . . . with Reid meticulously collecting minute yet meaningful details to help build immersive worlds"—Time

"Carrie Soto [Is Back] . . . is like other sports novels in which underdogs punch, volley, bat and birdie their way to victory or additional defeat, but it goes beyond this to explore sexism and racism in the tennis world in the 1990s. . . . This novel will grab you. You'll tear through blow-by-blow descriptions of championship matches on some of the most famous tennis courts in the world. . . ."—The Washington Post

"An epic story about bravery, endurance, but also the power of vulnerability."—BuzzFeed
 
"Reid . . . draws on the lives of actual tennis pros (think Serena, Sharapova) to build a world of believable rivalries and intrigue infused with the whiplash suspense of a nail-biting tennis match."—People (Book of the Week)

"Nearly every Taylor Jenkins Reid novel reads like a survey course in some flagrantly glamorous specialty and era. . . . Come for the King Richard–level attention to the art of the game; stay for the more personal soap operas unfolding off the court, and the final score."—Entertainment Weekly

"Taylor Jenkins Reid's latest is set in the world of the tennis elite, following a ruthless former champion who—after losing her record to a rising star—decides to come out of retirement at 37 in order to reclaim her title. It's seriously inspiring."—Cosmopolitan

"Reid writes about the game with suspense, transforming a tennis match into a page-turner even for readers who don't care about sports. . . . A compulsively readable look at female ambition."—Kirkus Reviews (starred review)

"Reid has written another knockout of a book."—Library Journal (starred review)

"Reid captures the excitement of elite sports in her descriptions of Carrie's games, as well as the struggle that women athletes face when their ambition and confidence is 'too much.' It's another triumph for bestselling author Reid, and her growing number of fans . . . "—Booklist (starred review)

"Another ace by Taylor Jenkins Reid, straight to the baseline! . . . An immersive delight."—Emma Straub