This Is My America (Hardcover)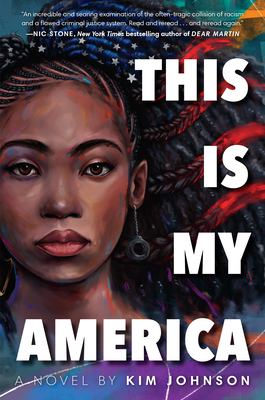 Staff Reviews
---
Tracy is a smart teenager with a superstar brother, an overworked mother, and a father on death row. She writes letters to Innocence Now every week, trying to get someone to take on her father's case. After her brother is accused of killing the white editor of the school newspaper (and his secret girlfriend), Tracy has many problems to figure out and fix. With an underlying story of racial inequality, this is a great murder mystery (or murders?). After all the exposition, Johnson kicks it into high gear and makes it a great page turner for any teen.
— Valerie
Description
---
"Incredible and searing." --Nic Stone, #1 New York Times bestselling author of Dear Martin

The Hate U Give meets Just Mercy in this unflinching yet uplifting first novel that explores the racist injustices in the American justice system.

Every week, seventeen-year-old Tracy Beaumont writes letters to Innocence X, asking the organization to help her father, an innocent Black man on death row. After seven years, Tracy is running out of time--her dad has only 267 days left. Then the unthinkable happens. The police arrive in the night, and Tracy's older brother, Jamal, goes from being a bright, promising track star to a "thug" on the run, accused of killing a white girl. Determined to save her brother, Tracy investigates what really happened between Jamal and Angela down at the Pike. But will Tracy and her family survive the uncovering of the skeletons of their Texas town's racist history that still haunt the present?

Fans of Nic Stone, Tiffany D. Jackson, and Jason Reynolds won't want to miss this provocative and gripping debut.
About the Author
---
KIM JOHNSON held leadership positions in social justice organizations as a teen. She's now a college administrator who maintains civic engagement throughout the community while also mentoring Black student activists and leaders. This Is My America is her debut novel. It explores racial injustice against innocent Black men who are criminally sentenced and the families left behind to pick up the pieces. She holds degrees from the University of Oregon and the University of Maryland, College Park. Kim lives her best life in Oregon with her husband and two kids. Find her at KCJOHNSONWRITES.COM and follow her on Twitter and Instagram @kcjohnsonwrites.
Praise For…
---
"An incredible and searing examination of the often-tragic collision of racism and a flawed criminal justice system. Read and reread ... and reread again." —Nic Stone, #1 New York Times bestselling author of Dear Martin

"This is My America promises a powerful story about racial injustice, featuring stunning prose reminiscent of Nic Stone and Angie Thomas." —Paste Magazine

"Harrowing and worthwhile; a call-to-action from the anti-racist insights of a generation of black activists." —Kirkus Reviews, Starred Review

"Activist Johnson's powerful debut is a timely testimony that echoes the social realities behind today's #BlackLivesMatter protests." —Publishers Weekly, Starred Review

"This strong debut will strike home with socially conscious readers." —Booklist 

"A strong debut. Will appeal to readers of Angie Thomas and fans of criminal justice podcasts like Serial and In the Dark." —School Library Journal

"This debut YA novel is an incisive condemnation of the racist criminal justice system, mass incarceration and capital punishment… a necessary add to all shelves, especially those focused on anti-racism and #BlackLivesMatter." —Shelf Awareness