Sources Say (Hardcover)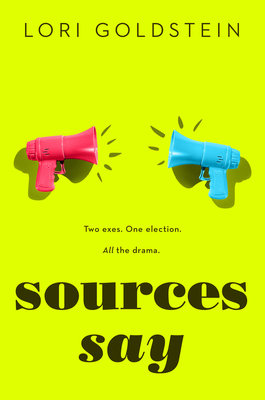 Staff Reviews
---
Sources Say is about two sisters, Angeline and Cat, at Acedia High, where Student Council has always been a joke. When Angeline, the most popular girl in school, runs for president against her ex, Leo, the school naturally gets hyped up and dubs it "the Battle of the Exes." Things get infinitely more complicated after the Frankengirls are introduced—huge Photoshopped images of "perfect tens" that are composed of different body parts of real girls in the school. Through all of this, Cat runs the Red and Blue, the school newspaper, and has to compete against a rival paper. I loved this book because I love coming-of-age books and the new aspects of social media and other modern sides of the story appeal to teens especially.
— Eleanor K.
Sheetal has always just wanted to be a normal teenage girl, but deep down she knows she isn't. Sheetal is half star. Her mother taught her as much as she could about the stars before she had to return to the sky. After a tragic accident where she loses control of her powers and hurts her mortal father, her aunt Radhikafoi reveals a letter from her mom. The letter takes her on an adventure to Svargalok with her best friend Minal to save the one she loves. When she arrives, she is entered into a competition by her family to decide who the next ruling house of the stars will be. But the competition turns out to be more than it looks like on the surface. Along the way, Sheetal meets old and new friends and gains a number of enemies. This book was quite enjoyable. I learned a lot about Hindu mythology, which was something I knew almost nothing about before.
— Jillian H.
Description
---
Two exes. One election. All the drama.

For fans of Becky Albertalli and Morgan Matson comes a funny, heartfelt novel about feuding exes running for class president and the scandal that makes the previously boring school election the newest trending hashtag.

At Acedia High, student council has always been a joke. Nobody pays attention. Nobody cares.
 
But that changes when someone plasters the halls with Photoshopped images of three "perfect tens"—composites of scantily clad girls made from real photos of female students at the school. Quickly dubbed the "Frankengirls," the scandal rocks the student body. And the two presidential candidates, budding influencer Angeline Quinn and charming jock Leo Torres, jump on the opportunity to propose their solutions and secure votes. Fresh from a messy public breakup, Angeline and Leo fight to win, and their battle both mesmerizes and divides the school.
 
The election fills the pages of The Red and Blue, the school newspaper run by Angeline's sister, Cat. The Quinn sisters share a room and a grade but little else, and unlike her more sensationalist sister, Cat prides herself on reporting the facts. So when a rival newspaper pops up—written by an anonymous source and the epitome of "fake news"—Cat's journalistic buttons are pushed. Rumors fly, secrets are leaked, and the previously mundane student election becomes anything but boring.
About the Author
---
Lori Goldstein was born into an Italian-Irish family and raised in a small town on the New Jersey shore. She earned her bachelor's degree in journalism from Lehigh University and worked as a writer, editor, and graphic designer before becoming a full-time author. She currently lives and writes outside of Boston. Lori is also the author of Screen Queens. You can visit her online at www.lorigoldsteinbooks.com.
Praise For…
---
"Alternating chapters between Angeline and Cat, this fun and provocative novel sees the sisters growing in their relationship while dealing with thorny issues of accountability, truth, enacting change, and the systemic sexism prevalent in their school...Entertaining, thought-provoking, and heartwarming."--Kirkus Reviews

"A timely and smart novel that examines the pernicious effects of fake news and what it means to be a feminist, and even better, a sister. Lori Goldstein knows the teenage girl's heart."—Stacey Lee, award-winning author of The Downstairs Girl

"A whip-smart, razor-sharp foray into school politics, friendship, family, and the nature offemale ambition. Sources Say is savvy, heartfelt, and so very timely."—Laurie Elizabeth Flynn, author of Firsts,Last, Girl Lied To, and All Eyes on Her

"If there was ever a book for our time, this is it! Scandal, drama, romance, and fake news collide in this fun, clever, fast-paced read."—Jessica Brody, bestselling author of The Chaos of Standing Still, In Some Other Life, and A Week of Mondays