A Wicked Magic (Hardcover)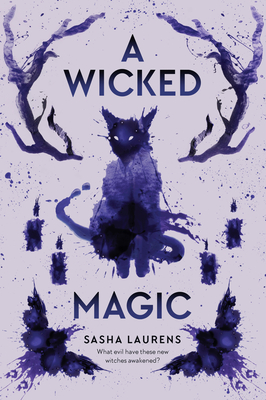 $18.99

Usually Ships in 4-7 Days
Staff Reviews
---
One day, while at a grocer in their hometown of North Coast, California, best friends Dan and Liss discover a mysterious book known as the "Black Book" in the Free Stuff bin outside of the store. The book only has one page with writing on it, containing a spell to turn anyone into Naive Witches. They think magic is all fun and games until a fateful day in junior year when a spell from the book goes wrong.
A Wicked Magic is an amazing fantasy-thriller that seamlessly blends fantasy with reality, creating a realistic universe with well-developed characters. All of the novel's heroines are different from each other; each has a distinct personality, personal problems, and motivations, providing us with three well-rounded characters who grow and change as the story progresses. The switching perspectives of the novel help to add to the suspense, as well as create new plotlines that each play into the other. Overall, A Wicked Magic is an excellent read that is highly recommended to readers who want to mix up their thriller selections.
— Ava G.
Description
---
The Chilling Adventures of Sabrina meets The Craft when modern witches must save teens stolen by an ancient demon in this YA fantasy-thriller debut.

Dan and Liss are witches. The Black Book granted them that power. Harnessing that power feels good, especially when everything in their lives makes them feel powerless.

During a spell gone wrong, Liss's boyfriend is snatched away by an evil entity and presumed dead. Dan and Liss's friendship dies that night, too. How can they practice magic after the darkness that they conjured?

Months later, Liss discovers that her boyfriend is alive, trapped underground in the grips of an ancient force. She must save him, and she needs Dan and the power of The Black Book to do so. Dan is quickly sucked back into Liss's orbit and pushes away her best friend, Alexa. But Alexa has some big secrets she's hiding and her own unique magical disaster to deal with.

When another teenager disappears, the girls know it's no coincidence. What greedy magic have they awakened? And what does it want with these teens it has stolen?

Set in the atmospheric wilds of California's northern coast, Sasha Laurens's thrilling debut novel is about the complications of friendship, how to take back power, and how to embrace the darkness that lives within us all.
About the Author
---
Sasha Laurens is originally from Northern California and has lived in New York and St. Petersburg, Russia. When she's not writing fiction and missing the West Coast, she is pursuing a PhD in political science on protest movements in authoritarian states.

Find her on Twitter @sasha_laurens
Praise For…
---
"Laurens blends the extraordinary and the everyday into her swiftly paced plot and creates characters readers care about as they navigate the challenges of adolescence and independence on the cusp of adulthood." —School Library Journal

"In her debut, Laurens weaves an intricate, suspense-filled tale mingling everyday teen angst with otherworldly sorcery...A cinematic, page-ripping debut." —Kirkus


"Laurens' debut reads like a modern version of The Craft." —Booklist 

"With magic and mystery at the fore, Laurens hooks readers' attention...Deftly plotted, with engaging, realistic characters, this paranormal debut has appreciable depth." —Publishers Weekly