Perfectly Parvin (Paperback)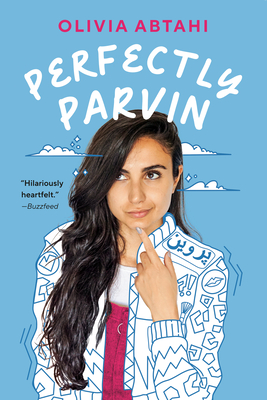 Description
---
Fourteen-year-old Iranian-American Parvin Mohammadi sets out to win the ultimate date to homecoming in this heartfelt and outright hilarious debut.

Parvin Mohammadi has just been dumped--only days after receiving official girlfriend status. Not only is she heartbroken, she's humiliated. Enter high school heartthrob Matty Fumero, who just might be the smoking-hot cure to all her boy problems. If Parvin can get Matty to ask her to Homecoming, she's positive it will prove to herself and her ex that she's girlfriend material after all. There's just one problem: Matty is definitely too cool for bassoon-playing, frizzy-haired, Cheeto-eating Parvin. Since being herself hasn't worked for her in the past (see aforementioned dumping), she decides to start acting like the women in her favorite rom-coms. Those women aren't loud, they certainly don't cackle when they laugh, and they smile much more than they talk.

But Parvin discovers that being a rom-com dream girl is much harder than it looks. Also hard? The parent-mandated Farsi lessons. A confusing friendship with a boy who's definitely not supposed to like her. And hardest of all, the ramifications of the Muslim ban on her family in Iran. Suddenly, being herself has never been more important.

Olivia Abtahi's debut is as hilarious as it is heartfelt--a delightful tale where, amid the turmoil of high school friendships and crushes, being yourself is always the perfect way to be.
About the Author
---
Olivia Abtahi is a writer and filmmaker born in Washington, DC. When she isn't drafting novels about awkward teens, you can find her working on documentaries about social justice and climate equity. She currently lives in Denver, Colorado, with her husband and daughter.
Praise For…
---
Praise for Perfectly Parvin:
A 2023 Sequoyah Book Award Nominee (OK)
A 2023 Texas Lone Star Reading List Pick
A 2022 Golden Kite Honor Award Winner
A 2022–2023 Georgia Peach Book Award Nominee
A 2022 YALSA Best Fiction for Young Adults Pick
A 2022 ALA Rise: A Feminist Book Project List Pick
A 2021 New York Public Library Best Book Pick
A 2021 Chicago Public Library Best Book Pick
A 2021 BuzzFeed Best Young Adult Pick
A Book Riot Must Read YA Romance Pick

"Abtahi writes a touching contemporary that's hilariously heartfelt about one girl's journey to self-discovery." —BuzzFeed

★ "Abtahi deftly navigates Parvin's transitional life phase, equipping her with enough humor and moxie to see her through even the toughest challenges . . . A joyful celebration of the right to take up space in the world." —Booklist, starred review

★ "Abtahi's charming debut will have readers cheering for Parvin. . . an incredibly charming, funny, and lovable protagonist who greets life with unbridled enthusiasm . . . as she navigates her two cultures with vim. . . A truly delightful story about a charming and engaging teen navigating freshman year." —School Library Journal, starred review

"Parvin's narratorial voice sparkles with wit and pathos, and her journey toward self-acceptance seamlessly incorporates political and emotional realities. . . A diverse, fast-paced, feminist romance." —Kirkus Reviews

"The fast-paced writing, wonderfully diverse cast, and very realistic and age-appropriate thoughts, choices, and realizations make this a solid read. Smart, funny, and full of heart." —Teen Librarian Toolbox

"Authentic and organically hilarious. . . A fresh, charming standout."—YALSA
 
"At its heart, this breezy YA title is about trying to find love by pretending to be someone else when being yourself is all that matters." —Brightly

"The ebullient, eponymous heroine of Olivia Abtahi's novel Perfectly Parvin—a prankster with a rambunctious wit . . . determines to remake herself as a demure, seen-but-not-heard young lady. The effort is doomed—if often hilarious—and has her trying but failing to tamp herself down through a friend's quinceañera party and Farsi classes, through online makeup consults with her Iranian aunt and a tragic band audition." —The Globe and Mail