Memorial: A Novel (Hardcover)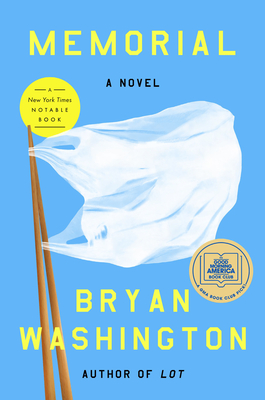 $27.00
Email or call for price
Staff Reviews
---
Washington's debut novel (after LOT: Stories) is a fascinating story of a contemporary relationship between two young men of different backgrounds but with similar father-son issues. Unlike LOT, which I loved for the multiple perspectives and relationships, MEMORIAL is simpler, though it is narrated by both main characters. Benson is the primary narrator, and he spends most of his time writing about his boyfriend Michael, with whom he has been living for four years, the people he works with at a day-care center, and his family – his sister and his divorced parents. Benson grew up in Katy in a middle class family. Michael, on the other hand, immigrated as a young child to Houston from Japan with his parents, and had a hand-to-mouth childhood before becoming a restaurant cook. Michael's father returned to Japan 11 years ago, but Michael and his mother remained in the U.S. until his mother returned to Japan when Michael was grown. Now Michael's father is dying, and Michael decides to go back to Japan to visit him, describing the experience in the sections of the novel that he narrates. At the same time, Michael's mother comes to Houston to visit. While Michael is in Japan, Benson and Michael's mother live together in the apartment. When Michael returns, he and Benson realize that they are in different places in their own relationship as well as their relationships with family members and others.
— Alice
November 2020 Indie Next List
---
"Reading Memorial is like sitting down with a dear friend, asking 'What's going on with you?' and settling in for much-needed catch-up on life, love, heartache, and family. Washington's writing is so intimate and direct that you feel the exhilaration, frustration, and uncertainty that Benson and Mike feel about their relationships, both with one another and with their families, which inspires a heart-felt connection to these characters that is hard to find in the world during socially distant times."
— Colleen Ellis, Lark and Owl Booksellers, Georgetown, TX
Winter 2022 Reading Group Indie Next List
---
"Mike has dropped everything to be with his absentee father as he succumbs to cancer in Japan, and Benson is left in their one-room apartment in Texas with Mike's mother. This sweet book is a rumination on what tethers us to one another."
— Hillary Smith, Copperfield's Books, Sebastopol, CA
Description
---
A NEW YORK TIMES NOTABLE BOOK OF THE YEAR

A GOOD MORNING AMERICA BOOK CLUB PICK

Named a Best Book of the Year by The New York Times, The Washington Post, TIME, NPR, Entertainment Weekly, Vanity Fair, O, the Oprah Magazine, Esquire, Marie Claire, Harper's Bazaar, Good Housekeeping, Refinery29, Real Simple, Kirkus Reviews, Electric Literature, and Lit Hub

"A masterpiece." —NPR

"No other novel this year captures so gracefully the full palette of America." —The Washington Post

"Wryly funny, gently devastating." —Entertainment Weekly

A funny and profound story about family in all its strange forms, joyful and hard-won vulnerability, becoming who you're supposed to be, and the limits of love.
 
Benson and Mike are two young guys who live together in Houston. Mike is a Japanese American chef at a Mexican restaurant and Benson's a Black day care teacher, and they've been together for a few years—good years—but now they're not sure why they're still a couple. There's the sex, sure, and the meals Mike cooks for Benson, and, well, they love each other.

But when Mike finds out his estranged father is dying in Osaka just as his acerbic Japanese mother, Mitsuko, arrives in Texas for a visit, Mike picks up and flies across the world to say goodbye. In Japan he undergoes an extraordinary transformation, discovering the truth about his family and his past. Back home, Mitsuko and Benson are stuck living together as unconventional roommates, an absurd domestic situation that ends up meaning more to each of them than they ever could have predicted. Without Mike's immediate pull, Benson begins to push outwards, realizing he might just know what he wants out of life and have the goods to get it.

Both men will change in ways that will either make them stronger together, or fracture everything they've ever known. And just maybe they'll all be okay in the end.
About the Author
---
Bryan Washington is a National Book Award 5 Under 35 honoree and winner of the Dylan Thomas Prize and the Ernest J. Gaines Award for Literary Excellence. He received the New York Public Library Young Lions Fiction Award for his first book, Lot, which was also a finalist for the NBCC's John Leonard Prize, the PEN/Robert W. Bingham Prize, and the Aspen Words Literary Prize. He has written for The New Yorker, The New York Times, The New York Times Magazine, BuzzFeed, Bon Appétit, and GQ, among other publications. He lives in Houston.
Praise For…
---
Praise for Bryan Washington
National Book Award 5 Under 35
Winner of the Ernest J. Gaines Award for Literary Excellence
Winner of the Dylan Thomas Prize
LOT was one of Barack Obama's "Favorite Books of the Year"

Praise for Memorial

"Wryly funny, gently devastating … Washington's hand is effortless—smooth dialogue, a love for good food, and his vibrant, sprawling, gradually gentrifying hometown—in inviting you into a nuanced love story that sticks to you like the Texas heat." —Entertainment Weekly

"Memorial is a wonderful unconventional rom-com [and]. . . a radiant exploration of love's permutations." –O, The Oprah Magazine

"A fresh, vibrant love story that interweaves race, queerness, nationality, family, and intimacy with narrative ease." —Vogue

"Implicit in a book about changing relationships and titled "Memorial" is the question of what is being preserved. The book preserves Houston and Osaka. It preserves the feeling of being young and lost. It preserves the food that gives us comfort and nourishment and purpose." —The New York Times

"Profoundly sensitive. . . . [and] unspool[s] as spontaneously and clearly as late-night conversation. . . . Memorial is a testament to the permanence of filial connections, a clear-eyed acknowledgment that our relatives don't always behave nicely, but they're with us for life." —The Washington Post 

"Memorial isn't just every bit as brilliant as its predecessor. It's somehow even better.... The dialogue in the novel is pitch-perfect, but it's in the spaces between the talking — the awkward silences, the questions left unanswered — that the characters reveal themselves. It's a difficult tactic to pull off, but Washington does it masterfully... Washington is an enormously gifted author, and his writing — spare, unadorned, but beautiful — reads like the work of a writer who's been working for decades, not one who has yet to turn 30. Just like Lot, Memorial is a quietly stunning book, a masterpiece that asks us to reflect on what we owe to the people who enter our lives." —NPR

"Washington deftly records the way the forces of loyalty pull the heartstrings in different directions. . . . Memorial leaves us with the sense that our true selves, like our true names, aren't necessarily bestowed at birth. They are chosen, too." —The New York Times Book Review   

"Extraordinary. . . . Washington writes with ease, like a juggler who is adding in new objects all the time, except the book ends with everything aloft instead of in hand. . . . It can be difficult to share your life with someone; Washington somehow explains this anew. Memorial, on the other hand, is easy to share." —The Paris Review

"Bryan Washington's writing is a treasure. . . . brilliant, funny, true." —Goop

"A very different kind of love story. . . . Washington's deeply touching (and deeply funny) look at love, sex, family, grief, and the ways in which we take care of each other is a revelation, a reminder of how powerful a novel can be." —Refinery29 

"Dazzling . . . With crackling dialogue and gimlet-eyed humor, Washington paints a vivid, poignant portrait of how love, romantic and familial, is weathered and ultimately deepened by time." —Esquire 

"Big-hearted and moving." —Harper's Bazaar

"[Washington's] ability with writing the sensual pleasures of making and eating food is a good way of understanding his ability as a novelist to write about the human mind. It's such a beautiful book. . . . a pure pleasure." —Rumaan Alam, The Maris Review
 
"Bryan Washington writes quiet. His characters methodically chop cabbage, or slide silently from room to room. Then, bam. A quick, elliptical conversation will smack you sideways with its heft and resonance." —Vulture

"[Memorial] is a love story about parents and children, colleagues and friends; it is one of circumstance, grief and forgiveness. . . . a melodic sojourn and an earnest expression of humanity." —The Seattle Times
 
"It's fascinating to watch such a brilliant writer of short fiction expand into the longer form, going deeper into his main characters, who are at once hard to love and hard to forget." — Minneapolis Star-Tribune 
 
"What truly makes Memorial extraordinary — especially the final section — is Washington's uncanny ability to capture the elusive essence of love on nearly every page." —The San Francisco Chronicle
 
"Fresh and new and daring, while also feeling wholly familiar" —Advocate  

"This book is so poignant and beautiful, asking questions about what it means to live a life and what it means to love." —LitHub

"This intimate story is about the families we are born into and the families we choose for ourselves. . . . a quiet, sensual exploration of how we decide who we stick around for." —Mashable 

"This sensitive novel illustrates the deeply individual ways we search for a sense of home." — RealSimple

"At once a love story, a tale of self-actualization, and an ode to family in every sense of the word." — Popsugar
 
"With wit and humor, Washington tackles race, class, identity and queerness. . . . In a story about first loves and family, both men will change as they discover their own truths." —Parade
 
"Washington creates two men so real it feels like even though the book ended, they will keep on living and figuring it out and making mistakes and falling down and getting back up again." —Alma

"Bryan Washington writes some of contemporary fiction's most tender stories. . . . Queer love, family dynamics, Houston settings, and cooking . . . . the young writer has brilliantly united them all in his new novel." —New York Observer
 
"Not only an exploration of a kaleidoscopically diverse America. . . but a moving portrait of two young men who are figuring out exactly who they are in this world. Anyone who enjoyed Washington's dreamlike yet textured meditations on life in Houston in Lot will be enchanted with Memorial." —The Millions

"Tender, funny, and heartbreaking, this tale of family, food... and growing apart feels intimate and expansive at the same time." —★Publishers Weekly, STARRED review★

"Vividly written... Washington's novel is richly layered and thrives in the quiet moments between lovers and family members.... There is passion in this novel—fight scenes, sex scenes, screaming matches, and tears—but it reaches a deep poetic realism when Washington explores the space between characters... A subtle and moving exploration of love, family, race, and the long, frustrating search for home." —★Kirkus Reviews, STARRED review★

"This is a love story, writ large, that sings. . . . Washington writes about race, class, family, love, and the idea of home with evocative nuance and phenomenal dialogue." —★Booklist, STARRED review★ 
 
"Memorial is a true page-turner. I was entranced, picking this book up every chance I got. Bryan Washington is a great writer and I love the story he tells here. Intriguing. Each character stays with me." —Jacqueline Woodson, author of Red At the Bone and Another Brooklyn

"Memorial dares to insist on the mundane, thoroughly lived life as a site of perennial hope, joy, and abundance. It casts a fresh take on the American family that becomes truer because of its disparate origins, the queerness of its genesis, and the buoyed wonder it finds in surviving grief and loss towards the rare and forgiving ground of difficult, hard-won love. All of this done in sentences clean and clear as cut glass. This book, in what feels like a new vision for the 21st century novel, made me happy." 
—Ocean Vuong, author of On Earth We're Briefly Gorgeous

"I was entranced by this deeply original and wholly absorbing novel. Bryan Washington creates characters who are complex, interesting, and three dimensional, and made me care about every single one of them. This book made me think about the nature of love, and family, and anger, and grief, and love again."
—Jasmine Guillory, author of The Wedding Date and The Proposal

"Brilliantly details the smallest moments that mean the absolute most, the heartbreakingly human limitations of how we love one another, and with all its many roommates and zip codes and implications, Memorial beautifully rests in how difficult it is to ever truly go home."
—Kiley Reid, author of Such a Fun Age

"Memorial is a tour de force, truly unlike anything I've read before. Bryan Washington's take on love, family, and responsibility is as complicated and true as life itself. I can't stop thinking about it."
—Ann Patchett, author of Bel Canto

"Bryan Washington's Memorial is stunning. Everything happening in this book is so intimate, sensual, and wise. It is a funny book with much sadness and love. It is a story about relationships, and family, and what it means to have and not have home, in Houston, Texas, and in Osaka, Japan. It is also a surprising page-turner. The scenes and characters here couldn't be more alive and vivid. I love this book."
—Tommy Orange, author of There, There
 
"Bryan Washington is an expert in illuminating the way we love. Memorial perfectly captures the lives lived in-between what we do and what we say, what we need and what we allow ourselves to have. It is a beautiful heartbreak."
—Mira Jacob, author of Good Talk
 
"Tender like a bruise, Memorial is a novel of uncommon depth and feeling. It is about everything that matters in life: love, loss, community and communion. Bryan Washington will take your breath away."
—Katie Kitamura, author of A Separation


Praise for Lot
 
 "Audacious…. Washington is a one-man border-eradicating crew." —Luis Alberto Urrea, New York Times Book Review
 
"A treat and an inspiration to witness." —Ocean Vuong, GQ
 
"A brilliant display of raw talent…. This is the literature that I've been waiting for." —Nicole Dennis-Benn, author of Patsy and Here Comes the Sun
 
"The promise Washington displays is real and large." —Dwight Garner, New York Times
 
"Stunning… It's hard to overstate what an accomplishment Lot is." —Michael Schaub, NPR
 
"Funny, sad, wise & very alive in the best way." —Curtis Sittenfeld (Twitter)
 
"The kind of stories I am always longing to read." —Justin Torres, author of We the Animals
 
"Gut-wrenching and powerful." —Cosmopolitan
 
"Lot spills over with life – funny, tender, and profane." —Entertainment Weekly