Sex and Vanity: A Novel (Paperback)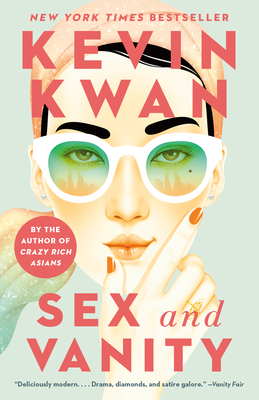 $17.00

Usually Ships in 4-7 Days
Staff Reviews
---
In this modern retelling of A Room With a View, nineteen year old American-Taiwanese heiress Lucy Tang Churchill is attending the lavish wedding of her friend Isabel on the island of Capri under the supervision of her Aunt Charlotte. Lucie falls for Chinese-Austrailian surfer George Zao knowing that her WASPy Churchill family will never approve of the relationship. Fast forward 5 years and Lucie is a successful art consultant in New York City engaged to billionaire Cecil Pike. When George Zao reappears and rents a nearby house in East Hampton, Lucie must decide for herself what she really wants.
— Barb
Description
---
NEW YORK TIMES BESTSELLER • A Good Morning America Book Club Pick
 
The author of the New York Times bestselling phenomenon Crazy Rich Asians takes you from Capri to NYC, where Lucie Tang Churchill finds herself torn between two men—and two very different cultures.

On her very first morning on the jewel-like island of Capri, Lucie Churchill sets eyes on George Zao and she instantly can't stand him. She can't stand it when he gallantly offers to trade hotel rooms with her so that she can have a view of the Tyrrhenian Sea, she can't stand that he knows more about Casa Malaparte than she does, and she really can't stand it when he kisses her in the darkness of the ancient ruins of a Roman villa and they are caught by her snobbish, disapproving cousin Charlotte.

The daughter of an American-born Chinese mother and a blue-blooded New York father, Lucie has always sublimated the Asian side of herself in favor of the white side, and she adamantly denies having feelings for George. But several years later, when George unexpectedly appears in East Hampton, where Lucie is weekending with her new fiancé, Lucie finds herself drawn to George again. Soon, Lucie is spinning a web of deceit that involves her family, her fiancé, the co-op board of her Fifth Avenue apartment building, and, ultimately, herself as she tries mightily to deny George entry into her world—and her heart. Moving between summer playgrounds of privilege, peppered with decadent food and extravagant fashion, Sex and Vanity is a truly modern love story, a daring homage to A Room with a View, and a brilliantly funny comedy of manners set between two cultures.
About the Author
---
KEVIN KWAN is the author of the international bestsellers Crazy Rich Asians, China Rich Girlfriend, and Rich People Problems. Crazy Rich Asians was a #1 New York Times bestseller and major motion picture and has been translated into more than thirty languages. In 2018, Kevin was named by Time Magazine as one of the 100 Most Influential People in the World.
Praise For…
---
A NPR, Marie Claire, and New York Post Best Book of 2020
Good Morning America's July Book Club Pick
A CNN "Perfect Summer Read"
A New York Times "New & Noteworthy Book"


"Kevin Kwan has had a singular influence on Asian American storytelling and Hollywood's pop cultural landscape."
— Yoonj Kim, Los Angeles Times

"With this sparkling confection of a potboiler, Kwan more than delivers on the promises of his title, and he does so with tongue planted firmly in cheek."
— Elizabeth Egan, New York Times

"Kevin Kwan has dedicated his fourth novel, Sex and Vanity, to two unique destinations. One is New York... the other is the Italian island of Capri... Both locales—rich, glamorous, and filled with their share of both insiders and outsiders looking for their ticket in—serve as backdrops for Kwan's latest ode to love, class, and the problematic, hilarious search for happiness in a world spinning with too much of pretty much everything. Kwan… is an urban romantic and he's also a keen observer of social mores and the Teflon charms of an offbeat character. Sex and Vanity is sharp, clever, and irresistibly drawn."
— Cornelia Guest, Interview

"On its face, the story is a zippy beach read, but Kwan engages with serious subject matter (racism, identity, and deep-rooted Asian classism) all while thoroughly lampooning the extravagance of the ultrarich... The best part is that like all of Kwan's work, Sex and Vanity also functions as a vacation read — it's funny, there are ridiculous, steamy sex scenes, and part of the book takes place at a luxurious destination wedding. It's the kind of thing you can take to whatever beach substitute you're working with right now (the bedroom with the most sun, or a patch of asphalt at the nearest park) and escape for a little while."
— The Cut

"Sex and Vanity [is] both homage to A Room with a View and very much in Kwan's style. It begins as Forster's book does — with a hotel room swap — and then spins off into its own gold-plated world, with a few unexpectedly serious stops along the way... Kwan's witty Sex and Vanity is a fine beach read.
— Moira MacDonald, Chicago Tribune

"A romantic comedy set in New York and the Hamptons, and a nuanced exploration of race and identity."

— Avenue

"Another riveting tale of privilege, culture and romance... in a world of extravagant fashion and deceit, resulting in one truly modern love story that you won't be able to put down."
— CNN

"A summer romp with a satirical sting."
— NPR

"Perfect for when your summer travel plans are on hold and you have wonderlust."
— theSkimm

"When the room with a view is Kevin Kwan's, things might get wild... There's no other way you're getting to Capri this summer. Here's a ticket."
— Janet Maslin, New York Times Book Review

"Part of the novel's fun is that Kwan is in on the joke: He excels at satirizing the uber-rich. He's also an Olympic-level name-dropper. If I had a dollar for every reference to an A-list designer or brand mentioned here, I'd be — well, still not a fraction as wealthy as these characters... Kwan's trademark snark, which hooked "Crazy Rich Asians" fans, remains on display in this new offering...  readers who follow suit can revel in the kind of extravagances that sound like a dream after months of isolation and anxiety during the coronarvirus pandemic."
— Angela Haupt, Washington Post

"The Shakespeare of Status Anxiety... Dishy and delightful, filled with all sorts of bad behavior performed in couture. But as loose and fun and compulsively readable as they are, Kwan's novels are also very clearly the work of someone who spends much of his social time paying extremely close attention."
—Ryan Bradley, The Atlantic 

"A razor-sharp rake on the one percent... Like Truman Capote or Dominick Dunne before him, Kwan seems to be writing from inside the rarefied rooms where his stories take place—and he doesn't pull any punches."
—Marshall Heyman, Town & Country

"Deliciously modern... drama, diamonds, and satire galore.
—Vanity Fair

"Kevin Kwan's new book is his most decadent yet."
—Entertainment Weekly 

"Kwan's latest novel Sex and Vanity is a retelling of E. M. Forster's A Room With a View. In Kwan's hands, the classically white, British tale's setting gets an update from the early 1900s to the 2010s, trading in a cast of characters from England's stuffy upper crust for one of lavish, jet-setting Asian socialites."
—Bustle

"A deliciously fun romp from Capri to Manhattan and East Hampton. Kwan is in fine form, gleefully name-dropping luxury brands and socialites as he spins a heartfelt, satirical tale that observes the price of fame, fortune and following your heart."
—BookPage

"True love will find a way, even among the status-obsessed and filthy rich... [With] irresistibly knowing humor and delightful central characters... While he's engineering the timeless love story and continuing our postgraduate education in all the things money can buy, Kwan manages to take a few swipes against snobbery and racism. Nice. This is the only way you're getting to Capri this year. Why resist?"
—Kirkus 

"Kwan follows up his Crazy Rich Asians trilogy with an intoxicating, breezy update of E.M. Forster's A Room with a View... Kwan exploits the Forster frame for clever references—including Merchant and Ivory—and provides amusing footnotes. Kwan also relishes describing lavish meals and haute couture clothing, as well as Isabel's decadent wedding and Cecil's imaginative, over-the-top proposal. There are moments both catty and witty... [A] delectable comedy of manners—the literary equivalent of white truffle and caviar pizza."
—Publishers Weekly