The Wanderings of Odysseus: The Story of The Odyssey (Mass Market)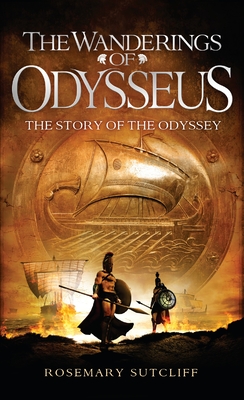 Description
---
For Greek myth fans, those who can't get enough of the D'Aulaires' Book of Greek Myths, and readers who have aged out of Rick Riordan, this classroom staple and mythology classic is perfect for learning about the ancient myths!
 
    King Odysseus and the Greeks have triumphed over the Trojans. At long last, they are able to set sail for home and the loving family Odysseus left behind. But for the heroic king, the return voyage holds hazards far greater than any he faced during the war.
    Forced by treacherous winds into unknown seas, Odysseus and his crew must face deadly perils: the flesh-eating Cyclops, Circe and her deadly enchantments, and the soul-chilling Land of the Dead and more.
   Rosemary Sutcliff's reimagining of the classic epic The Odysseus is woven through with a spectacular cast of men, magicians, and monsters. Odysseus' harrowing journey home to his family and kingdom tests the limits of his strength, and the power of his will.
 
Homer's epic poem, The Odyssey, is one of the greatest adventure stories of all time and Rosemary Sutcliff stays true to the classic tale and characters in this authentic retelling rich with drama, magic, and heroism.
 
Don't miss Black Ships Before Troy, the companion to The Wanderings of Odysseus, and follow Odysseus and his crew as they fight in the epic battle against the Trojans.
About the Author
---
Rosemary Sutcliff wrote more than 40 historical novels for young adults, including The Wanderings of Odysseus and Black Ships Before Troy, as well as five adult novels, and several books of nonfiction.
Praise For…
---
Praise for The Wanderings of Odysseus:
 
"[Sutcliff] retells Homer's Odyssey with thrilling drama...The story of the hero's long years of wandering...has the mythic power of everyone's search for home...[and she] fuses epic grandeur with a direct simplicity that will bring the universal story home."-Booklist

"Rosemary Sutcliff has done a great service...by warmly and carefully abridging two classics that many people find difficult to tackle in their original form. Not only has she broken the long tales into tolerable and interesting chapters, she has smoothed out the language while keeping true to all of the original drama and excitement."-Parent Express

"An intimate portrait of a man....Readers will enjoy this classic adventure."-SLJ
 
Praise for Black Ships Before Troy:
 
An ALA-YALSA Best Book for Young Adults
 
"A splendid offering, bringing the ancient tale to new and vibrant life."—Kirkus Reviews, Pointer
 
"Amazingly told, taut with cunning and terror."—Booklist

"[Sutcliff] brings into vivid focus the mythic story of the Trojan War, with all of its visually dramatic elements…[and] leaves many of the epic's powerful metaphors intact."—Publishers Weekly