Artemis: A Novel (Hardcover)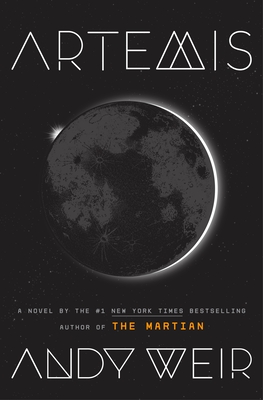 $27.00
Usually Ships in 1-5 Days
Staff Reviews
---
Jazz Bashara lives in the city of Artemis, which is on the moon. Yes, our moon. While there are thriving businesses in Artemis, tourism is a big part of the economy. Jazz is striving to become one of the revered EVA masters who give pricey tours to those who pay to go outside. But in the meantime, she is getting by with odd jobs and smuggling. Her master-welder father is constantly frustrated by her lack of ambition and follow-through in spite of her knowledge and intelligence. So to get herself out of yet another financial hole, Jazz takes a risky job that pays a whole lot of money. Too good to be true, right?
Andy Weir, author of the popular novel The Martian (and Matt Damon movie of the same name), comes up with a new book that is science-y, funny and thrilling. Jazz is brave and scrappy like Rey from The Force Awakens but maybe a little less noble. Nonetheless, you'll be rooting for her as you're biting your fingernails. After all, any wrong move or bad decision can mean death—not just from bad guys but from the Earth-unfriendly elements too.
— Cynthia
November 2017 Indie Next List
---
"Jazz is a porter on Artemis, the only city on the moon, and her job is supplemented by smuggling minor contraband into the city. When she gets involved in a bigger game with a much bigger payout, she is not ready for the lengths to which others will go to get their own payday. Amidst murder, corporate sabotage, and the Brazilian mafia, the moon's crisis brings Jazz to a new perspective: She must be a better person than she has ever been if she and Artemis' society are to survive. Weir has created a great, sarcastic character who will be loved by fans the world over, and a cool and engaging book that is a worthy successor to The Martian."
— Raul Chapa, Book People, Austin, TX
Description
---
The bestselling author of The Martian returns with an irresistible new near-future thriller—a heist story set on the moon.

Jasmine Bashara never signed up to be a hero. She just wanted to get rich.
 
Not crazy, eccentric-billionaire rich, like many of the visitors to her hometown of Artemis, humanity's first and only lunar colony. Just rich enough to move out of her coffin-sized apartment and eat something better than flavored algae. Rich enough to pay off a debt she's owed for a long time.
 
So when a chance at a huge score finally comes her way, Jazz can't say no. Sure, it requires her to graduate from small-time smuggler to full-on criminal mastermind. And it calls for a particular combination of cunning, technical skills, and large explosions—not to mention sheer brazen swagger. But Jazz has never run into a challenge her intellect can't handle, and she figures she's got the 'swagger' part down.
 
The trouble is, engineering the perfect crime is just the start of Jazz's problems. Because her little heist is about to land her in the middle of a conspiracy for control of Artemis itself.
 
Trapped between competing forces, pursued by a killer and the law alike, even Jazz has to admit she's in way over her head. She'll have to hatch a truly spectacular scheme to have a chance at staying alive and saving her city.
 
Jazz is no hero, but she is a very good criminal.
 
That'll have to do.
 
Propelled by its heroine's wisecracking voice, set in a city that's at once stunningly imagined and intimately familiar, and brimming over with clever problem-solving and heist-y fun, Artemis is another irresistible brew of science, suspense, and humor from #1 bestselling author Andy Weir.
About the Author
---
ANDY WEIR built a career as a software engineer until the success of his first published novel, THE MARTIAN, allowed him to live out his dream of writing fulltime. He is a lifelong space nerd and a devoted hobbyist of subjects such as relativistic physics, orbital mechanics, and the history of manned spaceflight. He also mixes a mean cocktail. He lives in California.
Praise For…
---
Praise for Artemis:

"An action-packed techno-thriller of the first order…the perfect vehicle for humans who want to escape, if only for a time, the severe gravity of planet earth. The pages fly by."—USA Today
 
"Revitalizes the Lunar-colony scenario, with the author's characteristic blend of engineering know-how and survival suspense...Jazz is a great heroine, tough with a soft core, crooked with inner honesty."—Wall Street Journal
 
"Smart and sharp…Weir has done it again [with] a sci-fi crowd pleaser made for the big screen."—Salon.com

"Makes cutting-edge science sexy and relevant…Weir has created a realistic and fascinating future society, and every detail feels authentic and scientifically sound." —Associated Press
 
"Out-of-this-world storytelling."—Houston Chronicle

"Weir excels when it comes to geeky references, snarky humour and scenes of ingenious scientific problem-solving." —Financial Times 
 
"Weir has done the impossible—he's topped The Martian with a sci-fi-noir-thriller set in a city on the moon. What more do you want from life? Go read it!"– Blake Crouch, New York Times bestselling author of Dark Matter
 
"Everything you could hope for in a follow-up to The Martian: another smart, fun, fast-paced adventure that you won't be able to put down." – Ernest Cline, New York Times bestselling author of Ready Player One

"A superior near-future thriller…with a healthy dose of humor." —Publishers Weekly (starred review)
 
"An exciting, whip-smart, funny thrill-ride…one of the best science fiction novels of the year." —Booklist (starred review)
 
"Narrated by a kick-ass leading lady, this thriller has it all – a smart plot, laugh-out-loud funny moments, and really cool science." —Library Journal (starred review)
 
Praise for The Martian:

"Brilliant…a celebration of human ingenuity [and] the purest example of real-science sci-fi for many years." —Wall Street Journal

"A gripping survival story." —New York Times

"Terrific…a crackling good read."—USA Today  

"A marvel…Robinson Crusoe in a space suit."—Washington Post

"Impressively geeky…the technical details keep the story relentlessly precise and the suspense ramped up." —Entertainment Weekly

"A story for readers who enjoy thrillers, science fiction, non-fiction, or flat-out adventure." —Associated Press

"Utterly nail-baiting and memorable."—Financial Times

"A hugely entertaining novel that reads like a rocket ship afire."—Chicago Tribune
Coverage from NPR