All the Crooked Saints (Hardcover)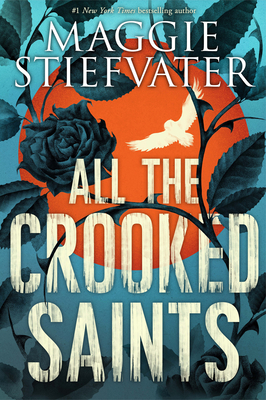 Staff Reviews
---
The members of the Soria family work two-part miracles. The first miracle takes a person's darkness and makes it a concrete thing, each with a different form. The second miracle frees the person from their darkness. While the Sorias initiate the first miracle, they are forbidden from helping with the second. If they do, they will unleash their own darkness, and a Soria darkness is more terrible than any other. After Daniel helps a pilgrim and brings his darkness upon himself, his cousins Beatriz and Joaquin, the rest of the Soria family, and the pilgrims of Bicho Raro try to find a way to help him. This is a beautiful story of helping others and coming to terms with one's own darkness, whatever form it may take.
— Madeline
Description
---
Here is a thing everyone wants: A miracle.Here is a thing everyone fears: What it takes to get one.Any visitor to Bicho Raro, Colorado, is likely to find a landscape of dark saints, forbidden love, scientific dreams, miracle-mad owls, estranged affections, one or two orphans, and a sky full of watchful desert stars.At the heart of this place you will find the Soria family, who all have the ability to perform unusual miracles. And at the heart of this family are three cousins longing to change its future: Beatriz, the girl without feelings, who wants only to be free to examine her thoughts; Daniel, the Saint of Bicho Raro, who performs miracles for everyone but himself; and Joaquin, who spends his nights running a renegade radio station under the name Diablo Diablo.They are all looking for a miracle. But the miracles of Bicho Raro are never quite what you expect.
About the Author
---
Maggie Stiefvater is the #1 New York Times bestselling author of the novels Shiver, Linger, Forever, and Sinner. Her novel The Scorpio Races was named a Michael L. Printz Honor Book by the American Library Association. The first book in The Raven Cycle, The Raven Boys, was a Publishers Weekly Best Book of the Year and the second book, The Dream Thieves, was an ALA Best Book for Young Adults. The third book, Blue Lily, Lily Blue, received five starred reviews. The final book, The Raven King, received four. Her latest book is All the Crooked Saints. She is also an artist and musician. She lives in Virginia with her husband and their two children. You can visit her online at maggiestiefvater.com.