Tiny and the Big Dig (Hardcover)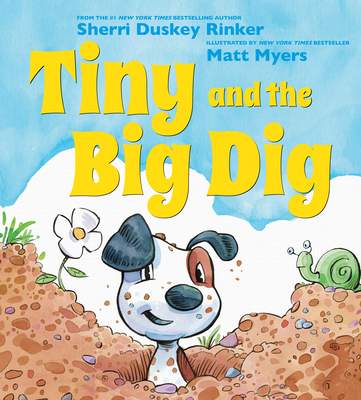 $16.99

Usually Ships in 4-7 Days
Description
---
A New York Times bestselling powerhouse team presents a doggie, a bone, and tons of determination to remind us that going for what you want brings ginormous surprises.Sniff! Sniff-sniff!I smell a bone. A bone that's BIG.I'll get it out, I'll dig and dig.A big, BIG bone! I know it's there!It will take work, but I don't care!Tiny may be a small dog, but don't let that fool you. He's a pooch with power who knows what he wants. And he's going for it. But oh, those pesky pessimists -- they're trying to rain on Tiny's dig-parade! Thank goodness for one special boy who believes in Tiny, because in the end, this dog's grit proves that he's the little pup who could... dig up some giant surprises!
About the Author
---
Sherri Duskey Rinker is the author of #1 New York Times bestseller Goodnight, Goodnight, Construction Site and Steam Train, Dream Train, as well as Mighty, Mighty Construction Site. She writes books with hopes of happier bedtimes, wrangling some smiles, and encouraging kids to dig deep and dream big! Sherri lives in the Chicago area with her photographer husband, two sons, and one fluffy dog. Visit her at www.sherririnker.com.
Matt Myers is the illustrator of many books, including the New York Times bestseller Battle Bunny by Jon Scieszka and Mac Barnett, A Is for Musk Ox, Scarecrow Magic, Tyrannosaurus Dad, and EIEIO: How Old MacDonald Got His Farm (With a Little Help from a Hen). He lives with three little goblins in Charlotte, North Carolina. For more information, go to www.myerspaints.com.
Praise For…
---
"The singsong writing and upbeat message make this uplifting underdog tale a shoo-in for storytimes." -- Booklist Praise for Sherri Duskey Rinker's Goodnight, Goodnight, Construction Site:*"Fun, rhyming text, cleverly personifying each truck with expressive eyes and amusing details." --School Library Journal, starred review"A great read-aloud story as you are settling your child in for the night." -- About.com"A delightful debut." -- The New York Times* "A standout picture book." -- Booklist, starred reviewPraise for Matt Myers's Pirate's Perfect Pet:* "Luscious, thickly painted illustrations look as if they've been frosted. " -- Publishers Weekly, starred reviewPraise for Matt Myers's A Is for Musk Ox:"Comical illustrations take this book to a high level. The illustration quality even makes 'musk ox' tags appear to be 3-D." -- Children's Literature

"The singsong writing and upbeat message make this uplifting underdog tale a shoo-in for storytimes." -- Booklist Praise for Sherri Duskey Rinker's Goodnight, Goodnight, Construction Site:*"Fun, rhyming text, cleverly personifying each truck with expressive eyes and amusing details." --School Library Journal, starred review"A great read-aloud story as you are settling your child in for the night." -- About.com"A delightful debut." -- The New York Times* "A standout picture book." -- Booklist, starred reviewPraise for Matt Myers's Pirate's Perfect Pet:* "Luscious, thickly painted illustrations look as if they've been frosted. " -- Publishers Weekly, starred reviewPraise for Matt Myers's A Is for Musk Ox:"Comical illustrations take this book to a high level. The illustration quality even makes 'musk ox' tags appear to be 3-D." -- Children's Literature