How Georgie Radbourn Saved Baseball (Hardcover)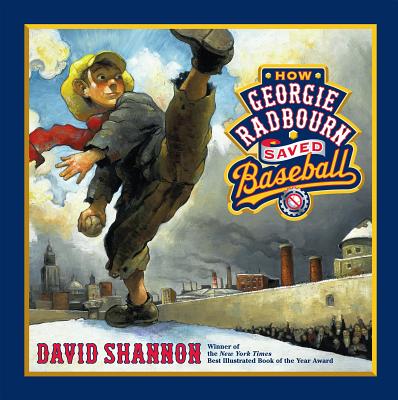 $17.99
Usually Ships in 1-5 Days
Description
---
Bestselling Caldecott Honor artist David Shannon tells the story of a boy who overcomes a cruel tyrant using his love of baseball.

Chosen as a NEW YORK TIMES Best Illustrated Children's Book, HOW GEORGIE RADBOURN SAVED BASEBALL was published more than a decade ago, and it was the very first book award-winner David Shannon wrote and illustrated himself. Using his vast experience as an editorial illustrator, Shannon told an expressive, emotional tale of a time when spring no longer existed, and it was always winter in America. Why? Because an angry dictator declared baseball illegal, and once-happy citizens fell into a dull pace of endless ice, snow, factories, and drudgery.
Filled with warmth, drama, and gentle humor, this story presents Shannon's rare ability to create an engaging picture book that can be read on several levels. Perfect for story time, bedtime, and teacher readings, this 2012 edition features a dramatic new cover sure to catch the eye of readers everywhere.
Published just in time for baseball season, HOW GEORGIE RADBOURN SAVED BASEBALL is more than a hit--it's a home run!
About the Author
---
David Shannon is the internationally acclaimed creator of more than thirty picture books, including NO, DAVID!, a Caldecott Honor Book and his second NEW YORK TIMES Best Illustrated Book of the Year. In addition to three more David picture books, Shannon's bestsellers include TOO MANY TOYS; HOW GEORGIE RADBOURN SAVED BASEBALL (newly released in 2012); A BAD CASE OF STRIPES; DUCK ON A BIKE; ALICE THE FAIRY; and GOOD BOY, FERGUS! A native of Spokane, Washington, he is an avid fisherman. He and his family live in California.

Praise For…
---
"What would a world without baseball be like? Shannon gives us a glimpse of it in this...picture book, complete with echoes of an Orwellian future that might make it a discussion starter for kids well beyond picture-book age."--BOOKLIST

"children wish for a world like Georgie's where right and wrong, hero and villain are crystal clear, and children feel powerful and triumphant."--CHILDREN'S LITERATURE

"fans will enjoy the many baseball references cleverly inserted here; Georgie, for instance, recalls Charles ("Old Hoss") Radbourn, the 19th century's greatest pitcher."--KIRKUS REVIEWS