The Erratics: A Memoir (Hardcover)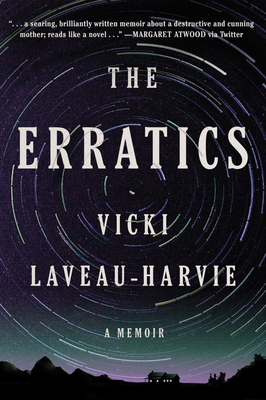 $25.95
Usually Ships in 4-7 Days
Staff Reviews
---
It has been 18 years since the author has seen her parents when she is called back to help her sister decide what to do when her mother breaks a hip. Her mother clearly suffers from some kind of personality disorder -- and has for many years, which partly explains the estrangement. And then there is the fact that both she and her sister have been disowned by both parents, whose wills exclude them from any inheritance and who have indicated they don't want the sisters to have anything to do with making end-of-life decisions for them. The time frame for this memoir is the several years from the mother's hip fracture to her death, during which time the author makes several long trips from her home in Australia to her childhood/parents' home near Calgary. The sisters manage to rescue their father, a former oil company executive, and keep their mother institutionalized. The author writes with humor and a certain degree of snarkiness. But I really wish she had included some background information: was her mother always like this? what was it like growing up with her? what led to the total estrangement from her parents? She alludes to feelings of grief, and it may be that she has repressed a lot of her past, though she clearly has an attachment to the stark beauty of the Canadian Rockies, which is the setting for this memoir. In any case, it is a fascinating read and the writing is powerful.
— Alice
Description
---
"...a searing, brilliantly-written memoir about a destructive and cunning mother; reads like a novel..." --Margaret Atwood via Twitter

In this award-winning memoir, two sisters reckon with the decline and death of their outlandishly tyrannical mother and with the care of their psychologically terrorized father, all relayed with dark humor and brutal honesty.

When her elderly mother is hospitalized unexpectedly, Vicki Laveau-Harvie and her sister travel to their parents' ranch home in Alberta, Canada, to help their father. Estranged from their parents for many years, they are horrified by what they discover on their arrival. For years their mother has camouflaged her manic delusions and savage unpredictability, and over the decades she has managed to shut herself and her husband away from the outside world, systematically starving him and making him a virtual prisoner in his own home.

Rearranging their lives to be the daughters they were never allowed to be, the sisters focus their efforts on helping their father cope with the unending manipulations of their mother and encounter all the pressures that come with caring for elderly parents. And at every step they have to contend with their mother, whose favorite phrase during their childhood was: "I'll get you and you won't even know I'm doing it."

Set against the natural world of the Canadian foothills ("in winter the cold will kill you, nothing personal"), this memoir--at once dark and hopeful--shatters precedents about grief, anger, and family trauma with surprising tenderness and humor.
About the Author
---
VICKI LAVEAU-HARVIE was born in Canada but lived for many years in France before settling in Australia. In France she worked as a translator and a business editor, despite being a specialist in eighteenth-century French literature. In Sydney she lectured in French Studies at Macquarie University. After retiring, she taught ethics in a primary school. The Erratics won the 2018 Finch Memoir Prize and was the winner of the 2019 Stella Prize. She has also won prizes for short fiction and poetry.
Praise For…
---
"Laveau-Harvie tells the story with laugh-out-loud humor, and tremendous heart and insight. She has a poet's gift for language, a playwright's sense of drama and a stand-up comic's talent for timing. But perhaps most remarkable is the generosity of spirit with which she writes about family trauma . . . Laveau-Harvie does not take herself too seriously, and by holding the reins of her story lightly, she gives us the ride of our lives. The book flows with kinetic energy, wit and wisdom. Upon reaching the last page, I found myself turning to the beginning and starting again, not wanting it to end . . . Laveau-Harvie's book truly stays with the reader, for the quality of her original and powerful narrative voice." 
—Helen Fremont, The New York Times Book Review

"Curiously mesmerizing . . . an outlier in its genre. Think of the vivid portraits of the confounding mothers in Mary Karr's The Liars' Club, Alison Bechdel's Are You My Mother? and Jeanette Winterson's Why Be Happy When You Could Be Normal? . . . Laveau-Harvie depicts her mother neither as a riddle to be solved nor as a woman to be understood, but as an implacable act of nature, who must only be survived."
—Parul Sehgal, The New York Times

"Atmospheric . . . The result—the rare memoir unobsessed with memories—is sometimes infuriating but always enthralling."
—The New Yorker

"Somehow, despite the dark subject matter, this book has a smile at its core, and Laveau-Harvie shows constant wit when depicting some harrowing times. The narrative is brimming with honesty, the narrator somehow manages to see all viewpoints, and we are rewarded with an evocative and expansive view of a family that has more than its fair share of dysfunction."
—Australia's Stella Prize Judge's Report

"Wit and generosity seep through the poised prose . . . Laveau-Harvie fathoms the heart's reserves of both ruthlessness and vulnerability."
—The Economist

"Piercing, honest and oddly hilarious."
—Alex McClintock, The Globe and Mail

"A beautifully crafted, unblinkingly honest, often darkly funny lament for a loving family that never was . . . an unflinching and empathetic memoir of the collision between past trauma and new outrage, dotted with precious moments of rueful levity and fleeting beauty."
—Linda M. Castellitto, BookPage (Starred) 

"After learning that a fall had landed her elderly, 'mad as a meat-ax' mother in the hospital . . . This riveting book explores family relationships with a darkly humorous ferocity that is both remarkable and eloquent. A poignant, unsparing, often poetic memoir." 
—Kirkus

"Two adult sisters return to their childhood home in Canada to pick up the pieces of their shattered family in Laveau-Harvie's eloquent debut . . . [a] well-constructed, fluent memoir." 
—Publishers Weekly

"With moments of tenderness, The Erratics by Vicki Laveau-Harvie evokes the Canadian winter and the trauma of living with a manipulative parent . . . While Laveau-Harvie's warmth and good humour came across, her book sounded like misery memoir. But no. Her agile humour—albeit of the gallows variety—transforms it into something quite of its own genre."
—The Guardian (Australia)

"A sharp gemstone of a book, both moving and darkly funny, about a daughter trying her best to love her very, very difficult mother." 
—David Ebershoff, author of The 19th Wife

"The Erratics grabbed me by the throat and never let go. Its sharp vinegary tone added a thrilling and bracing note to this portrayal of an extreme dysfunctional family. The writing has a visceral quality as well as a terrific sense of timing, irony and place—an unfamiliar and remote location far removed from Australia, but the author's tug back to Australia from this cold, inhospitable setting adds another dimension of contrast. There is a universality to the story, of ageing parents and conflicted children grappling with uncomfortable responsibilities. I loved it." 
—Caroline Baum, author of Only

"If someone had told me this manuscript was by a young Margaret Atwood or Alice Munro, I wouldn't have been surprised. The bleak beauty of the Canadian landscape set against this wry memoir of a daughter's journey with her sister through their parents' decline into ill-health and dementia is an extraordinary read."
—Candida Baker