The Art Thief: A True Story of Love, Crime, and a Dangerous Obsession (Hardcover)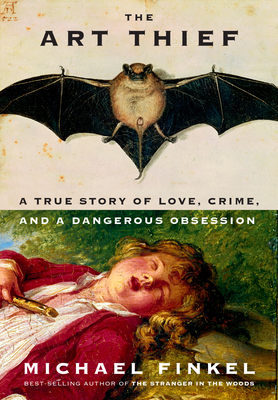 Staff Reviews
---
Art has been stolen for centuries. None have succeeded as art thieves as much as Stéphane Breitweiser. In almost 10 years he had pulled off more than two hundred thefts of art from many kinds from museums, cathedrals, and castles with the help of his girlfriend and lookout, Anne-Catherine Kleinklaus. The two of them stole more than three hundred items until they were caught. Breitweiser was an unusual thief — he didn't steal for profit. He stole for passion. This passion turned into an addiction, and ulitmately led to his downfall. This is a true story of how Stéphane and Anne-Catherine came to be a couple, their near decade-long crime spree, and how it all fell apart.
— Katherine
July 2023 Indie Next List
---
"The Art Thief looks into the mind of one of the most successful art thieves in history. It's a terrific psychological study of a true aesthete, and a look into how he was found and how laws changed after him. A fascinating, compelling tale!"
— William Carl, An Unlikely Story, Plainville, MA
Description
---
NEW YORK TIMES BEST SELLER • One of the most remarkable true-crime narratives of the twenty-first century: the story of the world's most prolific art thief, Stéphane Breitwieser. • "The Art Thief, like its title character, has confidence, élan, and a great sense of timing."—The New Yorker

"Enthralling." —The Wall Street Journal

In this spellbinding portrait of obsession and flawed genius, the best-selling author of The Stranger in the Woods brings us into Breitwieser's strange world—unlike most thieves, he never stole for money, keeping all his treasures in a single room where he could admire them.

For centuries, works of art have been stolen in countless ways from all over the world, but no one has been quite as successful at it as the master thief Stéphane Breitwieser. Carrying out more than two hundred heists over nearly eight years—in museums and cathedrals all over Europe—Breitwieser, along with his girlfriend who worked as his lookout, stole more than three hundred objects, until it all fell apart in spectacular fashion.

In The Art Thief, Michael Finkel brings us into Breitwieser's strange and fascinating world. Unlike most thieves, Breitwieser never stole for money. Instead, he displayed all his treasures in a pair of secret rooms where he could admire them to his heart's content. Possessed of a remarkable athleticism and an innate ability to circumvent practically any security system, Breitwieser managed to pull off a breathtaking number of audacious thefts. Yet these strange talents bred a growing disregard for risk and an addict's need to score, leading Breitwieser to ignore his girlfriend's pleas to stop—until one final act of hubris brought everything crashing down.

This is a riveting story of art, crime, love, and an insatiable hunger to possess beauty at any cost.
About the Author
---
MICHAEL FINKEL is the best-selling author of The Stranger in the Woods: The Extraordinary Story of the Last True Hermit and True Story: Murder, Memoir, Mea Culpa. He lives in Salt Lake City, Utah.
Praise For…
---
ONE OF INDIGO'S BEST BOOKS OF 2023
ONE OF THE WASHINGTON POST'S BEST BOOKS OF 2023
ONE OF AMAZON'S TEN BEST BOOKS OF 2023

"The Art Thief, like its title character, has confidence, élan, and a great sense of timing. It is propelled by suspense and surprises....This ultra-lucrative, odds-defying crime streak is wonderfully narrated by Finkel, in a tale whose trajectory is less rise and fall than crazy and crazier....Part of what makes Finkel's book so much fun is that, without exception, [Breitwieser's] strategies are insane."
—Kathryn Schulz, The New Yorker

"A mesmerizing true-crime psychological thriller....The Art Thief develops the tension of a French policier, where the crook (for whom you alternately feel sympathy and disgust) has Maigret or Poirot hot on his trail. The final outcome is a shock. Mr. Finkel tells an enthralling story. From start to finish, this book is hard to put down."
—Moira Hodgson, The Wall Street Journal

"Captivating...Enthalling...In animated and colorful prose, Finkel summons the emotional intensity of a murder mystery. But old masters, not bodies, are missing....The Art Thief is about heists, yes, but it also speaks to much more."
—Brandon Tensley, The Washington Post

"Meticulously detailed, [a] page-turning account....As much a crime caper as a psychological thriller, Finkel's narrative interweaves gripping descriptions of Breitweiser's in-plain-sight thefts armed with nothing more than stealth and a Swiss Army knife, a concise history of global art theft, and psychologists' musings on Breitwieser's unconscious motivations....Finkel deftly keeps us swaying between great sympathy for his central character and profound suspicion."
—Jenny McPhee, Air Mail

"It is romantic to liken art thieves to Pierce Brosnan's glamorous character in The Thomas Crown Affair. The reality is far less charming. Case in point: Stéphane Breitwieser, one of the most successful art thieves of all time. From roughly 1994 to 2001, Breitwieser executed more than 200 heists. The book's first lesson? Europe has a lot of understaffed historic buildings. The second? Even a kleptomaniac with delusions of grandeur can be made mildly sympathetic in the hands of a skilled writer."
—Bloomberg

"Finkel turns his extensive research and interviews into a suspenseful story that reads like a novel. He relates Breitwieser's technique in vivid detail, and then shows us what happened to an estimated $2 billion worth of paintings, sculptures and other works. Finkel explores the relationships between Breitwieser and the women in his life, along with interesting bits of art history. A true-crime thriller that's a work of art."
—Suzanne Perez, KMUW Wichita

"Finkel has crafted The Art Thief with finesse and élan. He tells his tale of obsessive desires and ornate objects in measured and unadorned prose; employs a supple structure that separates the multiple threads of the tale while also exploring their weave; and advances the linear plot with narrative strategies that not only anticipate its foregone conclusion without giving it away, but also incorporate into the unfolding events his retrospective analyses of them....[Finkel] manages point of view with deftness and purpose....The Art Thief...morphs from an entertaining caper story into a claustrophobic study in pathology...An absorbing but disquieting read."
—Charles Caramello, Washington Independent Review of Books

"This is an absorbing and astonishing portrait of a fascinating and complicated character—a riveting story of obsession and misplaced brilliance."
—Kirk Wallace Johnson, best-selling author of The Feather Thief and The Fishermen and the Dragon

"In this masterful true crime account, Finkel traces the fascinating exploits of Stéphane Breitwieser, a French art thief who stole more than 200 artworks...turning his mother's attic into a glittering trove of oil paintings, silver vessels, and antique weaponry....Drawing on art theory and Breitwieser's psychology reports, Finkel speculates on his subject's addiction to beauty....It's a riveting ride."
—Publishers Weekly, starred review

"The tale of a strong candidate for the title of 'most prolific art thief ever....' Finkel's play-by-play of each theft has the pacing and atmosphere of a good suspense tale....The author describes each acquisition as well as Breitwieser's simple but effective methods....Finkel's extensive research, survey of art history, and hours of interviews with his subject combine for a compelling read."
—Kirkus

"A riveting ride....An engrossing true crime narrative....Obsessive crime, dangerous beauty, ill-fated love: The Art Thief is the stuff of noir fiction, made all the more compelling and audacious for its authenticity."
—BookPage

"From the opening chapter, Finkel's tight prose heightens the drama of each theft, as Breitweiser and his girlfriend Anne-Catherine Kleinklaus, who serves as his lookout, enter Belgium's Rubens House amid visitors and guards....A fascinating read. Finkel will have art history and true crime lovers obsessively turning the pages of this suspenseful, smartly written work until its shocking conclusion."
—Library Journal

"The Art Thief is both comprehensive and completely absorbing. It will have you wondering, as judges and juries did, if the defendant is a career criminal or simply an aesthete."
—Lorraine W. Shanley, BookReporter