Great Circle: A novel (Hardcover)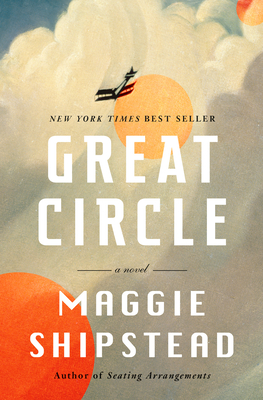 Staff Reviews
---
Do you enjoy rich, complex stories of strong women? Try this one. Beginning in the early 1900s, Marian Graves longs to become a pilot at any cost. Her ultimate goal is to circumnavigate the globe across the North and South Poles. Her dream takes her from navigating Prohibition in the wilds of Montana to participating in the war effort of WWII Europe and beyond. In present day, a lost young actress is offered the chance to play Marian in the Hollywood screen adaptation of her biography. While there are central male characters in both of their lives, the focus remains on the women and the roles they play. Both storylines converge and diverge as the characters explore desire and hope and longing for sense of self and place. Once I started reading, I could not put it down. At nearly 600 pages, that is no small thing.
— Jennifer K
May 2021 Indie Next List
---
"Great Circle is about two women 100 years apart: pilot Marian Graves and Hadley Baxter, the actress cast to play the famous pilot. This epic novel is fascinating, adventurous, and well-written, with great characters, historical details, and fantastic settings. Don't miss this journey!"
— Kathy Morrison, Newtown Bookshop, Newtown, PA
Description
---
INSTANT NEW YORK TIMES BEST SELLER
A TODAY SHOW #ReadWithJenna BOOK CLUB PICK
 
The unforgettable story of a daredevil female aviator determined to chart her own course in life, at any cost—Great Circle "soars and dips with dizzying flair ... an expansive story that covers more than a century and seems to encapsulate the whole wide world" (Boston Globe).
 
"A masterpiece . . . One of the best books I've ever read."
—J. Courtney Sullivan

After being rescued as infants from a sinking ocean liner in 1914, Marian and Jamie Graves are raised by their dissolute uncle in Missoula, Montana. There--after encountering a pair of barnstorming pilots passing through town in beat-up biplanes--Marian commences her lifelong love affair with flight. At fourteen she drops out of school and finds an unexpected and dangerous patron in a wealthy bootlegger who provides a plane and subsidizes her lessons, an arrangement that will haunt her for the rest of her life, even as it allows her to fulfill her destiny: circumnavigating the globe by flying over the North and South Poles.

A century later, Hadley Baxter is cast to play Marian in a film that centers on Marian's disappearance in Antarctica. Vibrant, canny, disgusted with the claustrophobia of Hollywood, Hadley is eager to redefine herself after a romantic film franchise has imprisoned her in the grip of cult celebrity. Her immersion into the character of Marian unfolds, thrillingly, alongside Marian's own story, as the two women's fates--and their hunger for self-determination in vastly different geographies and times--collide. Epic and emotional, meticulously researched and gloriously told, Great Circle is a monumental work of art, and a tremendous leap forward for the prodigiously gifted Maggie Shipstead.
About the Author
---
MAGGIE SHIPSTEAD is the New York Times best-selling author of the novels Astonish Me and Seating Arrangements and the winner of the Dylan Thomas Prize and the Los Angeles Times Book Prize for First Fiction. She is a graduate of the Iowa Writers' Workshop, a former Wallace Stegner Fellow at Stanford, and the recipient of a fellowship from the National Endowment for the Arts.
Praise For…
---
"Great Circle is a masterpiece . . . one of the best books I've ever read"
—J. Courtney Sullivan
 
"A soaring work of historical fiction . . . So convincingly does Shipstead stitch her fictional heroine into the daring flight paths of early aviators that you'll be convinced that you remember the tragic day her plane disappeared. Great Circle is a relentlessly exciting story about a woman maneuvering her way between tradition and prejudice to get what she wants. It's also a culturally rich story that takes full advantage of its extended length to explore the changing landscape of the 20th century. My top recommendation for this summer."
—Ron Charles, The Washington Post

"Nothing short of brilliant."
—Oprah Daily
 
"A feat of a story in every sense."
—Entertainment Weekly

"Shipstead's writing soars and dips with dizzying flair . . . With detailed brilliance, she lavishes heart and empathy on every character (save one villain), no matter how small their role. Many authors attempting to create an epic falter at the end, but Shipstead never wavers, pulls out a twist or two that feel fully earned, and then sticks the landing. An expansive story that covers more than a century and seems to encapsulate the whole wide world. "
—Boston Globe 

"Thrilling . . . Great Circle starts high and maintains altitude. One might say it soars. An action-packed book rich with character . . . Great Circle grasps for and ultimately reaches something extraordinary. It pulls off this feat through individual sentences and sensations—by getting each secondary and tertiary character right . . . What's so impressive is how deeply we come to care about each of these people, and how the shape and texture of each of their stories collide to build a story all its own. It's at the level of the sentence and the scene, the small but unforgettable salient detail, that books finally succeed or fail. In that, Great Circle is consistently, often breathtakingly, sound."
—Lynn Steger Strong, The New York Times Book Review
  
"Shipstead's eye for detail, character and the moments that tell all make this a true literary achievement."
—Zibby Owens, Good Morning America

"Great Circle is an epic trip—through Prohibition and World War II, from Montana to London to present-day Hollywood—and you'll relish every minute."
—People

 "Swinging from one century to the next, from the moneyed splendor of cities to the shifting Antarctic ice, Shipstead's prose overflows with meticulous detail. Shipstead's intellect and knowledge are on full display . . . One finds twists and surprises, unexpected connections—though the work's ultimate interest mirrors a quality shared by the Graves twins: a natural, boundless curiosity."
—Minneapolis Star Tribune
 
"Bestselling novelist Maggie Shipstead was struggling to depict a female adventurer. So she became one. Shipstead's debut, Seating Arrangements, [sealed] her reputation as an impeccable craftswoman of upmarket beach reads . . . But the stakes of Great Circle are higher—for its heroine, literally life or death. Though Shipstead never learned to fly herself, she aligned with her main character Marian Graves in more important ways . . . She is interested in testing her limits."
—Los Angeles Times

"Glitz and guts square off in Great Circle: a tale of two women set apart by a century, fighting to retain control of their own lives in a society that demands subservience. Shipstead is adept at writing so vividly, the reader can feel the thrill and pain of her characters. Cunningly crafted. . . richly layered, a joy to read . . . riveting."
—The Spokesman-Review
 
"Marian Graves's 1950s quest, a pole-to-pole route around the globe, will not be truly finished until twenty-first-century Hadley Baxter is cast as the film version of Marian—not because the two women share history, letters, or mementos (those common tropes of historical fiction), but because of their shared dissatisfaction with the patriarchal system guiding their lives . . . A novel with rich prose and even richer symbolism."
—Bethanne Patrick, Virtuoso
 
"In one word: fantastic. Shipstead's writing is absolutely stunning, each character coming to life through her mesmerizing descriptions and masterful imagery. Each high is ridden along with Marian, each low felt intensely and deeply as though it were happening in real-time. Even the most technical details—such as complexities regarding airplanes and machinery—jump off the page, drawing the reader in. Shipstead sets the scene of each location striking beauty and detail . . . She has created a world so unique and filled with such riveting characters that it is devastating to have to leave them behind."
—Ally Kutz, Erie Reader

"The Marian portions rove from Montana to Manhattan to Scotland and Antarctica, and read like a carnival of early-20th-century American history, packed with bootleggers, treacherous boxcar rides, and tragic shipwrecks. The Hadley chapters offer a delectable dissection of life as a celebrity, serving up an intelligent skewering of the Hollywood machine and allowing the book to take flight."
—Vogue

"A breathtaking epic . . . This is a stunning feat."
—Publishers Weekly [starred review]

"A fat, juicy peach of a novel . . . A tremendously well-written book, epic in spirit and scope, swooping across continents and through time so effortlessly that it belies the seven years it apparently took to complete."
—The Telegraph [UK]

"A sweeping, swashbuckling book, full of colour and grand destiny . . . glorious mythmaking. This is a novel of magnitude in all senses: themes, size, scope and ambition. Its literary wingspan stretches from the tectonic bump-and-grind of the ice age to the erotic imaginings of internet fan fiction. In between, Shipstead takes the time to tell us about the banana-stink of biplane glue, and the London bobbies with their phosphorescent gloves aglow in the wartime fog. It is lavish storytelling: unhurried and generous. Is it possible to love a wild thing, Shipstead asks, without extinguishing that wildness? Do our desires set us free, or hold us to ransom? The joy of this dynamic, soaring novel is not a welcome extra but its very engine."


"Accomplished and ambitious . . . Most novelists have their limits and cut their cloth accordingly. Shpstead is a writer who can vividly summon whatever she chooses, taking the reader deep inside the worlds she creates. Shipstead moves us round the globe with ease; she also takes us smoothly through history . . . Her writing is confident and knowing; her descriptions of light and air sometimes beautiful. Marian Graves is a character so real that I twice googled her to check."
—Financial Times [UK]

"The destinies of [Shipstead's] unforgettable characters intersect in ways that reverberate through a hundred years of story. Whether Shipstead is creating scenes in the Prohibition-era American West, in wartime London, or on a Hollywood movie set, her research is as invisible as it should be, allowing a fully immersive experience. Ingeniously structured and so damn entertaining; this novel is as ambitious as its heroines—but it never falls from the sky."
—Kirkus Reviews [starred review]

"Highly recommended—intricately designed, [with a] compelling cast of characters. As Hadley learns some of Marian's secrets, readers will wonder how much we can truly know anyone."
—Library Journal [starred review]

"Transcendent . . . A rolling, roiling epic . . . Through the interwoven stories of impetuous flyer Marian Graves and flavor-of-the-month actress Hadley Baxter, Shipstead ponders the motivating forces behind acts of daring defiance, self-fulfillment and self-destruction. An ambitious, soaring saga—[Shipstead] takes her characters to dizzying heights, drawing readers into lives of courage and mystery."
—Booklist

"Inherently epic . . .Shipstead sweeps readers from earth to sky and back again . . . Underpinning it all is a reverence for nature, thrumming in the forests of Montana, the jagged peaks of Alaska and the stupefying ice shelves of the Antarctic. Shipstead's exhilarating, masterful depictions of Marian's flights feel like shared experiences that invite readers to contemplate both magnitude and majesty. Great Circle is sure to give even firmly earthbound readers a new appreciation for those who are compelled ever skyward."
--BookPage [starred review]