An Onion in My Pocket: My Life with Vegetables (Hardcover)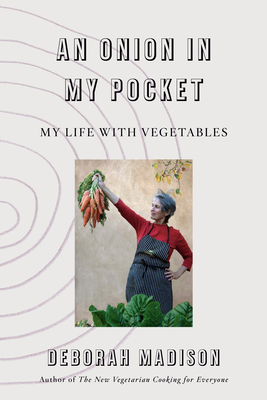 $26.95
Email or call for price
Staff Reviews
---
Deborah Madison is the author of four award-winning vegetarian cookbooks and was the original chef at the famed Greens Restaurant in San Francisco. In this memoir, she shares stories from her childhood in California to her twenty years lived in a Buddhist monastery and beyond and her life experiences that paralleled the reshaping of the culinary world towards more fresh, diverse, vegetable-forward foods.
— Jennifer K
Description
---
From the author of Vegetarian Cooking for Everyone ("The Queen of Greens," The Washington Post)—a warm, bracingly honest memoir that also gives us an insider's look at the vegetarian movement.

Madison's "insightful memoir" (The Wall Street Journal) is "a true delight to read as she uncovers her love for all real foods, peeling off layer by layer like an onion, recounting her own personal, culinary, and gardening experiences" (Lidia Bastianich).

Thanks to her beloved cookbooks and groundbreaking work as the chef at Greens Restaurant in San Francisco, Deborah Madison, though not a vegetarian herself, has long been revered as this country's leading authority on vegetables.

She profoundly changed the way generations of Americans think about cooking with vegetables, helping to transform "vegetarian" from a dirty word into a mainstream way of eating. But before she became a household name, Madison spent almost twenty years as an ordained Buddhist priest, coming of age in the midst of counterculture San Francisco. In this charmingly intimate and refreshingly frank memoir, she tells her story—and with it the story of the vegetarian movement—or the very first time.

From her childhood in Big Ag Northern California to working in the kitchen of the then-new Chez Panisse, and from the birth of food TV to the age of green markets everywhere, An Onion in My Pocket is as much the story of the evolution of American foodways as it is the memoir of the woman at the forefront. It is a deeply personal look at the rise of vegetable-forward cooking, and a manifesto for how to eat well.
About the Author
---
Deborah Madison is the award-winning author of fourteen cookbooks, including The New Vegetarian Cooking for Everyone and Vegetable Literacy. Her books have received four James Beard Foundation Book Awards and five awards from the IACP; she was inducted into the James Beard Foundation Cookbook Hall of Fame in 2016 and the Who's Who of Food and Beverage in 2005. She lives in New Mexico. www.deborahmadison.com
Praise For…
---
"I love vegetables; hence, I have always felt a kindred spirit, and enjoyed reading and cooking from Deborah's books. An Onion in My Pocket is a true delight to read as she uncovers her love for all real foods, peeling off layer by layer like an onion, recounting her own personal, culinary, and gardening experiences, and her adventures with family and friends.  It's a most timely book and a joy to read."
—Lidia Bastianich

"I dare you to cut into any part of this edible memoir and not eat the whole thing in one ravenous gulp. To eat Deborah's words as she serves them up is to feast on food, life, love, art, beauty, purpose, and possibility. She unfolds her story with the sweet freshness and pungency of the onion in her pocket she has garnered from the world's markets to share here and now with us."
—Betty Fussell, writer, food historian, and author of Eat, Live, Love, Die: Selected Essays
 
"I came to S. F. Zen Center in 1974 and Deborah Madison was a senior student, with a standing that made a new student like me flinch by her in the hall, eyes averted. I felt like she was breaking trail for me then, and she continues to this day. Her food is tantalizing and nourishing, and her prose is breezy, lucid and as beautiful as her presentations on the plate. I've got all her cookbooks tagged and ear-marked, stained from constant use, and I'll devour this new one like a tasty sandwich after a hard morning's work."
—Peter Coyote, Zen priest, actor, author of Sleeping Where I Fall and The Rainman's Third Cure

"[Deborah Madison's] thoughtful and thought-provoking new memoir, An Onion in My Pocket, takes readers through her recipe-free personal history and provides a firsthand look at America's farm-to-table "food revolution." Madison is not just a "vegetarian" cook, though; ultimately she makes a strong case for preferring flexibility over rigid diet labels, suggesting that we should tolerate each other's differences around the table, understand that they exist for a reason, and also "know that they and we might change.". . . The book takes on added piquancy when talking about Madison's botanist father and wildly creative mother, and an upbringing that left her with a "sense of insufficiency, that there was never enough" . . . Madison makes even nut loaf a pleasure to read about." —Rebekah Denn, The Seattle Times

"In An Onion in My Pocket: My Life with Vegetables, celebrated chef and cookbook author Deborah Madison recounts her life through stories of growing, cooking, consuming, and sharing meals . . . In this tender and sumptuous memoir, we experience a life juxtaposed with food—much of it vegetarian. We are not left wanting." —Tracy Franz, The Lion's Roar 

"[An] honest, beguiling memoir . . . An Onion in My Pocket offers a layered, intimate look at Zen life, the making of a soulful, artful chef and the genesis and growth of a writer. It's also an ode to nourishment, sustenance and gratitude for the earth's bounty, vegetal and otherwise." —Alison Hood, BookPage
 
"[A] captivating new memoir . . . Madison's prose in An Onion in My Pocket is inviting and refreshingly direct, yet unpretentious, just like her cooking. Her memoir captures key moments in her life that helped crystallize her ethos of cooking, growing and eating food that's vegetable-centric and humane to people and the planet: her first dinner at Chez Panisse; a lakeside lunch on a chilly day in Scotland; a palate-awakening trip to France with Alice Waters; a basic Zen meal of rice, sesame seeds and pickled daikon that was "truly startling" in its austere goodness and simplicity . . . Remarkably, even as she holds deep convictions about sustainability, Madison comes across on the page and in conversation as refreshingly undogmatic." —Jessica Zack, The San Francisco Chronicle 

"Chef memoirs are, admittedly, one of my favorite genres of books to read––something about the thought process, chaos, and sheer willpower that goes into running a restaurant as told by the person driving the business forward really fascinates me. As a lifelong fan of Deborah Madison's cookbooks (not to mention her reverence and mastery of simple, vegetable-centric dishes), this is sure to be one I blow my way through." —Food & Wine ("Cookbooks We're Diving Into This Fall")

"Deborah Madison has written a delicious memoir recounting her odyssey of growing up in the breadbasket of 1950s central California to her decades as a Buddhist monk at the San Francisco Zen Center, leading to her becoming the founding chef of Greens and multi-award winning cookbook author, and forever changing the way America thinks about vegetables and vegetarian food. This is a story about flavor, sustenance, and nurturing at their purest, and how one remarkable woman literally turned the tables on a young nation madly in love with masses of meat, teaching us to savor every leaf, grain, and bit of earthly goodness. A delight."
—Elissa Altman, author of Motherland and Poor Man's Feast 
 
"An Onion in My Pocket is a riveting account of how Deborah Madison's previous 20-year incarnation as a serious student of Zen Buddhism prepared her to become the consummate vegetarian cook and cookbook writer.  We are all fortunate that she loves vegetables—and healthier as a result."
—Marion Nestle, Professor of Nutrition, Food Studies, and Public Health, Emerita, New York University, and author of Food Politics

"[Deborah Madison's] disarming memoir, An Onion in My Pocket, is full of surprises . . . The story hops around in sequence, beginning with an introduction to San Francisco's Zen Center and backtracking to Ms. Madison's eccentric "schizoid" childhood in Davis, Calif . . . By 1977, after much trial and error, she had become a first-class chef . . . Ms. Madison understood the salient problem facing vegetarian cooks: producing a successful main course without fish or meat. . . . . Madison is not a die-hard vegetarian; she calls herself an omnivore. Above all, she doesn't believe in imposing beliefs on others. "I really prefer to be flexible enough to just say thank you for whatever appears on the plate." A lesson learned from the monastery, of course, and one of many in this insightful memoir." —Moira Hodgson, The Wall Street Journal

"An Onion in My Pocket, Madison's foray into memoir, traces her upbringing in Davis, Calif., the path to opening Greens, the hard lessons she learned helming the restaurant and her transition to cookbook author. The kernel of the narrative, though, emerges from the nearly 20 years Madison spent as a student and practitioner at the San Francisco Zen Center, beginning in the early 1970s. It's a period of her life, she admits at the start of the book, that she's spent little time examining until now. The self-inquiry pushes her writing into absorbing terrains . . . There's a wonderful, ambling quality to the book's flow that feels keenly influenced by Madison's reclamation of her Zen years . . . The intersections of food and spirituality are under-explored topics in American literature. Nourishment can be about more than an inventive recipe or a dazzling meal. Madison's reflections remind us of larger, slipperier kinds of hunger that call to be satisfied." —Bill Addison, The Los Angeles Times ("The 11 best new food books to add to your collection")

"More than a memoir, this is a history of America's culinary coming-of-age. Writing with sensual and perceptive detail, Madison shares her evolution from Twinkie-snitching teenager to 'food person.'" —Beth Dooley, The San Francisco Chronicle ("10 books by Bay Area authors that should be on your holiday list")
 
"Mouthwatering … Madison gives readers an intimate look into the origins of modern plant-based eating, farmer's markets, and other elements of meat-free foodie culture." —Kate Dwyer, SHAPE Magazine
 
"Vegetarianism always occupies an oppositional stance in Madison's output: a counterpoint to traditional meat-centered cooking, to an omnivore's palate, to existing with ease in a world that insists you try a piece of bacon. This carries through into Madison's new memoir . . . [Madison's] mindful approach to food—which entails respect for and understanding of not just agricultural and food production laborers, but the soil itself—is what Madison has translated to the masses . . . In An Onion in My Pocket, along with all of her cookbooks, she provides a clear, thorough, and loving model for how to center vegetables on the plate and the ways in which that cooking practice allows us to be mindful, to appreciate those seventy-two labors, and to remember that it is the soil that gives us our food." —Alicia Kennedy, The Baffler
 
"This book is about discovering the deliciousness of vegetables. We need it." —Marion Nestle, Food Politics

"[Madison's] personal recollections remarkably trace the transformation of American food culture, from funky-smelling hippie health food stores in the '70s to popularized plant-based everything, including steaks and seafood . . . At a moment when food choice is a hot-button issue and the question of what to eat is a significant source of polarization, her perspective on how to navigate a middle way seems particularly timely and essential." 
—Lynne Curry, The Counter

"It seems astounding that even Deborah Madison, the James Beard Award-winning author of 14 books on food, can recall so many memories and in such detail as those recounted in her new memoir. Food wasn't always her passion. Becoming a food person was something into which she grew . . . Offering food is a gesture of kindness and one of sharing. Making a meal with thought and care, whether to share it with others or it's just for yourself, is a big part of what An Onion in My Pocket is about." 
—Michael Abatemarco, The Santa Fe New Mexican

"[A] plain-spoken memoir . . . The stories spill over with intimate recollections about growing, choosing, cooking, eating, and sharing the goodness and freshness of seasonal and heritage varieties of vegetables."  —David Steinberg, The Albuquerque Journal ("Book of the week")

"A renowned vegetarian chef and cookbook author returns with a menu of memories about her life, profession, and passions . . . Readers will enjoy her amiability and learn much from her ruminations . . . A savory journey through kitchens, ingredients, meals, cookbooks, family, and colleagues—all composing the author's heart." —Kirkus Reviews