We Are All the Same in the Dark: A Novel (Paperback)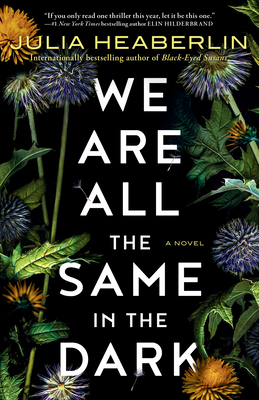 Staff Reviews
---
Odette Tucker is a 4th-generation cop whose life is haunted by a cold-case mystery in her small hometown, and she has returned to her childhood home to take up her father's place in the local police. Ten years before, the town darling, the beautiful 19-year-old Trumanell and her abusive father went missing. Her younger brother Wyatt was cleared by the police of wrongdoing but has been a loner and an outcast ever since, still living in his family home with the suspicions of the town at his doorstep. When he finds a young girl abandoned on the side of the highway, his decision not to leave her in the Texas heat sets a series of events in motion that dredge up secrets long buried.
While the storyline is full of male characters, strong female characters are in the lead. They are tough yet tender, resilient and strong. The Texas setting is almost a background character itself; you might want to read this with some whiskey or a Topo Chico at hand.
I do not typically read thrillers, so I'm not sure how effectively I can evaluate them. That being said, I appreciate how this one held me in its suspense and intensity throughout without being too bloody or violent (reminding me in style of the Shetland television series, if you've seen that). There are some unresolved questions for me at the end, but I may have missed the answers in my rush to finish. Once I sank into the story, I couldn't put it down.
— Jennifer K
Description
---
NATIONAL BESTSELLER • PEOPLE PICK • OPTIONED BY SISTER PICTURES FOR TELEVISION • The discovery of a girl abandoned by the side of the road threatens to unearth the long-buried secrets of a Texas town's legendary cold case in this superb, atmospheric novel from the internationally bestselling author of Black-Eyed Susans

"If you only read one thriller this year, let it be this one. Psychologically absorbing, original and atmospheric. I could not turn the pages fast enough."—Elin Hilderbrand, #1 New York Times bestselling author of 28 Summers

It's been a decade since Trumanell Branson disappeared, leaving only a bloody handprint behind. Her pretty face still hangs like a watchful queen on the posters on the walls of the town's Baptist church, the police station, and in the high school. They all promise the same thing: We will find you. Meanwhile, Tru's brother, Wyatt, lives as a pariah in the desolation of the old family house, cleared of wrongdoing by the police but tried and sentenced in the court of public opinion and in a new documentary about the crime.

When Wyatt finds a lost girl dumped in a field of dandelions, making silent wishes, he believes she is a sign. The town's youngest cop, Odette Tucker, believes she is a catalyst that will ignite a seething town still waiting for its own missing girl to come home. But Odette can't look away. She shares a wound that won't close with the mute, one-eyed mystery girl. And she is haunted by her own history with the missing Tru.

Desperate to solve both cases, Odette fights to save the lost girl in the present and to dig up the shocking truth about a fateful night in the past—the night her friend disappeared, the night that inspired her to become a cop, the night that wrote them all a role in the town's dark, violent mythology.

In this twisty psychological thriller, Julia Heaberlin paints unforgettable portraits of a woman and a girl who redefine perceptions of physical beauty and strength.

Praise for We Are All the Same in the Dark

"This chilling tale of buried sins is relentlessly unpredictable."—The Times (South Africa)

"[Julia] Heaberlin knows how to build to a truly shocking twist, how to break a reader's heart and then begin mending it. 'What's coming is always unimaginable,' Odette's one-time therapist tells her, 'and by that, I mean just that. It cannot be imagined. What's coming never acts or behaves the way we think it will.' That's true for this novel, too."—The Dallas Morning News
About the Author
---
Julia Heaberlin is the author of the critically acclaimed Black-Eyed Susans, a USA Today and Times (U.K.) bestseller. Her psychological thrillers, which also include Paper Ghosts (finalist for the ITW Thriller Award for Best Novel), Playing Dead, and Lie Still, have been sold in more than twenty countries. Heaberlin is an award-winning journalist who has worked at the Fort Worth Star-Telegram, The Detroit News, and The Dallas Morning News. She grew up in Texas and lives with her family near Dallas/Fort Worth, where she is at work on her next novel.
Praise For…
---
"Tense, darkly atmospheric . . . Gracefully written, with characters that leap off the page and into your imagination, this takes your breath away with its sudden twists."—Daily Mail

"We Are All the Same in the Dark succeeds because Heaberlin is working on three levels—offering a fast-paced thriller centered around Angel and a slow-burning mystery focused on Trumanell, while never losing sight of her characters' humanity."—Texas Monthly

"Elegant prose, headstrong heroines, and gorgeously wrought Texas atmosphere . . . a splendid ride with a jaw-dropper of a twist in the middle."—NJ online

"The author of Black-Eyed Susans returns with an elegantly written tale, set in a world where women are vulnerable and men are dangerous, the finger of suspicion pointing at them all."—Daily Express (UK)

"[Julia Heaberlin] once again brilliantly captures the atmosphere and rough beauty of a strange and divided state."—CrimeReads

"Exceptional . . . After a devastating twist halfway through, the intense plot builds to an emotional finale. Heaberlin sensitively addresses issues of survival and vulnerability in this heart-wrenching gothic tale."—Publishers Weekly (starred review)

"One of my favorite reads of the year . . . [Heaberlin's] beautiful prose propelled me through this spine-chilling novel. . . .The book is absolutely mesmerizing."—Heather Gudenkauf, New York Times bestselling author of The Weight of Silence

"I loved this book: gorgeous writing, interesting characters, a unique setting, and an unsettling, surprising mystery. Everyone needs to put this book on their to-be-read list right now!"—Amy Engel, bestselling author of The Familiar Dark

"A gripping, richly layered exploration of haunted souls in a haunted place . . . a story that keeps you guessing at every turn."—Lou Berney, author of November Road

"One of the best standalone mysteries I've read in a while . . . thrilling and complex, with richly imagined characters who will break your heart even as they confront the monsters, real and imagined, that hide in the dark."—Kathleen Kent, author of The Burn and the Edgar finalist The Dime

"Unsettling and atmospheric . . . tense and edgy . . . Julia Heaberlin holds you spellbound all the way to the emotional and devastating conclusion."—Lesley Kara, internationally bestselling author of The Rumor
 
"An intense, intelligent thrill-ride of a book—undoubtedly the one I will be recommending all year."—Elizabeth Haynes, New York Times bestselling author of Into the Darkest Corner
 
"Raw, stunning, both otherworldly and lapel-grabbing, this is the book to grab when you need something to grab you. Julia Heaberlin has written a tour de force."—Rene Denfeld, bestselling author of The Child Finder and The Butterfly Girl