Flying Solo: A Novel (Hardcover)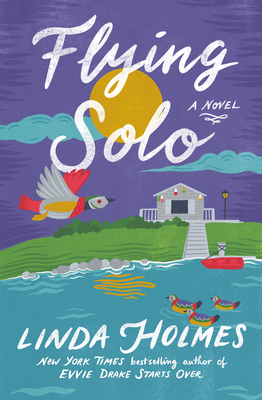 Staff Reviews
---
Laurie Sassalyn has spent her life surrounded by her noisy rowdy older brothers and as a child, quite often escaped to her eccentric Aunt Dot's house for peace and quiet. Fast forward many years... Laurie is on the brink of 40, called off her wedding, and went back home to her small town in Maine to sort through and sell the house after Dot passed away. She idolized how her Aunt never married, had tons of friends, and traveled the world. Secretly she wanted to be just like her cool Aunt. Cleaning out the house is too much for just Laurie so she recruits her best friend, June to help and her high school sweetheart, Nickl. Finding a wooden duck in the bottom of a trunk begins a mystery-is it valuable? Why is that duck protected and not just in a box? In trying to solve the mystery she gets conned by an estate seller and the payback is perfect! As Laurie sifts through years of memories and learns more about who her aunt was, she in turn learns about herself. Will Nick be the one that got away just so she can prove she doesn't need a man to be fulfilled? Or at 40 can write your own rules for love and life and that is ok too?
— Christina
Description
---
NATIONAL BESTSELLER • A woman returns to her small Maine hometown, uncovering family secrets that take her on a journey of self-discovery and new love, in this warm and charming novel from the New York Times bestselling author of Evvie Drake Starts Over.

"A testament to the truth that love comes in all shapes, sizes, and situations."—Jodi Picoult

ONE OF THE BEST BOOKS OF THE YEAR: NPR, PopSugar

Smarting from her recently canceled wedding and about to turn forty, Laurie Sassalyn returns to her Maine hometown of Calcasset to handle the estate of her great-aunt Dot, a spirited adventurer who lived to be ninety-three. Alongside boxes of Polaroids and pottery, a mysterious wooden duck shows up at the bottom of a cedar chest. Laurie's curiosity is piqued, especially after she finds a love letter to the never-married Dot that ends with the line "And anyway, if you're ever desperate, there are always ducks, darling."

Laurie is told that the duck has no financial value. But after it disappears under suspicious circumstances, she feels compelled to figure out why anyone would steal a wooden duck—and why Dot kept it hidden away in the first place. Suddenly Laurie finds herself swept up in a righteous caper that has her negotiating with antiques dealers and con artists, going on after-hours dates at the local library, and reconnecting with her oldest friend and her first love. Desperate to uncover her great-aunt's secrets, Laurie must reckon with her own past and her future—and ultimately embrace her own vision of flying solo.

With a cast of unforgettable characters and a heroine you will root for from page one, Flying Solo is a wonderfully original story about growing up, coming home, and learning to make a life for yourself on your own terms.
About the Author
---
Linda Holmes is a novelist, a pop culture correspondent for NPR, and one of the hosts of the popular podcast Pop Culture Happy Hour, which has held sold-out live shows in New York, Los Angeles, Washington, D.C., and elsewhere. She appears regularly on NPR radio shows including Morning Edition, All Things Considered, and Weekend Edition. Before NPR, she wrote for New York magazine online and for TV Guide, as well as for the groundbreaking website Television Without Pity. Her first novel, Evvie Drake Starts Over, was a New York Times bestseller. In her free time, she watches far too many romantic comedies, bakes bread, plays with her wonderful dog, and tries to keep various plants thriving.
Praise For…
---
"A refreshing reminder that there's no one-size-fits-all mold for a relationship, and that fulfillment can be achieved many ways."—The Washington Post

"Linda Holmes' sophomore novel, Flying Solo, is a near-perfect, feel-good summer escape for those of us who are not always satisfied with the traditional happily-ever-after."—USA Today

"Flying Solo is a testament to the truth that love comes in all shapes, sizes, and situations; that being alone does not mean being lonely. And Linda Holmes creates characters and conversations so real that sometimes I wonder if she is hiding in my closet, eavesdropping."—Jodi Picoult, New York Times bestselling co-author of Wish You Were Here

"Linda Holmes has crafted another moving and tender novel full of bighearted characters, smalltown charm, and deep truths about life. Flying Solo is a perfect book for anyone who feels a little separate from the flock."—Rebecca Serle, New York Times bestselling author of One Italian Summer

"It's impossible to read Linda Holmes without smiling. Flying Solo has everything: life decisions, second chances, intrigue, skulduggery, and a hot librarian! I loved it."—Clare Pooley, New York Times bestselling author of The Authenticity Project

"Flying Solo is warm and comforting, like a weekend with your favorite people, sharing their funniest stories and hardest-won wisdom. After two very tough years, this lovely book is exactly what we all need."—Kate Stayman-London, bestselling author of One to Watch

"Holmes's sophomore novel is a wise, heartwarming story of family, unexpected romance, and shaping your own path in a world where it often feels next to impossible to do so. It's a beautiful mystery and a tale of self-searching tied into one."—Carola Lovering, author of Tell Me Lies

"Holmes blends humor, emotional depth, and small-town charm in this delightful story about the bonds of family and friendship, showing how even the most independent people need someone to lean on. Readers will love spending time with Laurie and her friends."—Booklist (starred review)

"Holmes's colorful cast of characters pop off the page, and the sure-footed plot entertains. Readers will be eager to see what Holmes does next."—Publishers Weekly

"Charming, often hilarious . . . a delight from start to finish. Holmes has clearly done her research into how public librarians spend their time, and she also asks serious questions about how to make hard choices and live one's life."—Library Journal (starred review)

"A charming and easygoing look at all kinds of love and the beauty of independence, featuring supremely likable characters."—Kirkus Reviews