The Book of Dreams: A Novel (Hardcover)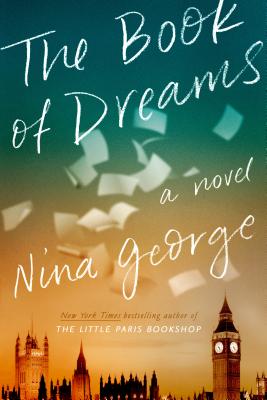 $27.00
Usually Ships in 1-5 Days
Staff Reviews
---
Henri has been invited to Father and Sons Day by his long-lost son Samuel.  He is on his way there when he has a terrible accident and ends up hospitalized in a coma.  Samuel lives with his mother, stepfather, and half-brother but has wanted to meet his biological father since learning that he existed!  Sam starts skipping school daily to be at Henri's side and encounters Edwina "Eddie", who was pushed away by Henri when things started getting too serious.  Meanwhile, Sam meets Maddie in the ward, a beautiful girl who is also comatose but mainly traumatized by the loss of her entire family in a car accident.
Told in flashbacks and dreams, the story gives the backstory of Henri and Eddie, Henri and Sam's mother, and Henri's devastation and guilt over the death of his father.  This guilt, whether justified or not, has hampered his adult commitments and has led to a life as a wandering war correspondent.
Nina George, author of the popular The Little Paris Bookshop, provides a wistful novel of what could have been and what still may be.
— Cynthia
Description
---
Warm, wise, and magical—the latest novel by the bestselling author of THE LITTLE PARIS BOOKSHOP and THE LITTLE FRENCH BISTRO is an astonishing exploration of the thresholds between life and death

Henri Skinner is a hardened ex-war reporter on the run from his past. On his way to see his son, Sam, for the first time in years, Henri steps into the road without looking and collides with oncoming traffic. He is rushed to a nearby hospital where he floats, comatose, between dreams, reliving the fairytales of his childhood and the secrets that made him run away in the first place.
 
After the accident, Sam—a thirteen-year old synesthete with an IQ of 144 and an appetite for science fiction—waits by his father's bedside every day. There he meets Eddie Tomlin, a woman forced to confront her love for Henri after all these years, and twelve-year old Madelyn Zeidler, a coma patient like Henri and the sole survivor of a traffic accident that killed her family. As these four very different individuals fight—for hope, for patience, for life—they are bound together inextricably, facing the ravages of loss and first love side by side.
 
A revelatory, urgently human story that examines what we consider serious and painful alongside light and whimsy, THE BOOK OF DREAMS is a tender meditation on memory, liminality, and empathy, asking with grace and gravitas what we will truly find meaningful in our lives once we are gone.
About the Author
---
NINA GEORGE is the author of the bestselling international phenomenon The Little Paris Bookshop, as well as numerous other books that have been published around the world. She also works as a journalist, and advocate for writer and women's rights. She lives with her husband in Berlin and Brittany, France.
Praise For…
---
Praise for The Book of Dreams:

"An effective exploration of connections that transcend physical boundaries…a poignant story about longing, nostalgia, and the pain of missed opportunities."—Kirkus Reviews

"An empathetic and emotionally stunning novel. Never preachy or maudlin, this deep dive into some of life's most haunting questions will appeal to fans of Isabel Allende and Mary Simses."—Booklist

"Captivating… This exploration of unfinished relationships has a haunting, evocative quality, and is a perfect, conversation-starting selection for book groups."—Publishers Weekly


Praise for The Little Paris Bookshop: 
 
New York Times Bestseller
 
"If you're looking to be charmed right out of your own life for a few hours, sit down with this wise and winsome novel...Everything happens just as you want it to... from poignant moments to crystalline insights in exactly the right measure." —Oprah.com

"The settings are ideal for a summer-romance read...Who can resist floating on a barge through France surrounded by books, wine, love, and great conversation?" —Christian Science Monitor

"[A] bona fide international hit." —New York Times Book Review

"A story that reflects all the romance and sweetness of Paris itself." —San Francisco Book Review

"The Little Paris Bookshop is an enchantment...the next best thing to booking a trip to France." —Sarah Pekkanen, author of Catching Air