Little: A Novel (Hardcover)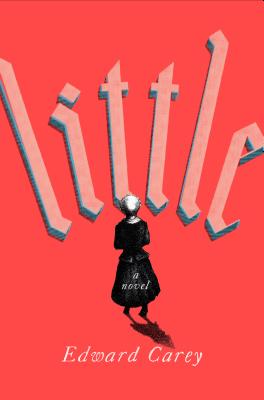 $27.00
Usually Ships in 1-5 Days
Staff Reviews
---
Orphaned Anne Marie Grosholtz moves to Paris with her guardian Dr. Curtius, a doctor who has for years been making wax models of organs. Recently, though, he has started using his skills to make replicas of people's heads, and Marie acts as his assistant.  Once they move to Paris, the two board with widowed and mourning Madame Picot.  Cold, manipulative, and downright mean, Mme. Picot does all that she can to look after the interests of herself and her shy son.  Though Marie and Dr. Curtius have been close, he allows the widow to take charge and make Marie an unpaid house servant who sleeps in a closet by the kitchen.  The stepmother from Cinderella can't hold a candle to this woman!  It is the widow who encourages Dr. Curtius to make a business of the wax heads, and as business grows they rent an abandoned monkey house to exhibit their heads, busts, and, eventually, full wax bodies.
Tiny Marie, nicknamed "Little", is lonely and despondent but never gives up.  She spends over ten years at Versailles as an art tutor to Elisabeth, Louis XVI's sister, before going back to the monkey house.  Fortunes and heads are lost in these times as political unrest roils the city.  But by way of some good fortune and an indomitable spirit, Marie finally finds her way to London, where she establishes her own wax museum: Madame Tussauds.
Based on the life of Marie Tussaud, author Edward Carey writes an engrossing novel full of good, bad, and nuanced-- but always interesting-- characters, with a quirky tone that leaves the reader wondering what crazy thing might happen next to Marie.  And as icing on the cake, he provides his own sketches throughout the book.  This amazing story is highly recommended!  
— Cynthia
November 2018 Indie Next List
---
"I am astounded. I am charmed. I am awaiting the manifestation of pure joy this enchanting book will be for the ages. Anne Marie Grosholtz is as tall as the human heart but her outlook is to the moon. Orphaned at a young age, this child is apprenticed to a physician whose wax modeling lends a twist of the macabre and is a precursor to Marie's wondrous involvement with French royalty, a revolution, and museums. Complete with elucidating illustrations, Little is a bold imagining of Madame Tussaud. To be clear, I love it! I love it! I love it!"
— Jeanette Creager, Mitzi's Books, Rapid City, SD
Description
---
"An amazing achievement. . . A compulsively readable novel, so canny and weird and surfeited with the reality of human capacity and ingenuity that I am stymied for comparison. Dickens and David Lynch? Defoe meets Margaret Atwood? Judge for yourself." —Gregory Maguire, New York Times-bestselling author of Wicked

The wry, macabre, unforgettable tale of an ambitious orphan in Revolutionary Paris, befriended by royalty and radicals, who transforms herself into the legendary Madame Tussaud.

In 1761, a tiny, odd-looking girl named Marie is born in a village in Switzerland. After the death of her parents, she is apprenticed to an eccentric wax sculptor and whisked off to the seamy streets of Paris, where they meet a domineering widow and her quiet, pale son. Together, they convert an abandoned monkey house into an exhibition hall for wax heads, and the spectacle becomes a sensation. As word of her artistic talent spreads, Marie is called to Versailles, where she tutors a princess and saves Marie Antoinette in childbirth. But outside the palace walls, Paris is roiling: The revolutionary mob is demanding heads, and . . . at the wax museum, heads are what they do.

In the tradition of Gregory Maguire's Wicked and Erin Morgenstern's The Night Circus, Edward Carey's Little is a darkly endearing cavalcade of a novel—a story of art, class, determination, and how we hold on to what we love.
About the Author
---
Edward Carey is a novelist, visual artist, and playwright. Carey's previous novels include Observatory Mansions and Alva & Irva, and his acclaimed series for young adults, the Iremonger Trilogy, earned best-of-the-year recognition from The New York Times Book Review, NPR, and other venues. Born in England, he now teaches at the University of Texas in Austin, where he lives with his wife, the author Elizabeth McCracken, and their family.
Praise For…
---
Praise for Little and Edward Carey
 
"[A] marvelous, weird, and vividly imagined new novel. .  . A fantastic winter tale, a big, patient read full of reversals of fortune and fabulous glimpses of a time not unlike our own when a new technology of likeness brought the giants of media and politics closer than ever, with its promises of a kind of immortality. Subtly, without calling attention to it, Carey has woven a beautiful parable about the power of that proximity. How we rage to bring the world above and around us down to our size, and yet when we do, the big questions remain: How and who to love? How to be decent? How to be fair?" —Boston Globe

"I marvel at the achievement of this book. . . . It's about humans, and bodies, and art, and loneliness. . . . I could talk about it forever." —NPR

"Carey devises a dazzlingly detailed portrait of Paris on the brink of revolution and includes his own haunting illustrations...Reminiscent of Dickens, Defoe and Fielding, Little speaks eloquently of the pleasures and perils of art, commerce and identity." —San Francisco Chronicle

"A wonderfully empathetic and stirring narrator, Carey conjures up a tumultuous world you'll be sorry to leave." —People

"A delightfully strange portrait of a young orphan honing her eccentric craft amid the tumult of the French Revolution. Carey's flair for macabre whimsy has drawn comparisons to Tim Burton (take a look at the illustrations and you can see why). While death haunts this story, between vibrant characters and riveting historical detail, Little is a novel that teems with life." —Time 

"Marie's story . . . is a fascinating thing in itself. But Carey's talent makes her journey a thing of wonder." —Danielle Trussoni, New York Times Book Review
 
"[A] sweeping, Dickensian reimagining of the true story of Marie Grosholtz, the French orphan born in the 18th century who would go on to become iconic wax sculptress Madame Tussaud. Reader, you will just melt." – Entertainment Weekly "Must List" 

"This is a book so...vibrant with delight in language that it's difficult to do it justice. Suffice it to say that Carey, in the disarmingly engaging voice of his heroine, can make even a list of wax-working tools seem charmed."—Minneapolis Star-Tribune

"A dark, fascinating, and peculiar story about art and class before and after the French Revolution." —Real Simple

"Little is quirky, eccentric, offbeat, Gothic and all the other descriptives fondly applied to Carey's peculiarly elegant prose… Thanks to Edward Carey's gift for celebrating the bizarre, Madame Tussaud's story is at last in the right hands." —Dallas Morning News

"This curiosity-filled novel about the life of Madame Tussaud is enlivened with old-timey illustrations by Carey himself... A must-read for anyone who's ever visited Madame Tussauds wax museum in London or any of its other 20 outposts around the world." —National Geographic

"The beautifully told (and illustrated!) story of the life of Marie Tussaud, or how tall trees can grow from small seeds. An eccentric atmosphere, a macabre sense of humour, we experience this book with a sense of youthful joy. An unmissable book." —Olga Tokarczuk

"Edward Carey writes wonderfully weird books about wonderfully weird things. This one imagines the life of Madame Tussaud—of wax museum fame—as a little girl. It's a hefty historical novel that promises to be a pageturner, too." —Celeste Ng

"[A] rich, engrossing novel . . . visceral, vivid and moving."—The Guardian (UK) 
 
"One of the most original historical novels of the year. . . . Macabre, funny, touching and oddly life-affirming, Little is a remarkable achievement." —The Times (London)

"An irresistible tale, Little will please all readers, especially those who love period adventures and old-fashioned stories of triumph over human folly." —BookPage (Top Pick)

"This is a rare gem of a book, lacking absolutely nothing. Beautifully written, fully realized and truly engrossing, Little can be read again and again." —BookBrowse

"Dark and delightful, playful and peculiar, Little is Edward Carey's absorbing, fictional re-creation of Madame Tussaud's early life… Carey's spirited style brings a lightness to Marie's bleak days and a whimsy to her brighter ones. He blends dark humor with a puckish tone for a story that's simply magnetic… Little is big in many ways: creativity, energy, concept and character. Leave plenty of room in your heart for this one; you'll need it." —Shelf Awareness

"A startlingly original novel." —The Times of London, Book of the Month 

"Completely, wickedly, addictive. . . . Variously nightmarish, dreamy, sensual, emotionally affecting, and very funny."  —The Big Issue (UK)

"A wildly creative reimagining of the work and life of an artist more associated with George Clooney than Maximilien Robespierre. Admirers of Gregory Maguire will be delighted." –Library Journal (starred)

"Carey channels the ghosts of Charles Dickens, Henry Fielding, and the Brothers Grimm to tell Marie's tale, populating it with grotesques and horrors worthy of Madame Tussaud's celebrated wax museum… A quirky, compelling story that deepens into a meditation on mortality and art." —Kirkus Reviews (starred)

"There is nothing ordinary about this book, in which everything animate and inanimate lives, breathes, and remembers. Carey, with sumptuous turns of phrase, fashions a fantastical world that churns with vitality, especially his "Little," a female Candide at once surreal and full of heart."  —Publisher's Weekly (starred)

"An immensely creative epic…Mingling a sense of playfulness with macabre history, Carey depicts the excesses of wealth and violence during the French Revolution through the eyes of a talented woman who lived through it and survived…The unique perspective, witty narrative voice, and clever illustrations make for an irresistible read." —Booklist (starred)

"Don't miss this eccentric charmer! Little, by Edward Carey, narrated by Madame Tussaud of waxworks fame, [on] her strange life and times, including the almost fatal French Revolution, a prime season for heads." —Margaret Atwood, on Twitter
 
"Little is bawdy, tragic, mesmerizing, hilarious. If you've forgotten why you'd even read a novel, Edward Carey is here to set you straight." —Alexander Chee
 
"Little is exquisitely sensitive to all the warmth, vigor, humor, woe, and peculiarities of human nature, as if the writer had a dowsing rod capable of divining what hides within the human heart. Carey is without peer." —Kelly Link

"A deliciously disturbing treasure of a novel. Sensual, unassumingly poignant, heartbreaking, cruel, joyous: Edward Carey's Little is a triumph and one of the most intoxicating novels I've read. I never wanted to leave Marie's side." —Sarah Schmidt

"An amazing achievement…A compulsively readable novel, so canny and weird and surfeited with the reality of human capacity and ingenuity that I am stymied for comparison. Dickens and David Lynch? Defoe meets Margaret Atwood? Judge for yourself."
—Gregory Maguire