Flights (Hardcover)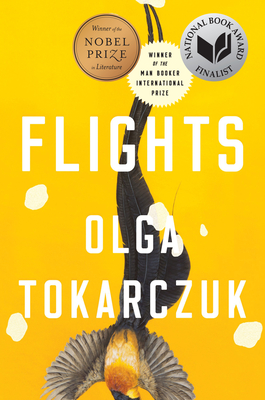 $26.00
Usually Ships in 1-5 Days
Staff Reviews
---
Flights is a multi-genre work of fiction, probably best described as a scrapbook of short stories and brief meditations on a variety of topics, held together by the theme of travel. The narrator describes the people she meets as she travels, discusses various modes of transportation, and tells stories about characters who are in new situations or on missions of some kind that keep them in motion. One of the longer stories (interspersed in installments among the other essays) is about a man whose wife and child disappear on a vacation. Another is about the circumstances surrounding the transporting of Chopin's heart back to Warsaw. There are short essays on the psychology of travel, pilgrimages, flying at night and all sorts of encounters one has while traveling and visiting new places. It's a book to take on a trip, or one for busy readers to pick up and put down and pick up again later when motion for them has temporarily ceased.
— Alice
Description
---
WINNER OF THE NOBEL PRIZE IN LITERATURE
 
WINNER OF THE MAN BOOKER INTERNATIONAL PRIZE

NATIONAL BOOK AWARD FINALIST FOR TRANSLATED LITERATURE

A visionary work of fiction by "A writer on the level of W. G. Sebald" (Annie Proulx)

"A magnificent writer." — Svetlana Alexievich, Nobel Prize-winning author of Secondhand Time

"A beautifully fragmented look at man's longing for permanence.... Ambitious and complex." — Washington Post

From the incomparably original Polish writer Olga Tokarczuk, Flights interweaves reflections on travel with an in-depth exploration of the human body, broaching life, death, motion, and migration. Chopin's heart is carried back to Warsaw in secret by his adoring sister. A woman must return to her native Poland in order to poison her terminally ill high school sweetheart, and a young man slowly descends into madness when his wife and child mysteriously vanish during a vacation and just as suddenly reappear. Through these brilliantly imagined characters and stories, interwoven with haunting, playful, and revelatory meditations, Flights explores what it means to be a traveler, a wanderer, a body in motion not only through space but through time. Where are you from? Where are you coming in from? Where are you going? we call to the traveler. Enchanting, unsettling, and wholly original, Flights is a master storyteller's answer.
About the Author
---
Olga Tokarczuk is one of Poland's most celebrated and beloved authors, a winner of the Nobel Prize in Literature and the Man Booker International Prize, as well as her country's highest literary honor, the Nike. She is the author of eight novels and two short story collections, and has been translated into more than thirty languages.
Praise For…
---
Praise for Flights:

"What's in a novel? This Man Booker International Prize winner reads like a rigorous response to that question in the best, most edifying (and maddening) way…Magnificently translated from the Polish by Jennifer Croft, Flights has the scattered intimate quality of a personal diary, its magic wedded to its singularity. It's an unexpected, funny journey into that most elusive of places — the human condition." –Entertainment Weekly

"A revelation … Flights is a witty, imaginative, hard-to-classify work that is in the broadest sense about travel…. In this risky, restlessly mercurial book, Tokarczuk has found a way of turning…philosophy into writing that doesn't just take flight but soars." – NPR's "Fresh Air"
 
"A beautifully fragmented look at man's longing for permanence … ambitious and complex." —Washington Post

"It's a busy, beautiful vexation, this novel, a quiver full of fables of pilgrims and pilgrimages, and the reasons — the hidden, the brave, the foolhardy — we venture forth into the world …In Jennifer Croft's assured translation, each self-enclosed account is tightly conceived and elegantly modulated, the language balletic, unforced." —The New York Times
 
"A writer on the level of W. G. Sebald." –Annie Proulx

"Tokarczuk's discerning eye shakes things up, in the same way that her book scrambles conventional forms... Like her characters, our narrator is always on the move, and is always noticing and theorizing, often brilliantly." —The New Yorker 

"There's no better travel companion in these turbulent, fanatical times." —The Guardian 
 
"Dive in beyond physical place to the mind of the traveler in this experimental collection of interwoven stories, essays, and musings as delightfully meandering as wanderlust itself." –Fodor's Travels
 
"Flights works like a dream does: with fragmentary trails that add up to a delightful reimagining of the novel itself."—Marlon James

"This hypnotizing new novel about travel, movement, and the complexities of distance deserves a place on every bookshelf." —Southern Living 
 
"Provides food for thought about what makes us move and what makes us tick.… Travel may broaden the mind, but this travel-themed book stimulates it." —Minneapolis Star-Tribune 

"Take the time to settle into this unconventional narrative that is by turns startling, moving and profound." –Dallas Morning News
 
"An unclassifiable medley of linked fictions and essays.… Reading it is like being a passenger on a long trip.... It's amusing, exciting.... It moves... to moments of intense interest and beauty." —Wall Street Journal
 
"A disorienting, intelligent, and unforgettable book." –Bustle
 
"Prescient, provocative, and furiously comic." —The New Statesman
 
"An expansive, probing and enigmatic novel of ideas…Chapters range from a few sentences to dozens of pages, creating a kaleidoscope of perspectives on the mutability and movement of humanity." –amNewYork
 
"A graceful and philosophic meditation on travel." –Newsday
 
"A select few novels possess the wonder of music, and this is one of them. No two readers will experience it exactly the same way. Flights is an international, mercurial, and always generous book, to be endlessly revisited. Like a glorious, charmingly impertinent travel companion, it reflects, challenges, and rewards." –Los Angeles Review of Books
 
"An intellectual revelation… Flights seeks out bridges between the concepts of cosmopolitanism and cultural hybridity; between discoveries of affection and curiosity toward unknown cultures, and toward the intrinsic multiplicity of one's own place of origin." –Boston Review
 
"Flights is epic in its scope and mission. … [The novel] reads as a sprawling, surreal meditation on what it is to be alive in an increasingly transient world." –Vox
 
"If a strictly linear narrative structure is obligatory to your definition of what makes for a 'good book,' I'd encourage you to set that requirement aside for a bit and consider this 2018 Booker Prize winner. … Themes and patterns will begin to emerge of lives and loves and a rocket ship ride through the swirl of stars that is us. An added bonus: Jennifer Croft's translation (from Polish) is a joy to read and a template for a translation master class." –The Millions

"Deftly explores, in limpid, captivating vignettes, the spaces we inhabit—bodies, geographies, the expanse of the page—and the loves, fears, and wonder that inhabit us." –Literary Hub
 
"An indisputable masterpiece." –Publishers Weekly, starred review

"This host of haunting narratives teases the mind and taunts the soul... exhilarating." —Library Journal


Coverage from NPR