Ghosted: A Novel (Hardcover)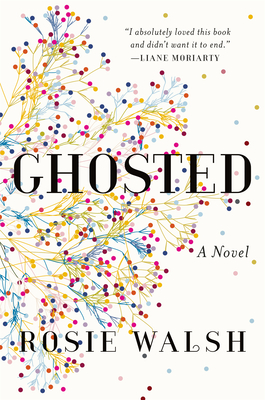 Staff Reviews
---
Sarah is visiting her parents in England when she meets Eddie.  They have an instant connection and after just a few days agree that they need to be together.  But after they part, Eddie goes silent and won't return calls, texts or emails.  Sarah has been ghosted.  Of course the agonizing thoughts--and a bit of stalking--begins.  What did she do to turn him away?  Is he hurt or incapacitated?  Why won't he even respond?
There was an accident involving her sister, and that's why Sarah fled to California nineteen years ago and why she returns on the anniversary each year.  But what exactly happened?  Author Rosie Walsh, making her American debut, keeps the reader wondering what went on that fateful day and why Eddie can't or won't reply.  The twist at the end makes it all clear!
— Cynthia
Description
---
Instant New York Times bestseller!

"I absolutely loved this book and didn't want it to end." --Liane Moriarty, #1 New York Times bestselling author of Big Little Lies

"This is an 'accidentally stayed up until 4 a.m. because it's impossible to put down' kind of novel." --USA Today

Seven perfect days. Then he disappeared. A love story with a secret at its heart.

When Sarah meets Eddie, they connect instantly and fall in love. To Sarah, it seems as though her life has finally begun. And it's mutual: It's as though Eddie has been waiting for her, too. Sarah has never been so certain of anything. So when Eddie leaves for a long-booked vacation and promises to call from the airport, she has no cause to doubt him. But he doesn't call.

Sarah's friends tell her to forget about him, but she can't. She knows something's happened--there must be an explanation.

Minutes, days, weeks go by as Sarah becomes increasingly worried. But then she discovers she's right. There is a reason for Eddie's disappearance, and it's the one thing they didn't share with each other: the truth.
About the Author
---
Rosie Walsh traveled and lived all over the world, working as a documentary producer, before settling in Bristol, England, where she lives with her partner and son. Ghosted is her American debut.
Praise For…
---
"Riveting."
—Cosmopolitan

"Walsh has a good ear for dialogue, and the mystery behind Eddie's disappearance is a particularly satisfying one."
--The New York Times Book Review

"A gripping and surprising romantic suspense story. . . . You won't want to put it down."
—NPR

"I absolutely loved this book and didn't want it to end."
—Liane Moriarty, #1 New York Times bestselling author of Big Little Lies

"Fast-paced, eerie, and surprisingly profound. . . Walsh pairs a plot worthy of Ruth Ware with a Bridget Jones–esque cast for a mystery that ends with fireworks."
—Martha Stewart Living

"A beautiful and poignant novel about identity, memory, hope, and the lengths we go to find the ones we love. . . you won't be able to put down."
--Bustle

"You'll be glued to this heartwarming romance with the pacing of a thriller until its last satisfying page." 
—Book of the Month

"A cleverly plotted romantic thriller filled with scandalous twists and turns and a juicy central mystery, Ghosted proves impossible to put down. . . Deliciously addictive, surprising and sentimental, Ghosted is a must-read for fans of Liane Moriarty and Jojo Moyes."
--BookPage

"Debut author Walsh weaves an intricate story of mystery, deception, grief, and forgiveness that begins slowly and builds steam as the plot twists and turns, and steers clear of predictability. Told through a combination of letters and prose threading in and out of time, this novel will have readers ready to go back and reread it from the start." 
—Library Journal

"Both a poignant romance and a pulse-pounding mystery!" 
—In Touch Weekly

"Walsh has created a deeply moving romance with an intriguing mystery and a touching portrait of grief at its heart. . . a romantic, sad, and ultimately hopeful book that's perfect for fans of Jojo Moyes."
—Kirkus Reviews

"A perfectly paced domestic drama centered on two lovely, lonesome people, Ghosted is a brilliant debut novel that explores the power of fate. Writing like a British cousin of Liane Moriarty or Maria Semple, Walsh has a gift for blending complex characters, intricate backstories, and neck-snapping plot twists."
—Booklist (starred review)

"This is an 'accidentally stayed up until 4 a.m. because it's impossible to put down' kind of novel." 
--USA Today

"This tale of heartbreak will please readers who enjoy a good twist." 
—Publishers Weekly

"The perfect book to kick back and relax with." 
—First for Women

"Stayed up till 2am to finish it! Loved it."
—Sophie Hannah, New York Times bestselling author of Keep Her Safe
 
"A delight. Moving and relatable, with characters you'll fall in love with. One for your wish list."
—Clare Mackintosh, New York Times bestselling author of Let Me Lie

"Ghosted is an intricate puzzle of a novel, beautifully crafted and deeply moving. Rosie Walsh's depiction of love in all its forms is equal parts heartbreaking and heartwarming; I was engrossed until the final poignant moment."
--Jill Santopolo, bestselling author of The Light We Lost

"Gorgeous. Walsh has created such strong characters, and so much warmth. The way she writes about love and longing is just beautiful."
–Jane Green, New York Times bestselling author of The Sunshine Sisters

"A wonderful love story—achingly sexy, modern, heart-breaking—with the most fantastic twist."
--Eve Chase, author of The Wildling Sisters