Bright Precious Thing: A Memoir (Hardcover)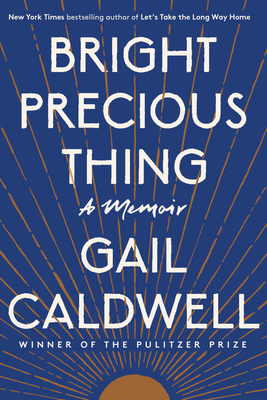 Staff Reviews
---
Readers of Caldwell's previous memoir, Let's Take The Long Way Home, will be delighted by this supplement to the story of her life --from her Texas panhandle upbringing and coming of age in the 1960s to her Pulitzer Prize winning career as a writer for the Boston Globe. At 70, she writes about the things that have been most meaningful and cherished in her life. Her memories of growing up as an adventurous young girl and wild and crazy college student at UT form a backdrop to her more recent relationships and experiences with her canine and human companions. She describes her current friendship with a precocious five-year old girl from the neighborhood who visits on a regular basis and with whom Caldwell has agreed to write a book. This memoir is a lovely piece of writing, with well-conceived insights and lots of grace.
— Alice
Description
---
From the New York Times bestselling author of Let's Take the Long Way Home comes a moving memoir about how the women's movement revolutionized and saved her life, from the 1960s to the #MeToo era.

In a voice as candid as it is evocative, Gail Caldwell traces a path from her west Texas girlhood through her emergence as a young daredevil, then as a feminist—a journey that reflected seismic shifts in the culture itself. Caldwell's travels took her to California and Mexico and dark country roads, and the dangers she encountered were rivaled only by the personal demons she faced. Bright Precious Thing is the captivating story of a woman's odyssey, her search for adventure giving way to something more profound: the evolution of a writer and a woman, a struggle to embrace one's life as a precious thing.

Told against a contrasting backdrop of the present day, including the author's friendship with a young neighborhood girl, Bright Precious Thing unfolds with the same heart and narrative grace of Caldwell's Let's Take the Long Way Home, called "a lovely gift to readers" by The Washington Post. Bright Precious Thing is a book about finding, then protecting, what we cherish most.
About the Author
---
Gail Caldwell is the former chief book critic for The Boston Globe, where she was a staff writer for more than twenty years. In 2001, she was awarded the Pulitzer Prize for Distinguished Criticism. She is the author of three previous memoirs and lives in Cambridge, Massachusetts.
Praise For…
---
"Reading Caldwell is like sitting down over tea and cookies with a close friend, only to realize several hours later that together you've devoured the whole plateful and dinnertime has come and gone."—NPR

"Caldwell is a charming and affable writer, proud yet self-deprecating, thoughtful and witty. Her story, while often painful, is never didactic, preachy or judgmental. . . . God willing, she will write to us again."—Star Tribune 

"Deeply affecting."—Goop

"She's just a great memoirist and storyteller."—Boston.com

"Caldwell's writing, as always, is lush and lyrical, her honesty both captivating and refreshing, qualities that shine anew with a fierce and vibrant luminescence."—Booklist (starred review)

"A glistening reflection on how the women's movement profoundly influenced the Pulitzer Prize winner's life . . . Caldwell's fourth memoir sings. It's a song for the ages, but it sounds especially resonant in the #MeToo era."—Kirkus Reviews (starred review)