Celine (Hardcover)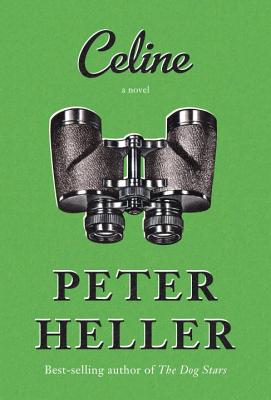 $25.95
Usually Ships in 1-5 Days
Staff Reviews
---
Heller (The Dog Stars and The Painter) has outdone himself with his latest novel, the story of a feisty and elegant aging private investigator who specializes in missing persons cases. Her latest case involves a young woman whose father disappeared 23 years earlier, apparently dragged to hi death by a grizzly bear near Yellowstone Park. Sixty-eight year old Celine and her husband, Pete, borrow her son's camper, and, traveling through Wyoming and Montana (beautifully described by outdoor writer Heller) try to track down the truth of what happened to the missing man. Not age nor emphysema nor a young Navy Seal can stop our crack-shot heroine who may be the most delightful private investigator since Miss Marple. Along the way we learn something about Celine's background, her patrician upbringing and her closet's skeletons, the experiences that have made her compassionate and passionate about her work. There's a lightness to this third of Heller's novels, but it's enough of a thriller to keep the pages turning as some dark secrets are uncovered. Recommended.
— Alice
Description
---
From the best-selling author of The Dog Stars and The Painter, a luminous, masterful novel of suspense--the story of Celine, an elegant, aristocratic private eye who specializes in reuniting families, trying to make amends for a loss in her own past. Working out of her jewel box of an apartment at the base of the Brooklyn Bridge, Celine has made a career of tracking down missing persons, and she has a better record at it than the FBI. But when a young woman, Gabriela, asks for her help, a world of mystery and sorrow opens up. Gabriela's father was a photographer who went missing on the border of Montana and Wyoming. He was assumed to have died from a grizzly mauling, but his body was never found. Now, as Celine and her partner head to Yellowstone National Park, investigating a trail gone cold, it becomes clear that they are being followed--that this is a case someone desperately wants to keep closed. Inspired by the life of Heller's own remarkable mother, a chic and iconoclastic private eye, Celine is a deeply personal novel, a wildly engrossing story of family, privilege, and childhood loss. Combining the exquisite plotting and gorgeous evocation of nature that have become his hallmarks, Peter Heller gives us his finest work to date.
About the Author
---
PETER HELLER is the best-selling author of The Painter and The Dog Stars. He holds an MFA from the Iowa Writers' Workshop in both fiction and poetry. An award-winning adventure writer and a longtime contributor to NPR, Heller is a contributing editor at Outside magazine, Men's Journal, and National Geographic Adventure, and a regular contributor to Bloomberg Businessweek. He is also the author of several nonfiction books, including Kook, The Whale Warriors, and Hell or High Water: Surviving Tibet's Tsangpo River. He lives in Denver, Colorado.